The Best Detanglers For Curly Hair
Free your waves, curls, and coils from the toughest knots.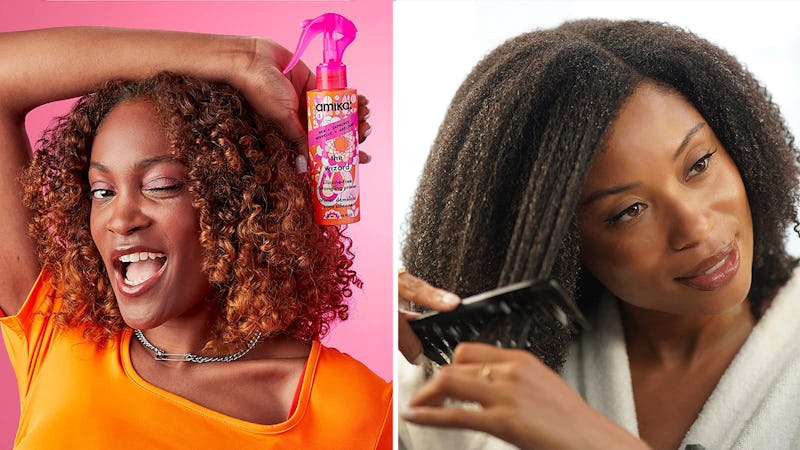 Amazon
We may receive a portion of sales if you purchase a product through a link in this article.
No matter your hair type, when dealing with curls, there are bound to be some knots and tangles in the mix. And while raking a detangling brush right through your matted mane might seem like the easiest way out, you don't want to deal with the consequences of potential hair loss, damage, and breakage after the fact. Instead, there are great detangling products out there that can help you avoid that altogether. The best detanglers for curly hair are usually products that don't strip or manipulate your curl pattern further. The type of curls you have and how you like to maintain your hair will be good indicators of what kind of detangling product you should use. Perhaps you like to shield your hair with different protective styles or have low porosity curls; in that case, opting for a typical leave-in conditioner spray might not work as well compared to using a co-wash with a creamy consistency. On the other hand, for those with 2C to 3A waves and curls, a super-thick leave-in conditioner might weigh your hair down, which isn't ideal.
While the most important consideration is to find a product that works with your hair care routine, any detangling product you choose should be packed with beneficial nourishing ingredients and free of anything that will damage your precious curls. With that in mind, it's best to stay away from products that contain parabens, sulfates, and silicones.
Shop The Best Detanglers For Curly Hair
In a hurry? Here are the best detanglers for curly hair:
1. Best Detangling Shampoo for Curly Hair
When you have super-tight curls and coils, sometimes, you can't wait to use a leave-in conditioner to start detangling. A soft and moisturizing shampoo can help jump-start your wash day process by relieving your hair of tight knots in the shower. Mielle Organics Pomegranate & Honey Moisturizing and Detangling Shampoo is formulated with babassu oil to help clean and add hydration to your hair. This yummy-smelling shampoo also has a great smooth and silky slip to help detangle your curls as you cleanse, so you can easily work through your knots from the start of your wash process.
Key Ingredients: Honey, Pomegranate Seed Oil, Acai Palm Fruit Extract, Babassu Oil, Buriti Fruit Oil, Glycerin Size: 12 oz. Sulfate-Free: Yes Silicone-Free: Yes Cruelty-Free: Yes
Relevant Review: "Smelled amazing and did wonders to my hair. Really moisturized my hair and scalp. Worth every penny. And this will definitely be my new go to shampoo. Finally I found something that doesn't dry my hair out and detangles as well."
2. Best Detangler Cream for Damaged Curly Hair
Wearing your hair in protective styles or constantly manipulating your curls can often lead to dryness, brittleness, and even damage. SheaMoisture's Raw Shea Butter Deep Moisturizing Detangler is made with dry and damaged coils in mind. Its creamy formula is made with raw shea butter, sea kelp, and argan oil to help replenish moisture and strengthen weak hair. While it's best used on damp hair, you can also use this product to help loosen up minor tangles and refresh dry stands as needed.
Key Ingredients: Shea Butter, Sea Kelp Extract, Argan Oil, Glycerin Size: 8 oz. Sulfate-Free: Yes Silicone-Free: Yes Cruelty-Free: Yes
Relevant Review: "I had my hair in [a] protective [style] for a while. After washing, my hair [was] so so tangled I wasn't able to comb [it] out so I left it without combing for over a week. I purchased this and it really did the job. It moisturized, softened and detangled the hair, I was able to comb through hair in 20 minutes with minimal hair loss. It has a nice scent that I like. Good product for 4C coily and tangled hair."
3. This Highly-Rated Detangling Spray for Curly Hair
If you're a fan of a classic leave-in conditioner spray, you can't go wrong with March Anthony's leave-in detangler. With thousands of rave Amazon reviews and a 4.4-star overall rating, there's no wonder this is such a fan-favorite product. Made with caffeine, biotin, and ginseng, this leave-in conditioner can help promote healthy hair growth while offering great slip to help loosen up tight tangles. It's also under $10, which is such a great steal.
Key Ingredients: Biotin, Caffeine, Ginseng, Vitamin E, Coconut Oil Size: 8.4 oz. Sulfate-Free: Yes Silicone-Free: Yes Cruelty-Free: Yes
Relevant Review: "Bought this for my little girl who has super curly hair. Detangles great! And her hair has grown so much since using it. This product smells amazing. It is not heavy, also did not make her hair oily. Will purchase again."
4. Best Affordable Detangling Pre-Poo for Type 4 Curls
African Pride's Moisture Miracle Aloe & Coconut Water Pre-Shampoo is a TikTok fave — with over 115 million searches and views for the product, it's no wonder why everyone can't stop talking about it. The creamy, milk-like consistency is formulated with coconut water and aloe vera to offer excellent slip to help loosen up knots while strengthening and nourishing your curls to help prevent breakage. You'll want to apply this before shampooing, and you can either rinse it out immediately or leave it on for 15 to 30 minutes if your hair is extremely tangle-prone.
Key Ingredients: Aloe Vera, Coconut Water, Glycerin Size: 18 oz. Sulfate-Free: Yes Silicone-Free: Yes Cruelty-Free: Yes
Relevant Review: "I never write reviews but I had to come back for this. I have very thick afro hair and it's usually very hard to detangle and as a result I end up losing a lot of hair on wash day but this changed the game for me. [It] made my hair so soft and manageable. Definitely recommend!"
5. Best Splurge-Worthy Detangler for Curly Hair
At almost $30 a bottle, amika's The Wizard Silicone-Free Detangling Primer is definitely pricier, but oh-so worth it. Not only is it a superior detangler, but it also offers heat protection up to 450 degrees Fahrenheit, so it's the only product you need to use after showering and before going in with your blow dryer. This lightweight spray is formulated with avocado oil and squalane to help promote and lock in moisture, and it's also made with sea buckthorn, which is packed with hair-healthy nutrients like omega 7 and vitamins A and C.
Key Ingredients: Squalane, Avocado Oil, Sea Buckthorn Size: 5 oz. Sulfate-Free: Yes Silicone-Free: Yes Cruelty-Free: Yes
Relevant Review: "The scent of this detangler is AHHHMAZING! It is a must have. This Amika product literally cuts my blow dry time in half. I am Super satisfied."