The Best Eye Creams For Milia, According To A Doctor
What to use to help with the all-too-common condition.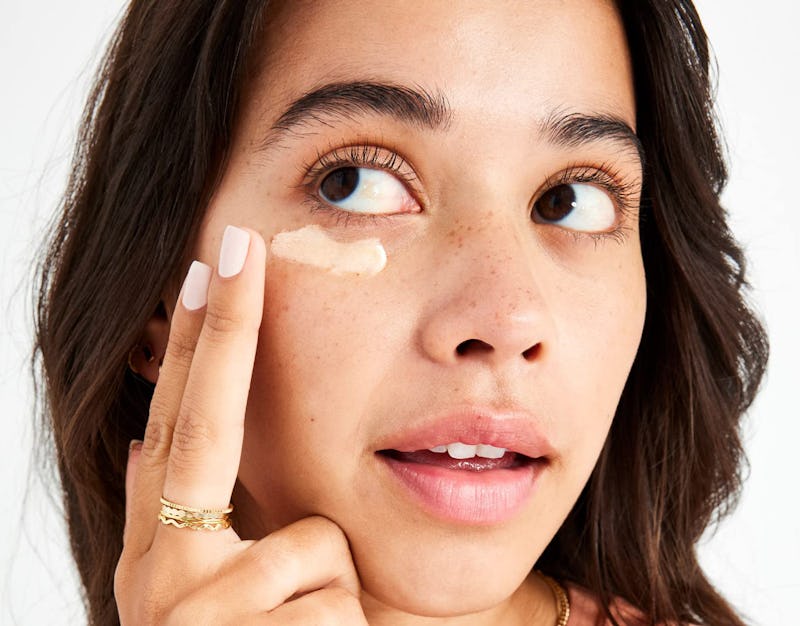 Amazon
We may receive a portion of sales if you purchase a product through a link in this article.
Sometimes, using a new eye cream to hydrate or brighten the delicate skin under your eyes can leave you with a whole new condition: milia. Those little white bumps just under the skin are caused by a buildup of keratin and dead skin, and can be tricky to get rid of. Milia are especially common in the eye area because of thinner, delicate skin that's more susceptible to irritation — and heavy eye creams often make matters worse. To get the lowdown on which types of eye creams can trigger milia, and which ones to reach for instead, Bustle spoke with molecular immunologist Ebru Karpuzoglu, who says that the best eye creams for milia have lightweight, liquid or lotion textures and are made with hydrating ingredients that won't clog your pores. To find out more, keep reading.
The Expert
Dr. Ebru Karpuzoglu, MSc. PhD is an immunologist trained in molecular medicine and specializing in cosmetic chemistry. After a career of researching skin and the immune system, she developed skin care brand AveSeena.
How To Prevent Milia
"Thick eye creams or face creams around the eye area can clog pores and contribute to the buildup of keratin," which can potentially lead to milia formation, Dr. Karpuzoglu tells Bustle. Simply cleansing and exfoliating your face regularly can help prevent these buildups, but Karpuzoglu also notes that these buildups become more common with age as the skin's natural exfoliating ability slows. She says that sun exposure and rubbing or touching the eye area can also exacerbate milia formation.
If you're prone to milia, "avoid heavy occlusive ingredients such as petrolatum, paraffin, or heavy botanical oils or butters," says Dr. Karpuzoglu. She recommends avoiding super-thick eye creams in general, preferring those that come in a tube rather than a pot because they have a "lighter, more liquid texture" and won't feel as heavy on your skin. Look for lightweight, hydrating ingredients like hyaluronic acid, ceramides, and peptides, to "help moisturize the skin around the eyes without clogging pores," advises Dr. Karpuzoglu.
What To Look For In An Eye Cream For Milia
While you should always look for eye creams with light, hydrating formulas, advises Dr. Karpuzoglu, retinol is one of the best ingredients to "prevent and reduce milia by exfoliating the skin and preventing keratin buildup." She notes that eye creams with retinol are gentler than eye creams with chemical exfoliants, which can help with milia but should be used with extreme caution around the eye area. Dr. Karpuzoglu also recommends niacinamide as it can regulate sebum production and help reduce milia.
Still, Dr. Karpuzoglu tells Bustle that "the most effective course of action for complete removal of milia is to consult a dermatologist." No cream will be a magic potion for a serious case of milia, so if you're really concerned, it's best to speak with your derm.
Shop The Best Eye Creams For Milia
In a hurry? Here are the best eye creams for milia:
1. Best Eye Cream For Sensitive, Milia-Prone Skin
Avène's Eau Thermale Soothing Eye Contour Cream is made with Avène's signature thermal spring water from a village in France, and it's loaded with minerals that work to soothe dry, irritated skin. The brand designs products specifically for sensitive skin, and their eye contour cream is no exception, with chamomile for its anti-inflammatory properties, hyaluronic acid for hydration, and vitamin E for antioxidant protection. The fragrance-free cream is approved by the National Eczema Association and the American Contact Dermatitis Society, and its lightweight, hydrating formula means it won't exacerbate or lead to milia.
Key Ingredients: Hyaluronic Acid, Chamomile, Vitamin E | Size: 0.33 oz
Relevant Review: "This product feels very light and does not leave my eyes with little white bumps after a week. Great for sensitive skin!"
2. Best Brightening Eye Cream For Milia
This eye cream from First Aid Beauty helps reduce the appearance of milia with niacinamide (which helps regulate sebum production). It also contains pumpkin seed extract and coffee seed extract to help soothe and nourish the eye area, caffeine to help increase blood flow, and hyaluronic acid for lightweight hydration. The eye cream also contains mica to physically reflect light and brighten your under-eye area, making it a great eye cream to use in the morning if you often wake up with puffiness or generally dull skin, but are also prone to milia.
Key Ingredients: Niacinamide, Mica, Caffeine, Hyaluronic Acid | Size: 0.5 oz
Relevant Review: "This is such a light eye cream, it's moisturizing, gets rid of my bags, and [is] super sheer. I love it."
3. Best Retinol Eye Cream For Milia Under $20
Neutrogena's retinol eye cream is a simple, effective retinol eye cream that won't break the bank (generally, retinol eye creams tend to be pricey). It's formulated with hyaluronic acid for deep hydration and vitamin C to promote a brighter, more even skin tone under your eyes. Retinol works to reduce milia and leave your skin generally firmer and smoother since it helps "increase skin cell turnover and promote collagen production," Dr. Karpuzoglu tells Bustle. The cream's 13,000 five-star ratings on Amazon speak for themselves — just remember to use SPF after applying this in the morning since retinol can make your skin more sensitive to the sun.
Key Ingredients: Retinol, Hyaluronic Acid, Vitamin C | Size: 0.5 oz
Relevant Review: "Excellent product. I have very sensitive eyes and this cream does not irratate at all. Both softens and firms the eye area, very noticible under the eyes. Little bumps I was getting under my eyes are gone. My eyes look significantly better after two weeks. Works better than any other product I have used."
4. Best Eye Cream For Milia With A Gentle Retinol Alternative
Burt's Bees' Renewal Firming Eye Cream uses bakuchiol, a gentler retinol alternative, to deliver similar collagen-boosting, cell-renewing benefits to your skin, but from a naturally derived source and with less irritation. It also has vitamin E for hydration, lactic acid for a bit of gentle exfoliation, and tons of antioxidant-rich botanicals like beet root extract, watermelon extract, and clover leaf extract. The result is a gentle eye cream that can be used day and night and helps promote a brighter, more even skin tone while also preventing milia.
Key Ingredients: Bakuchiol, Lactic Acid, Vitamin E, Beet Root Extract | Size: 0.5 oz
Relevant Review: "How is it so light and yet fluffy? It isn't thick, or overly creamy. It is more like emulsion moisturizer that absorbs quickly! Price is great too! You can't go wrong with Burt's Bees products, all natural!"
5. Best Splurge-Worthy Retinol Eye Serum For Milia
"Using an eye serum with active ingredients like retinol provides similar benefits [to exfoliating with an AHA] without the risk of irritation," Dr. Karpuzoglu tells Bustle. This Advanced Retinol + Ferulic Eye Serum by Dr. Dennis Gross has retinol, bakuchiol, and ferulic acid (an antioxidant) to help smooth the eye area and increase cell turnover. The hydrating formula comes in an easy-to-use pump bottle, and its lightweight, serum-like texture means it won't clog up your pores or cause milia. Thanks to the powerful active ingredients inside, you should experience smoother, firmer skin underneath and around your eyes if you use this consistently.
Key Ingredients: Retinol, Bakuchiol, Ferulic Acid, Cica, Hyaluronic Acid | Size: 0.5 oz
Relevant Review: "I suffered from small raised bumps directly under my eyes. As long as I have used this regularly they have [never] come back"