The Best Full-Coverage Underwear, According To Reviewers
"Granny" panties have never been this cute.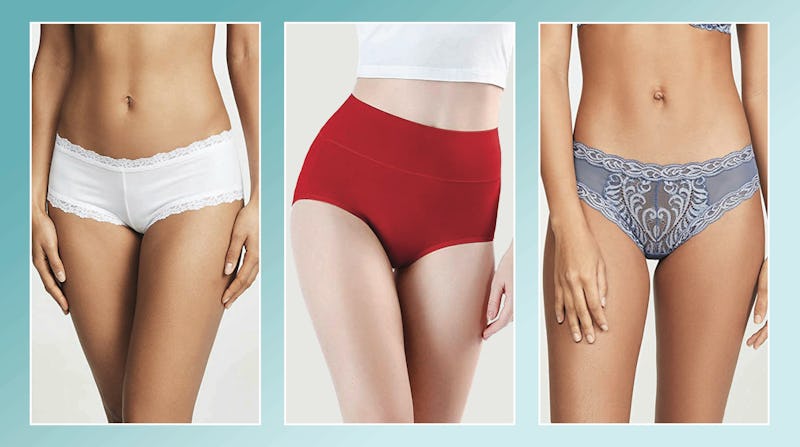 Bustle / Amazon
We may receive a portion of sales if you purchase a product through a link in this article.
There is a time and a place for teeny-tiny G-strings, but for some of us, most of the time, nothing feels better than slipping on a pair of the best full-coverage underwear. All these underwear cover all or most of your butt — and take up some real estate on neighboring body parts, like your tummy, waist, and thighs — though the exact amount of coverage depends on the style you choose.
What To Look For In A Pair Of Underwear
Here's a quick cheat sheet on fit: Briefs offer the most coverage across your tummy and butt, since they have wide side panels and a waist- or belly button-high rise; while bikinis sit right on your hips and have narrower side panels, so they may reveal a bit more cheek. Hipsters and boyshorts ride lower on your hips, like bikinis, but cover more of your waist and may hit the tops of your thighs. Some hipsters and boyshorts are "cheekier" than others, though, depending on how high the leg is cut.
Material is an important factor, too. But as most of these undies are designed with comfort in mind, they're all constructed from super-soft, breathable fabrics, like pure cotton, cotton blends, or lacy nylon. And across the board, almost all of these picks feature cotton-lined gussets, which OB/GYNs recommend for maintaining vaginal health.
Shop The Best Full-Coverage Underwear
Whether you prefer utilitarian white cotton or vampy black lace, light-as-air bikinis or classic French cuts, you'll find your ideal undies in the nine best full-coverage underwear, listed ahead.
FAQs
What is the best material for underwear?
Because of how sensitive that area is down there, you'll want to wear underwear that's made from a nonirritating natural fabric. That's why cotton is normally recommended by experts as the best material for underwear. It's gentle, breathable, and absorbent — especially compared to synthetic fabrics such as nylon and spandex. At the minimum, the gusset or crotch part of your underwear should be made from cotton.
What is considered full-coverage underwear?
The underwear chosen for this roundup are all considered full-coverage underwear, meaning they cover all or most of your butt. Coverage also depends on the style of underwear that you choose and your own personal definition of the term. For example, full coverage for some may include the tummy or waist. This type of coverage is common with high-rise underwear.
How We Narrowed Down The Best Full-Coverage Underwear
To provide the best shopping experience, we choose underwear of all different styles — from boyshorts to bikinis — in an effort to include a range of what could be considered full coverage. While some styles naturally provide more coverage than others, all the underwear on this list covers all or most of the backside. We also considered the material and size inclusivity of each product while paying close attention to reviewer feedback in the reviews sections.
This article was originally published on