The 12 Best Gold Necklaces, From Dainty Chokers To Chunky Chains
We only recommend products we love and that we think you will, too. We may receive a portion of sales from products purchased from this article, which was written by our Commerce team.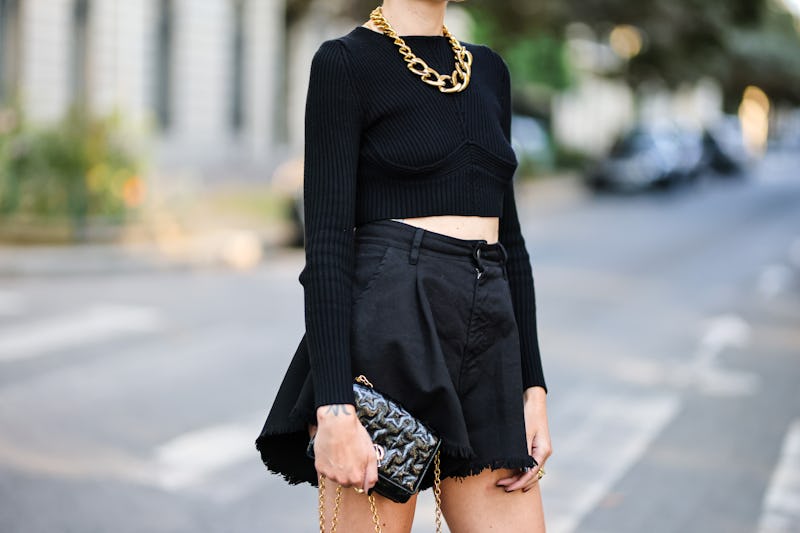 Edward Berthelot/Getty Images Entertainment/Getty Images
When it comes to jewelry, the best gold necklaces aren't always what you'd expect. I've found that for jewelry for daily wear, karats matter less than you might think (more on that later) so it's helpful to focus more on the gold type. Between gold plate, gold vermeil, gold fill, and solid gold, there are quite a lot of options to consider. Here's what you need to know about each:
Gold Jewelry 101
Gold plate: This is going to be your most budget-friendly option. A thin layer of gold is bonded to a cheaper base metal, which makes it affordable and it still has the potential to last a fair amount of time if it's on a piece you don't plan on wearing too often (if you plan on wearing it daily, be prepared for the plating to wear down faster). Gold plating is likely to tarnish and can irritate sensitive skin depending on which additional metals get blended in. That said, it's a great option for sampling trends without the investment.
Gold vermeil: A step up from gold plate, vermeil is made with a thick layer of gold plated onto sterling silver instead of cheaper base metals. It's hypoallergenic and lasts far longer than gold plate (although it may wear down after years of heavy use). It's great for high-quality everyday pieces that can handle some wear and tear.
Gold fill: An even thicker layer than gold vermeil, gold fill uses up to 100 times as much gold used for plating. It's physically bonded to a base metal and offers basically all the characteristics of solid gold pieces at a budget-friendlier price. It's hypoallergenic, won't rub off, and can last a lifetime. There's a bit of a price hike up from gold vermeil and it comes in limited designs because of how it's made, however.
Solid gold: Twenty-four karat solid gold is as premium as it comes. But opting for solid gold jewelry is not practical for day-to-day wear, given the softness of pure gold.
Why Karats Matter Less Than You Think
As mentioned above, 24 karat gold — pure gold, the good stuff — is too malleable to be used on its own in jewelry, which is why it's blended with other metals; the more metal is added, the lower the karat number gets (from 22 karat down to 10 karat). While less gold might sound like a bad thing, it actually makes the piece stronger and more scratch-resistant as a result. Not surprisingly then, 14 karat pieces are the most popular for daily wear, and many engagement rings are offered in this karat. It's worth noting, however, that if you're sensitive to certain metals, lower karats may cause irritation since they contain a greater percentage of filler (often nickel or iron).
Now that you're armed with the specs to shop smartly, here are the best gold necklaces on Amazon for every price point: Get ready to shine.