The 17 Best Hair Products Of 2023
Top-notch buys for every texture.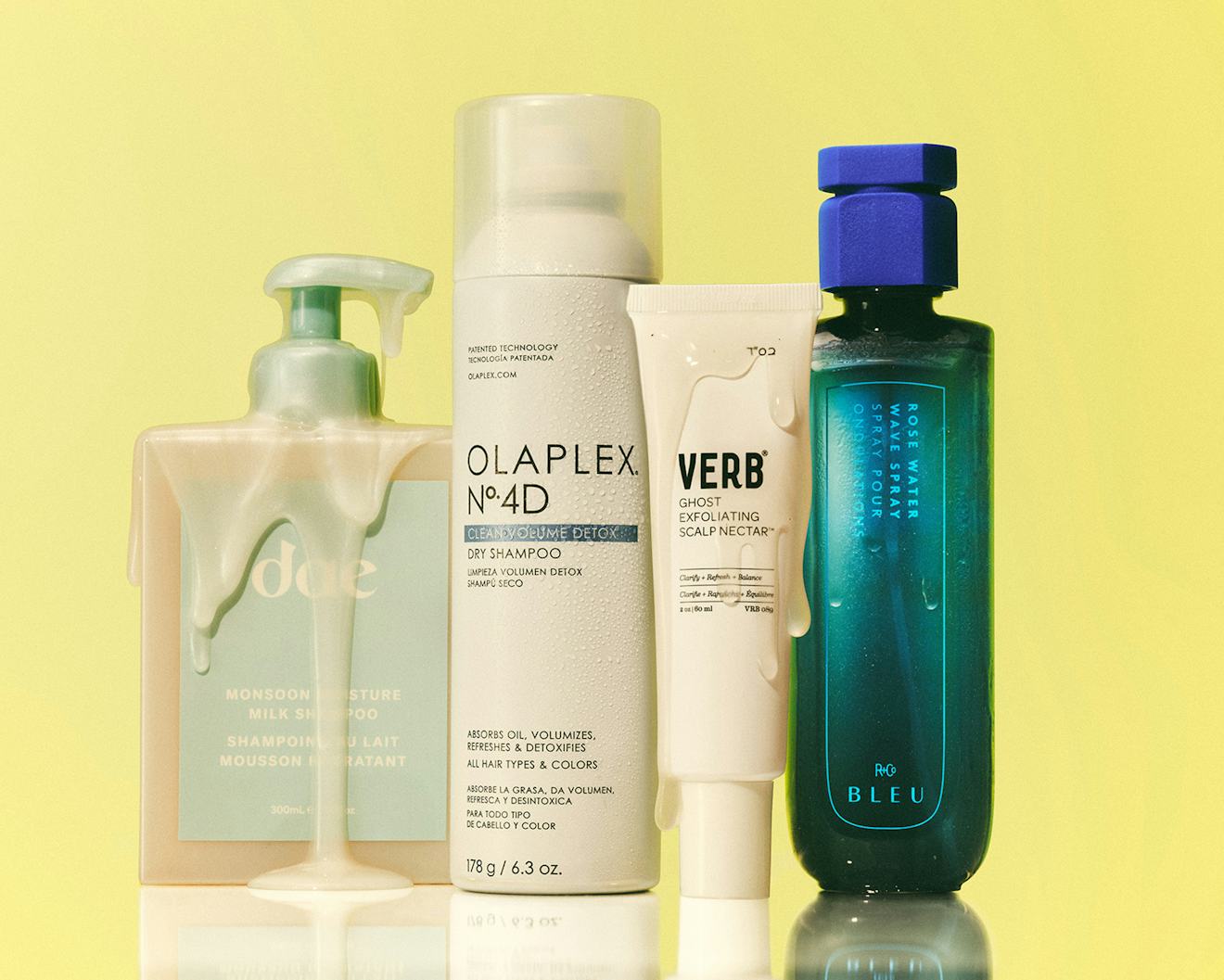 We're in the middle of what can best be described as a Hairassance. Gone are the days when we tried to heat style or chemically process our hair into submission, leaving behind burned, damaged, dried-out strands. Instead of forcing our strands to go against their natural texture, brands have turned out new formulations and technology focused on helping us to accentuate our unique curl patterns and density. Touchable, movable, moldable styles are in and products and tools that allow your hair to be its healthiest — be it fine, thick, short, long, coily, straight, buzzed, highlighted, graying, or anything in between — are now the rule and not the exception. We tested hundreds of products on a truly diverse array of hair types, textures, colors, and lengths to ensure that each of the winners listed here could stand up to the wide variety of 'dos and hues out there. Your hair deserves the same high-tech formulations and nourishing ingredients as your skin, and these products deliver the goods to ensure your hair looks and feels its healthiest. Ahead, here are Bustle's best new hair products of 2023.
Best Shampoo for Fine Hair
When you have fine hair, every last strand counts — literally. Every errant hair that you find in your brush after styling or pick off your favorite shirt is one less that's contributing to your mane's overall fullness. Help keep your locks refreshed as you reduce hair fall with Joico's strand-strengthening shampoo. It uses collagen to restore strength and elasticity, plus arginine to strengthen hair bonds as it gently cleanses and boosts shine. "As someone who has hypothyroidism and deals with thinning hair which sometimes leaves it feeling dull, I felt a massive improvement even after the first wash," says BDG staffer Kayli DePinto. "Even after a couple uses, I noticed less hair falling out."
Best Conditioner for Fine Hair
Give fine hair the moisture it needs without the weight. This ultra-concentrated deep conditioner can be used as a conditioner or left on as a deep treatment mask, but no matter how you use it, a little goes a long way in smoothing, hydrating, and detangling hair. The secret is its aloe vera base and an essential oil blend that helps add slip without the need for heavy silicones. "I really love this product," says BDG staffer Anne Vorrasi. "You don't need to use a lot of it as it's a concentrate and after letting it sit for a few minutes, my hair was incredibly soft after just one use. Oftentimes with hair care products, you don't see results right away, but here you definitely do."
Best Styling Product for Fine Hair
Take your style to sky-high new heights with this multi-functional spray from Living Proof. It injects limp, lackluster hair with touchable volume and texture while adding buildable hold and heat protection as it absorbs excess oil — all while maintaining a soft, clean, lived-in look and feel on fine strands. "This has quickly become my holy grail styling product," raves BDG staffer Hayley Schueneman. "It gives so much texture and dimension to my hair on non-wash days, and still remains incredibly soft and brushable. It's not sticky, so you can really use a lot of product and not have it weigh down your hair at all."
Best Treatment Product for Fine Hair
We'll say it again, louder for those in the back — healthy hair starts with a healthy scalp. That's especially true for those with fine hair who can be more prone to hair shedding and breakage. Verb's whisper-light serum helps to gently exfoliate and balance the scalp, removing buildup, dead skin, and debris as it nourishes and hydrates. The result is hair that is healthier, more moisturized, and stronger over time. "After using this serum just once, my hair already felt brand new," says BDG staffer Rachel Chapman.
Best Shampoo for Medium-Thick Hair
Oftentimes it's a very fine line between cleansing hair and ensuring it maintains enough moisture to keep it looking glossy and soft. Dae's hydrating shampoo lives up to its moniker by drenching dehydrated strands in moisture, smoothing frizz and strengthening the fiber in the process. It helps prevent breakage and increases elasticity, all without weighing down hair. "The rich, silky smooth formula leaves my strands so effortlessly detangled and glossy for some of the best air-dried hair days I've ever had," says Bustle beauty writer Olivia Rose Rushing. "Not to mention, the lather fills your shower with the prettiest aroma that smells of a cactus-filled desert drenched in morning dew."
Best Conditioner for Medium-Thick Hair
If your hair snarls easily and is shedding and breaking if you so much as look at it wrong, Pantene has the fix with this vitamin-enriched conditioner for fragile strands. Infused with rice bran oil, it can take even the most straw-like hair and turn it into glossy silk. Your biggest problem after adding this to your routine will be mastering the urge to run your fingers through your ridiculously soft strands. "This product was super hydrating and made my hair both look and feel luscious and soft," says BDG staffer Rebecca Iloulian. "I also like to brush my hair with conditioner in it and it made getting through knots super easy."
Best Treatment Product for Medium-Thick Hair
Bond-building treatments have been dominating the hair-care conversation since they first hit the scene, and for good reason — they are one of the few hair-care treatments that allow you to see an instant and transformative effect on even the most damaged hair after just one use. Redken's pre-shampoo treatment is a prime example of the trend, boasting the brand's highest level of citric acid and its signature Bonding Care Complex. Whether you've been bleaching, heat styling, or your hair is just in rough shape from daily wear and tear, this bond builder is beloved by stylists and hair pros to help rescue and restore your mane. "[It's a] beautiful product," says celebrity colorist, hairstylist, and guest judge Reece Walker. "I highly recommend this if you have damaged hair and especially for blondes."
Best Styling Product for Medium-Thick Hair
Off-duty model waves in a bottle, R+Co's luxe styling spray creates the perfectly undone, tousled waves that we've been chasing our entire adult lives. Made with rose flower water, calendula flower extract, panthenol, sea buckthorn seed oil, and quinoa protein, this delicious styler imparts strength and shine as it creates the perfect mix of waves and volume — minus the crunch or stiffness that usually comes with texturizing sprays. "Delicious," says celebrity colorist, hairstylist, and guest judge Reece Walker. "It doesn't leave the hair crunchy, smells great, you can mix with oil, and it's really great for curls. I'm obsessed."
Best Shampoo for Curly Hair
As one of the first brands to dedicate itself to the needs of the curly hair consumer, DevaCurl has always been at the forefront of curl innovation. This damage-repairing shampoo is no exception — it features bond-building technology formulated specifically for curly hair, which features more disulfide bonds than straight hair. When those bonds are broken, curls can look limp and loose and become more susceptible to damage. The brand's patented CurlBond Complex in this sulfate-free cleanser helps to re-link those broken bonds and re-coil hair for bouncier, shinier, more defined curls. "As someone with 3B curly hair, finding a good shampoo can be a real challenge," says BDG staffer Kiara Brown. "But the CurlBond Cleanser is a game-changer! It's sulfate-free and gentle on my curls, but still effective at removing buildup and leaving my hair feeling clean."
Best Conditioner for Curly Hair
People with curls have some very strong opinions about conditioners. And rightfully so — more so than any other hair type, curls need moisture to stay shiny and retain their pattern, but not so much that they are weighed down and feel greasy. Finding products that are able to expertly walk that fine line can feel like a never-ending game of trial and error. Or, at least it was, until our testers came across this leave-in from Curls. It softens and strengthens curls with organic blueberry extract, coconut oil, and aloe leaf juice to give you just the right amount of moisture and repair. "I've really been enjoying this leave-in conditioner," says BDG staffer Jill David. "It feels super lightweight in my hair and doesn't make it crunchy or greasy. My hair has had more shine and my curls are more defined." Adds Sophia June, "The blueberry scent is like candy."
Best Styling Product for Curly Hair
A person's curl pattern can be as unique as their personality, meaning that oftentimes it takes a styling village in order to fulfill our curls' unique needs. Enter, Prose and its customized styling gel. Featuring a formula that's personalized to the user (based on a quick quiz you fill out prior to ordering), each styling gel is unique to the user and their hair needs, in most cases eliminating the need for multiple styling products to achieve your desired 'do. "My hair looked & felt super springy and I got comments from colleagues on how great my hair looked," says BDG staffer Alexandra Pollack." I am usually a multi-product user, but this is a one-stop shop."
Best Treatment Product for Curly Hair
Detangling is a delicate endeavor for curls — one that requires precision, patience, and a slippery potion that's up to the task of adding moisture and smoothness. This Detangling Nectar from Tracee Ellis Ross' hair-care line is more than up for the challenge, thanks to a luscious blend of sea moss, aloe vera, and grapeseed oil that imparts curls with maximum moisture, shine, and slip. "I was surprised at how light this product was," says BDG staffer Maggie Haddad. "It's super easy to apply and detangles hair with ease."
Best Shampoo for Coily Hair
Wash day just got a whole lot sweeter thanks to The Doux's epically moisturizing Honey Shampoo. The sticky stuff gives this coily cleanser a positive charge, working to smooth down your negatively charged hair cuticle for a smoother, shinier appearance as it seals in moisture and gently cleanses away buildup without causing unnecessary friction. BDG staffer Kandice Chavous absolutely loved this shampoo, claiming it left her hair "clean and not stripped" and praising the ingredients for being "well thought out."
Best Conditioner for Coily Hair
Packed with hydrating extracts and antioxidant protection, Mielle's Nourishing Conditioner manages to pull off the extremely tricky feat of providing the perfect amount of moisture and nourishment to both the hair and scalp, restoring balance to both as it also imparts protection from environmental stressors. Celebrity hairstylist and guest judge Naeemah Lafond says it smells amazing and leaves her hair "super soft, making it super easy to detangle" and that her "curls look more defined using this conditioner."
Best Styling Product for Coily Hair
Considering the sheer versatility of coily hair, you need a styling product with as much range as your locks. Mizani delivers and then some with this stretching cream that boasts multitudes. It has the feel of a cream, but the hold of a gel. It's a styler that also hydrates and softens. It elongates, shapes, and defines while letting you perfect whatever wash-and-go styles your creativity can dream up. Celebrity hairstylist and guest judge Naeemah Lafond loved it for wash day for herself and her daughter. "This cream really helped to stretch the hair for the best looking twist outs," she says. "I also use it to style my daughter's hair into two puffs. It stretches her curls out and makes her puffs look bigger once dry."
Best Treatment Product for Coily Hair
If your coils are looking for some TLC, this buttery mask is the 911 treatment to reverse damage caused by heat styling, dryness, and chemical processing. Made with vitamin C, grapefruit oil, orange oil, argan oil, and murumuru butter, it revitalizes, repairs, moisturizes, restores slip, improves manageability, and prevents breakage and future damage — all in one five-minute treatment. BDG staffer Kandice Chavous was a fan, saying it left her hair "very soft and hydrated." Use it once a week for maximum moisture and softness on thirsty curls.
Best Dry Shampoo
Want your hair to feel like it was just washed without having to actually go through the whole process of actually, you know, washing it? Olaplex's take on dry shampoo goes beyond just covering up oil, sweat, and product buildup to actually cleanse the scalp and hair with its detoxifying formula. Instead of a gritty, chalky powder layer settling on your roots, the Clean Volume Detox Dry Shampoo uses a dry cleansing technology featuring rambutan seed extract and ultra-fine micro starch to give you a freshly washed look and feel. BDG's executive beauty director Faith Xue loved that it "didn't leave residue and leaves my hair feeling fresh and clean," while BDG staffer Lauren McCarthy was a fan of the applicator nozzle that made applying to large areas a breeze.
Photographs by Di-Chen Chen
Prop Stylist: Ada Victoria Ochoa Arce
Executive Beauty Director: Faith Xue
Photo Director: Alex Pollack
SVP Creative: Karen Hibbert