15 Hypoallergenic Earrings For Sensitive Ears, According To Jewelry Designers
We only recommend products we love and that we think you will, too. We may receive a portion of sales from products purchased from this article, which was written by our Commerce team.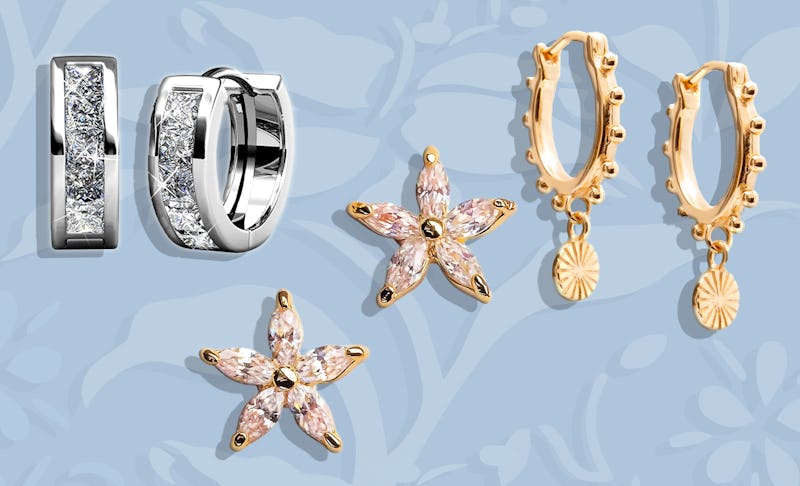 For those with sensitive ears, shopping for earrings can be a tricky trial and error process. With so many cheap earrings made of mystery metals, it's no surprise that some cause your skin to feel irritated and itchy. To get to the bottom of it, I reached out to a few jewelry designers to hear more about what to look for and what to avoid while shopping for the best hypoallergenic earrings for sensitive ears.
According to Trisha Okubo, founder and creative director of the jewelry brand Maison Miru, "The most common metal allergy out there is nickel, so if you have sensitive ears, you should be looking for earrings made without any nickel. The tricky thing is that nickel can be present in many kinds of metals (including solid 14-karat and 18-karat gold) so you should look for earrings that specifically state that they are made without any nickel."
Okubo continues, "All metals, including solid gold and sterling silver, are made of combinations of metals. Solid 14-karat gold, for example, is a minimum of 58.5% pure gold, with the remaining 41.5% an alloy of metals, including silver and copper. The alloyed metals make the gold stronger and more durable."
One other tip you might not have thought of? Multiple jewelry designers shared that keeping your earrings clean is also key. According to Lauren Priori, a jewelry designer and owner of L. Priori, a Philadelphia-based jewelry store, "The most important thing is to keep your earrings clean! A lot of times people think they have allergies to metal, but their skin is really reacting to (a) buildup of oils and bacteria on their earrings." To help, here's a great guide on how to clean your jewelry.
Ultimately, the best hypoallergenic earrings for your sensitive ears will match your style and be made without any metals that your ears are sensitive to. All of the earrings on this list have earned nickel-free labels from their manufacturers and have been vetted by reviewers with sensitive ears who confirm they haven't caused any irritation. I've pored over jewelry options, their materials, and read through reviews, and have gathered up the nickel-free and chic earrings below, in a range of styles, tones, and designs.
Editor's note: Always be mindful of your skin's specific sensitivities when shopping for anything that might trigger an allergic reaction. For more context on metals and which might be right (and wrong) for you, there's a deep dive into some metals at the bottom of this article.
Experts:
Trisha Okubo, founder and creative director of the jewelry brand Maison Miru
Lauren Priori, a jewelry designer and owner of L. Priori, a Philadelphia-based jewelry store