The Best Hypoallergenic Mascaras For Sensitive Eyes
We only recommend products we love and that we think you will, too. We may receive a portion of sales from products purchased from this article, which was written by our Commerce team.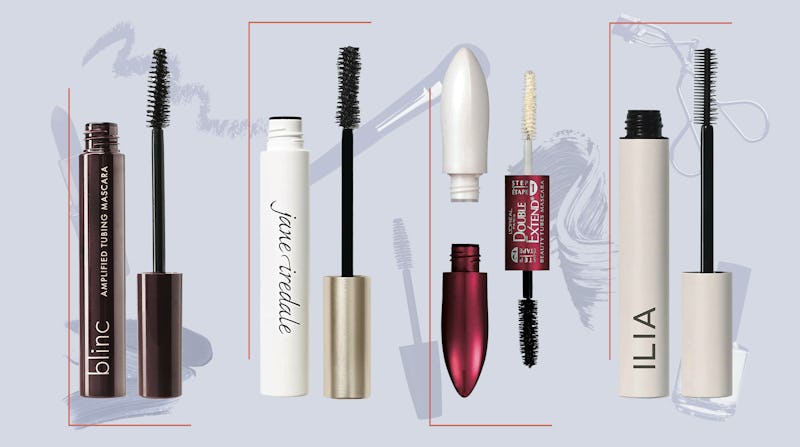 Bustle/Amazon
Choosing nonirritating eye makeup, like mascara, for sensitive or allergy-prone eyes means avoiding certain ingredients, board-certified ophthalmologist Dr. Laura M. Periman explains to Bustle. When shopping for the best hypoallergenic mascaras for sensitive eyes, try to avoid products with formaldehyde-donating preservatives (those are ones that release formaldehyde — an excellent antimicrobial that also tends to be quite irritating, Dr. Periman says) like hydroxymethylglycinate, DMDM hydantoin, and quaternium-15. Parabens at very low levels are fine, but if you prefer to avoid them, Dr. Periman says milder alternatives are ethylhexylglycerin and phenoxyethanol. The expert says that mascara with nylon fibers, which can lodge in your eyes, and waterproof mascaras, which are more difficult to remove, should be avoided if you have sensitive eyes.
Board-certified ophthalmologist Dr. Donna Esposito tells Bustle that she likes tubing mascaras for patients with sensitive eyes, because they form tiny tubes around eyelashes rather than coating them, and they can be easily washed off. (And like Dr. Esposito, Dr. Periman is also a fan of tubing mascaras.)
Unfortunately, both experts say that the term "hypoallergenic" is not useful, because it's not regulated. Neither is "ophthalmologist-tested," Dr. Periman adds. However, if a brand reports the results of the EpiOcular Eye Irritation Test, a toxicity test created as an alternative to lab rabbit eye testing, Dr. Periman says that is a good sign, but cosmetic companies don't have to run this test, nor do they need to report their findings if they do. Dr. Periman is working on her own mascara for all users, including contact lens wearers and people with dry and/or sensitive eyes, so keep an eye out (pun intended) for that.
Below, you'll find the best mascaras for sensitive eyes, including two picks from the experts.
Experts:
Dr. Laura M. Periman M.D., Board-Certified Ophthalmologist
Dr. Donna Esposito, M.D., Board-Certified Ophthalmologist