The 15 Best Serums For Getting Longer, Fuller Lashes
There's one at every price point.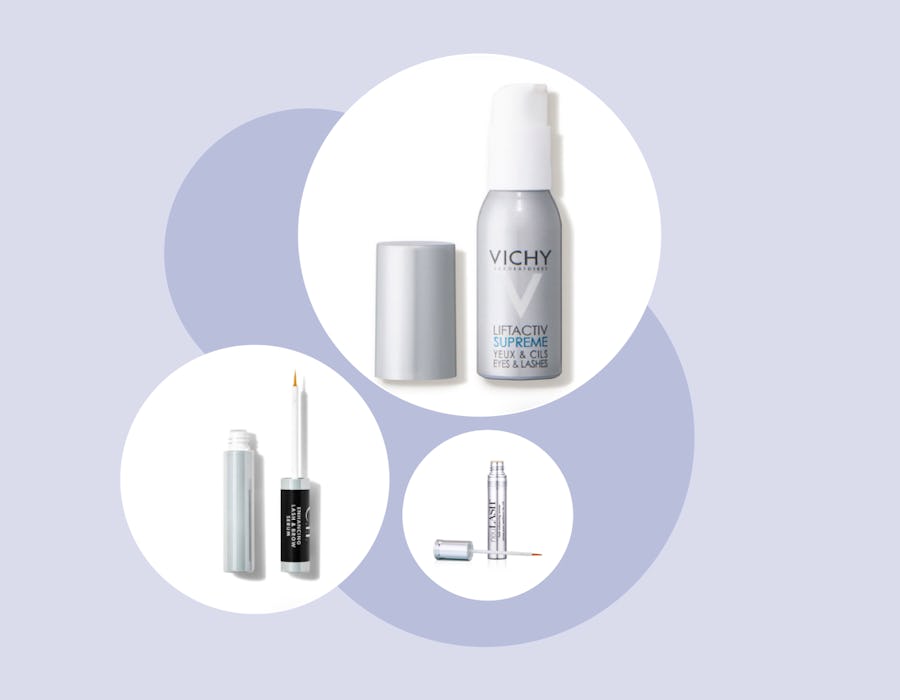 Vichy/e.l.f./NeuLash
Whether you swipe on layers of mascara or apply lash extensions, the quest for lengthy eyelashes is no joke. But there might be one part of the equation that you're missing out on: serums that promote growth. All you need to do is snag one of the best lash serums out there to see the difference.
The good news is that many of these serums really work. "Many of the lash serums on the market do give noticeable improvements in lash length and density with continuous use," Dr. Joshua Zeichner, M.D., a New York City-based board-certified dermatologist, tells Bustle. That said, he points out that you won't see results overnight: "You'll need to stick with it for several weeks before you see any changes."
Before you toss your lash extensions, know that there aren't clinical studies that prove over-the-counter serums truly make your lashes grow, says Dr. Hadley King, M.D., board-certified dermatologist. But if you look for certain active ingredients, the serum can make for an optimal environment to promote growth, at the very least. Zeichner recommends those with castor oil, hyaluronic acid, biotin, and peptides in order to reap the most benefits.
"Biotin is a B vitamin thought to promote healthy hair follicle activity," he explains. "Hyaluronic acid is a humectant ingredient that pulls in hydration to plump and strengthen the lashes. Castor oil has emollient properties to hydrate the lashes, and it also contains antioxidants to reduce inflammation and allow the hair follicles to function to the best of their ability. And the peptides used in eyelash serums typically help support growth of healthy lashes." King also points to an ingredient called bimatoprost, which is found in Latisse (the serum she dubs the "gold standard"), but this requires a prescription from your dermatologist to get.
Whichever product you choose, King recommends applying it to completely clean skin at the eyelid margin either once or twice daily as directed with a clean brush. Ready for fuller, healthier lengths? Here are the 15 best lash serums you can buy.
We only include products that have been independently selected by Bustle's editorial team. However, we may receive a portion of sales if you purchase a product through a link in this article.