The 19 Best Makeup Products of 2023, According To Bustle Editors
Skin-enhancing tints, lush lipsticks, and all the technicolor cosmetics you'll want to add to cart ASAP.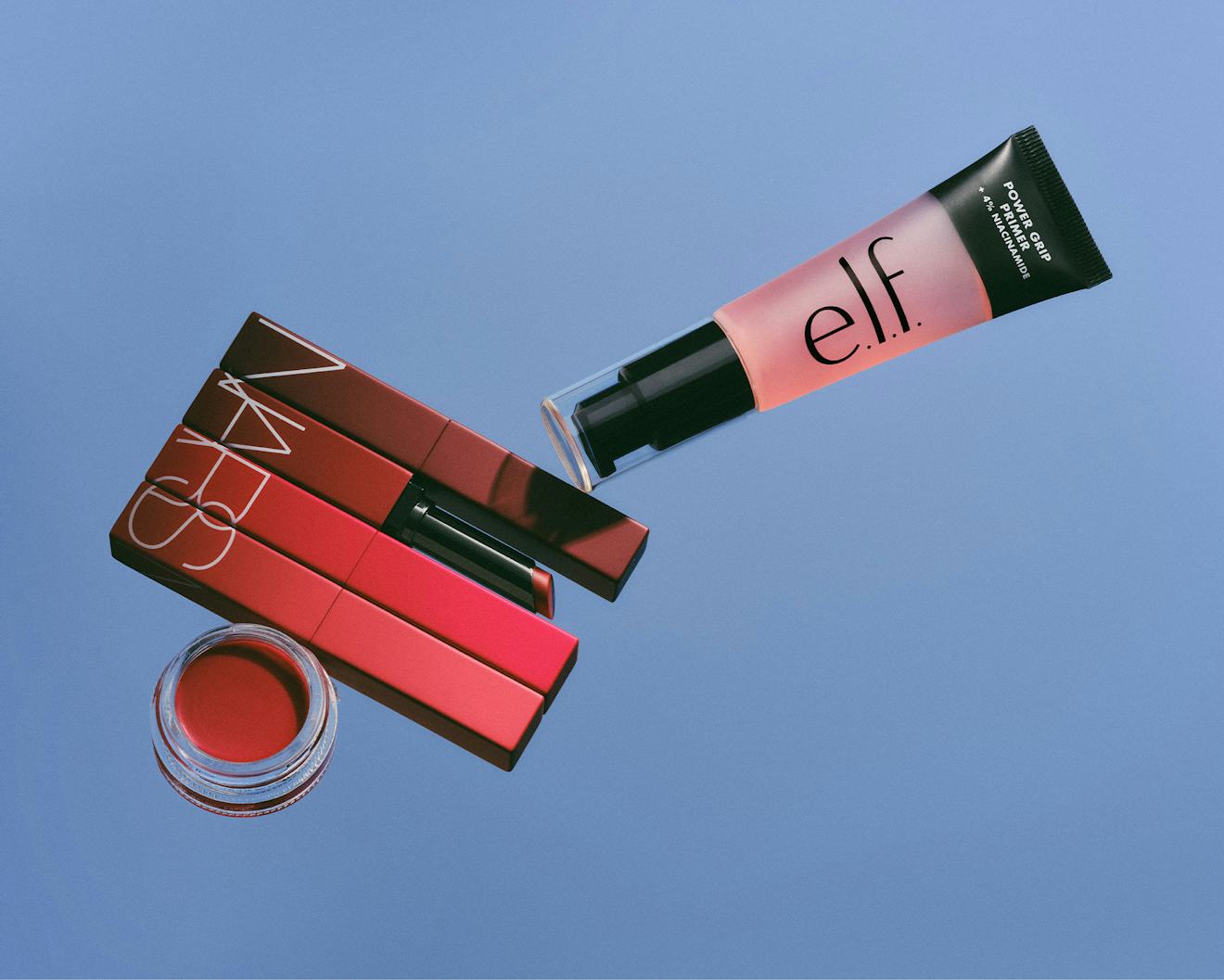 There was a time in the not-so-distant past when you had to choose between color and comfort in your cosmetics. Thankfully, we've come a long way in the past decade, as this year's award winners demonstrate.
Not only can a foundation feel fabulous on your face, but it can also infuse it with nourishing vitamins as it evens your tone and smooths out fine lines. Matte lipsticks can look velvety without sucking every last drop of moisture from your lips, while gloss can give you a patent shine without super-gluing your mouth shut.
Makeup has truly evolved into a sensorial experience that seamlessly blends form and function to help you create the looks you love — whether they're hyper-natural or surreal technicolor fever dreams dripping in crystals.
From concealers and brow pencils to highlighters and shadow palettes, we tested 'em all in a head-spinning array of skin tones, textures, and formulas to help find the very best of the vibrant bunch. Ahead, here are Bustle's best new makeup products of the year.
Best Foundation
With a second-skin finish, 36 diverse shades, SPF 25, and the ability to blur everything from blemishes to dark spots to undereye circles, this clean beauty fave was already an MVP. But, thanks to its lineup of skin-healthy ingredients, it also helps improve your skin with every application, making it the ultimate makeup and skin care hybrid. "It's super creamy and blends really nicely, and doesn't feel very heavy on the skin," says Rachel Lapidos, BDG's senior beauty and lifestyle editor. "Not only does it offer sun protection, but it's also packed with an impressive roster of skin-boosting ingredients, like peptides, niacinamide, and vitamin B5."
Best Skin Tint
The perfect blend of skin care and makeup, Summer Friday's Skin Tint took home the top prize for its lightweight, hydrating feel, extensive shade range, and its ability to look like it was freshly applied, even after hours of being subjected to heat, humidity, and oils. "I've been searching for a light-coverage base to use in place of foundation, and this is the grail I've been looking for," says BDG staffer Abby Lebet. "It has just the right amount of pigment to even out the tone of my face, and blends out smoothly with ease. Its dewy finish makes my skin look bright, refreshed, and luminous."
Best Liquid Makeup
The SHEGLAM Liquid Family is such a stellar collection, we couldn't pick just one. Start with the Sun Sculpt Contour which glides on and blends out for a sun-kissed, sculpted base. Follow with the Color Bloom Liquid Blush (we wouldn't be surprised if you recognized it from all over your social media feeds). Just a few dabs of this liquid blush is saturated with pigments that can be easily buffed out to a shimmer or matte finish of your choosing. Top it off with their Glow Bloom Highlighter that is a buildable, long-wearing highlight (we're currently obsessing over the Chroma-Glow Bloom Liquid Highlighter that is giving us serious music festival vibes). "This is all you need for a quick glam and they're so affordable," says Shyema Azam, BDG'S associate beauty director for branded. "I love how these are compact for on-the-go, and easy to apply and blend out for the prettiest, airbrushed-looking finish." Prices for the collection range from $4.99 to $6.99, giving you the most bang for your buck
Best Concealer
There's nothing worse than a concealer that sits on top of your skin, prominently pointing out exactly what it was you were trying to cover up in the first place. Make's Skin Mimetic Concealer is none of those things, thanks to some formulating wizardry with "skin-mimicking" pigments that allow it to blend so seamlessly into your complexion that it leaves behind no trace of itself or the blemishes, dark circles, redness, or uneven tone you're looking to hide. "I'm so impressed with this product," raves BDG staffer Layla Halabian. "I've always struggled finding the right shade match, but this concealer looks and feels like second skin. It's the type of exact match I was beginning to think was mythic."
Best Mascara
Expectations were set sky-high when we heard that one of our fave clean beauty brands, Tower 28, was launching its first mascara. Thankfully, our every expectation was met — and then some — with this vegan lash extender. A unique brush allows for definition, length, and volume, while the buildable formula still manages to strike that delicate balance between being safe for sensitive eyes and durable enough to last through our most demanding days. "This glides on effortlessly and has good staying power once applied," says former BDG staffer Olivia-Anne Cleary. "I like the natural look it has once on. I've been faithful to my YSL False Lash Effects mascara for years, but I'd happily use this one now."
Best Blush
If you're one of those people who find yourself intimidated by blush, this sheer cheek tint from Alicia Keys' Keys Soulcare line is calling your name. The shades are all inspired by the color of naturally-flushed cheeks, the moisturizing formula is infused with sunflower seed and safflower seed oils to nourish and smooth the skin, and the product itself is incredibly buildable and blendable to make application a breeze. "The creamy texture of these blushes is beautiful," says BDG staffer Kandice Chavous. "Lightweight and great for everyday wear, they blend down perfectly on top of bare skin or liquid foundation."
Best Lipstick
Matte lipstick is notorious for drying out lips, but Nars has cracked the code on how to deliver bold color with a velveteen finish and avoid the dreaded parched pout. Its Powermatte Lipstick glides on in one ultra-smooth swipe, delivering rich, transfer-resistant pigments that feel comfortable and light on the lips. "I'm highly impressed with the matte texture of these, which felt smooth and not drying," says BDG's executive beauty director Faith Xue. "I was pleasantly surprised by the wear, too, and how it didn't settle into lip lines as the day went on."
Best Lip Gloss
Feeling Y2K nostalgic? CoverGirl's Clean Fresh Yummy Gloss is like a cosmetics time capsule — just with better ingredients and textures than the products we were subjected to back in the day. While you get to enjoy the retro packaging and ultra-glossy lip look, the vegan formula is enriched with antioxidants and hyaluronic acid that deliver a hydrating, cushiony feel instead of the sticky, tacky one that used to be associated with this traditional type of gloss. "This product delivers on its name: It goes on clean, it smells fresh (and fruity), it's yummy, and of course glossy," says BDG staffer Kaitlin Cubria. "I'm not usually a lip gloss person because of its sticky texture, but I never got that feeling with this one."
Best Eyeshadow
Leave it to Huda Kattan to create an earthy shadow palette that's as exciting as it is wearable. Oftentimes shadow palettes can either be filled with too many shades that feel too similar to each other, or you can wind up with some wearable shades and a few head-scratchers that you're not quite sure how to incorporate into your everyday look. The Empowered Palette manages to blend new textures and colors into infinitely wearable hues that you'll be mixing and matching into endlessly innovative creations — without having to veer too far outside of your neutrals comfort zone. "The way I would lie down in front of a bus for a good Huda Beauty eyeshadow palette — JK, but not really," says BDG staffer Theresa Massony. "The Empowered Eyeshadow Palette is no different. The matte shades are silky smooth and not at all patchy, the glitters set a new standard for pigment payoff, and the shimmers are breathtaking. There's ample opportunity within this palette for both easy, everyday looks and statement shadow combos. 10/10, no notes."
Best Eyeliner Pencil
After experimenting with these colorful gel pencils, we're convinced there isn't much they can't do. Waterproof, transfer-proof, and smudge-resistant, MAC Colour Excess delivers extreme pigment in just one smooth swipe. But where these pencils really shine is in the waterline, where they've been tested for 12 hours of wear and a precise glide that won't irritate even the most sensitive and tear-prone eyes amongst us. "The white liner for the waterline, Alix Earle style, really did the trick and will definitely be a staple in my makeup routine from here on out," says BDG staffer Alexis Morillo. "Although I have watery eyes and it's allergy season, it stayed on my waterline all night long."
Best Eyeliner Pen
With the intensity of a free ink liquid liner but the precision and ease of a felt tip, Espressoh's Hi_liner takes the fear factor out of application. The vegan formula glides on smooth and, once it dries, will not budge. "As someone who does an almost everyday dramatic wing, this eyeliner is one of the best that I've tried," says BDG staffer Victoria Warnken. "I tend to get a bit teary-eyed during the change of season due to allergies and have always had to carry eyeliner out with me to touch up throughout the day. This stayed on all day — totally smudge-proof, no need for touch-ups."
Best Bronzer
Faux glows have a tendency to look, well, faux, but this cream bronzer from model-turned-makeup-mogul Rosie Huntington-Whiteley adds sunkissed radiance that looks real. It uses tourmaline and quartz to warm up the complexion and add a soft-focus glow without shimmer, while squalane and vitamins C and E hydrate and provide antioxidant protection. "This gave me an incredible glow and a really soft skin-blurring effect," says BDG staffer Hayley Schueneman. "It's also highly buildable — I could increase the amount very easily from just warming up my face to making it look like I spent all day in the sun."
Best Contour
Layerable, buildable, blendable, comfortable — if anyone was going to make contouring convenient, it was going to be Rihanna. The stick format allows for quick and easy contour application, so you don't need to worry about messing around with a compact and a brush. The formula is a buildable, cream-to-powder masterpiece that feels lightweight and airy on the skin while the shades (in true Fenty style) actually correspond and complement a wide variety of skin tones. "I've been a huge contour girlie for years, and this contour stick is one of the best products I've used," says BDG staffer Lara Walsh. "I really liked that it was a neutral tone (not too warm or too cool), helping it create a more realistic dimension."
Best Highlighter
With every new product drop, Selena Gomez has been setting her Rare Beauty line apart from the rest of the celeb beauty pack — and this powder highlighter is no exception. The talc-free formula is able to create a glass-like sheen on the skin that is usually only achievable with liquid luminizers. The secret is in the semi-sheer base brimming with prismatic micro-shimmers that enhance a variety of skin tones, all without settling into fine lines or uneven texture. "There's been so much hype around all the Rare Beauty products, and this one still exceeded my expectations," says BDG staffer Victoria Warnken. "The Mesmerize shade is perfectly glowy and the color really complimented my fair skin tone. A little goes a long way, and stays put all day."
Best Lip Liner
Lip liner has been having a bit of a moment this year, suddenly finding itself one of the most in-demand products in our makeup bags as '90s lips looks and matte textures re-enter the chat. While there's no shortage of options to choose from, DIBS' No Pressure liner was the clear favorite of our testers for its gel-like glide application and versatility. The mini size also makes it perfect for lining, defining, and filling on the go. "I love that these lip liners feel silky-smooth and, most importantly, twist up," says BDG's executive beauty director Faith Xue. "This is the first lip liner I've used where I really felt like it made my lips look naturally fuller. I'm obsessed!"
Best Makeup Multitasker
Makeup minimalists get an assist with these dreamy, creamy cheek sticks from Persona. The hydrating, portable balms are made with white tea and green tea extract to give them skin-enhancing benefits, alongside a wash of juicy color that's both breathable on the skin and long-wearing. "I love how creamy and blendable these multi-use sticks are," says BDG's executive beauty director Faith Xue. "They're so easy to use and add the most natural-looking flush that you can also apply on lips and eyes."
Best Brow Product
When you're looking to bulk up your brows, you want to reach for the skinniest of brow pencils. This teeny arch enhancer from Ami Colé was a fave of our testers, including celebrity makeup artist Jaleesa Jaikaran, who praised its "fine tip that allows for precise application and creates natural-looking brows." We also found ourselves smitten with the unique formula, which is infused with baobab seed oil, banana peel oil, and hibiscus flower oil to nourish and hydrate skin and brows. The built-in spoolie is clutch for blending and fluffing up brows after you've drawn on the most perfect, tiny, hair-like strokes.
Best Primer
While "sticky" isn't usually a descriptor we want associated with our face products, in the case of this primer from e.l.f., it's just what our testers needed to keep their makeup in place. The infusion of niacinamide in the formula helps brighten and even out skin tone as it holds onto your favorite face products for dear life. "This is a great value and made my makeup noticeably last longer," says Bustle senior beauty editor Erin Stovall. "I love the dewy, slightly tacky finish that it dries down to and the added niacinamide is an awesome bonus."
Best Setting Spray
Protect your makeup and your skin with this multitasking setting spray from MAC. Made with antioxidants, this alcohol-free mist sets your most iconic looks for up to 16 hours as it hydrates and safeguards your complexion from damaging pollution and blue light radiation. "This setting spray helps to lock in makeup and keep it looking fresh all day," says guest judge and celebrity makeup artist Jaleesa Jaikaran. "I love that the nozzle allows a lighter mist."
A previous version of this article misattributed quotes in the Tower28 review. It has been updated with the correct source.
Photographs by Di-Chen Chen
Prop Stylist: Ada Victoria Ochoa Arce
Executive Beauty Director: Faith Xue
Photo Director: Alex Pollack
SVP Creative: Karen Hibbert