The 6 Best Nail Products Of 2023
Let your hands do the talking.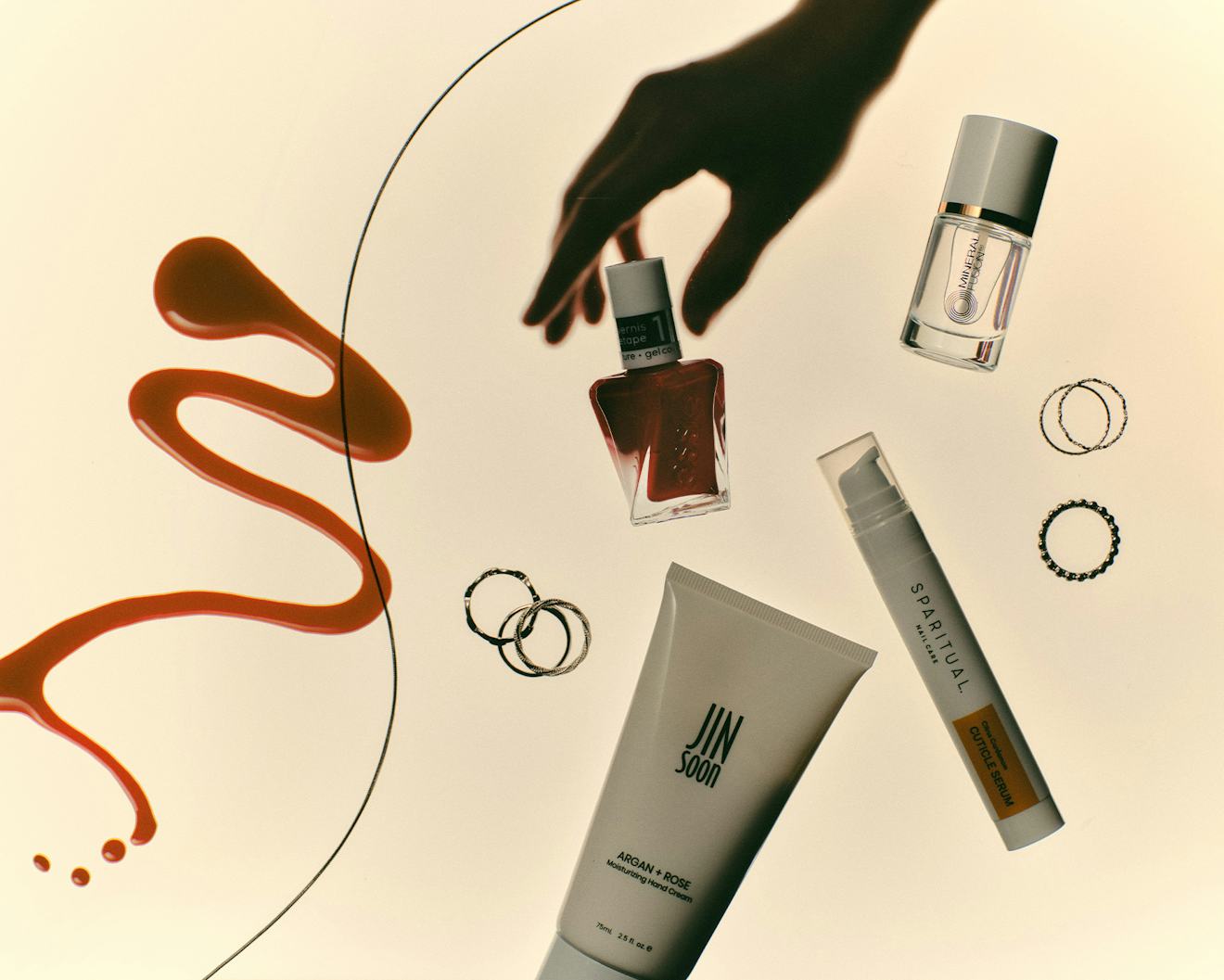 The nail salon will always and forever be a self-care safe space where we go when we need to re-center or for our digits to look extra drippy with intricate nail art and gravity-defying acrylics. That said, thanks to some of the most ultra-advanced technology and futuristic formulas on the market, you can create a masterpiece of a mani from the comfort of your own couch. Whether you're emulating the latest eye-catching designs or just perfecting a simple polish change, these nail care all-stars are a triple threat that meld convenience, longevity, and desirability. From foolproof press-ons that won't destroy your nails to a bionic polish that you'll swear is a salon gel and a hand cream that will make your skin feel like velvet, this year's winners are all definite add-to-carts for anyone looking to up their at-home manicure game. Read on for Bustle's best new nail products of the year.
Best Nail Polish
Calling all gel lovers: If you're trying to kick your gel habit but don't want to give up your longwear mani, Essie's Gel Couture polishes are the perfect compromise. These high-shine polishes will go the distance without damaging your nails. BDG staffer Kelly Faircloth put this '70s-inspired color collection to the ultimate mom test, with constant hand washing, an art and crafts project, and even accidentally shutting her hand in a car door(!) while rushing to make school pick-up and reports that it was still going strong after a week. "I've found my new favorite nail polish," she says. "Regular gel manicures absolutely wreck my nails, and it's hard to find the time to get them removed, but I need something stronger than a classic polish. This fits the bill perfectly."
Best Hand Cream
Give hardworking hands the perfect balance of moisture and nourishment with the ultra-luxe hand cream from celebrity nail artist Jin Soon Choi. Made with organic argan oil, aloe vera, shea butter, cocoa butter, and coconut oil, a dollop of this will hydrate skin without leaving behind a greasy film, so you don't have to worry about the dreaded slippery hands syndrome and can go about your day knowing your mitts are moisturized to the max. "She understood the assignment," says celebrity nail artist and guest judge Gracie J. "It's light, leaves a velvety after-touch, and is long-lasting. Although I'm not always a fan of rose-scented goods, it was very subtle."
Best Press-Ons
Professional-level nail art just got ridiculously easy thanks to the geniuses at Chillhouse. Their photo-ready Chill Tips are press-on nails featuring some of the most gorgeous designs you've ever seen. We were particularly smitten with the neutral, ballet-inspired, abstract lines of Pirouette. Easy to apply, easy to remove, and easy to love, these long-wearing at-home nails are some of the most comfortable press-ons our testers have ever encountered and were practically goof-proof, even for press-on newbies. "These lasted for 10 days, and I kept forgetting that they weren't my natural nails," says BDG staffer Hayley Schueneman. "The color and design is so modern — I would order a case of these just to have them on hand for whenever I need a fresh mani."
Best Press-Ons
Dashing Diva knows that our craving for the glazed donut nail trend is truly insatiable, which is why their Glazed Donut collection of press-ons is so genius. With two shapes to choose from (Almond and Coffin) and a variety of color options that include Jelly, Vanilla, and a French variation, these press-ons make application a breeze with their peel-and-press adhesives. Celebrity nail artist and guest judge Zola Ganzorigt was a fan of the Glazed Donut franchise, saying it brought her nail game to the next level. "It is so easy to put on and remove without damaging your nails," she says. "On top of that, it lasts at least a week."
Best Nail or Cuticle Treatment
Thirsty cuticles will appreciate SpaRitual's concentrated blend of jojoba oil, esters, and proteins to hydrate and repair dry skin and nails. A dab of this deliciously scented serum will soften and heal even the driest, most cracked cuticles and keep them hydrated for hours. "Obsessed," says BDG staffer Anne Vorrasi. "It makes an immediate difference in your cuticles and smells absolutely amazing. Honestly, I was skeptical at first because the formula is so lightweight, but I love this so much, I've actually been using it as a hand cream as well."
Best Top Coat
This vegan gel top cop came out of absolutely nowhere, blowing a host of salon brands and traditional nail care brands out of the water with its chip-resistant, long-wear, extra-shiny formula. Our testers were not expecting a mineral makeup brand to outperform their favortie salon brands, but the results speak for themselves. "My new go-to top coat, maybe for life," says BDG staffer Amanda Ross. "It's super glossy and dries in just a few minutes but is still pretty damn protective — I went a whole week with no chips, my new record for a DIY pedicure."
Photographs by Di-Chen Chen
Prop Stylist: Ada Victoria Ochoa Arce
Executive Beauty Director: Faith Xue
Photo Director: Alex Pollack
SVP Creative: Karen Hibbert