The 8 Best Fragrances Of 2023
These unforgettable scents are exactly what your perfume wardrobe have been missing.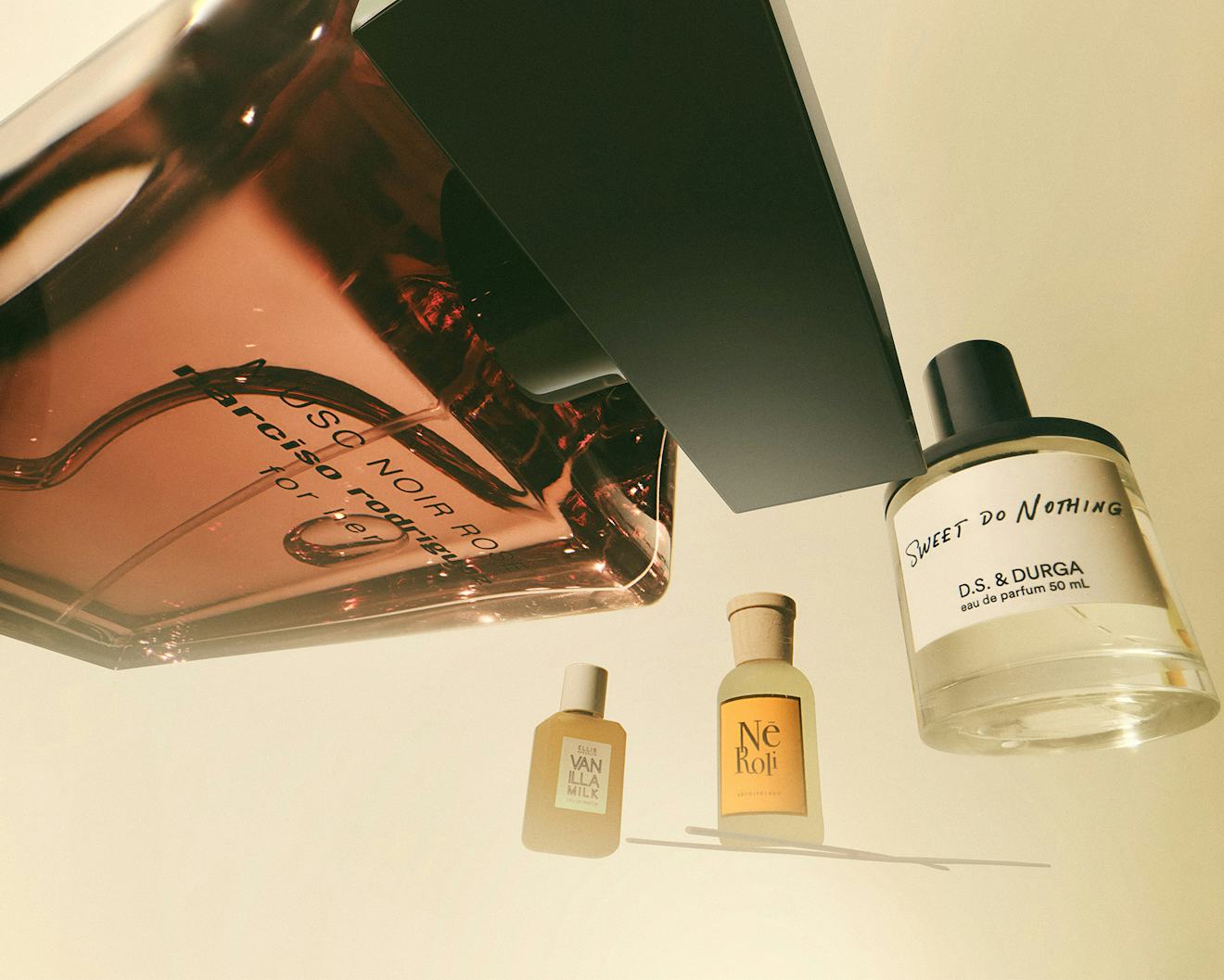 There is truly nothing more personal in beauty than fragrance, which makes judging this category a particularly unique challenge — but it's one our expert panel was more than happy to tackle. The winners in this category don't just smell phenomenal — they captivated our panel by creating an extraordinary experience with every sniff. From cozy gourmands that feel like a comforting hug to a sparkling citrus that practically radiates lazy summer afternoons, here you'll find fragrances that transcend the typical to make you feel all of the feels. Whether it's a specific core memory being unlocked, a dose of nostalgia for a bygone era, or a rush of emotion from an unforgettable time, each of these fragrances created a personal response in our judges that made them stand out from the perfumed crowd. Ahead, Bustle's best fragrances of the year.
Best Woodsy Fragrance
Capturing a moment in time is the foundation of Maison Margiela's Replica collection and this fresh fragrance is so realistic in that endeavor it will have you reaching for your umbrella. It's inspired by the impromptu spring showers and "joyful feeling of seeing the sun return after the rain." It blends earthy and woody notes of pine needle, patchouli, and moss with a watery aquatic accord and a touch of floral notes to create a clean, happy scent that is earthy without being musty. "This Replica perfume really surprised me in a good way," says BDG staffer Lara Walsh. "I got a lot of compliments on it, and it lasted a lot longer than I expected."
Best Musk Fragrance
If we were going to put money on fragrances that were going to go viral on TikTok last year, let's just say our wallets would be a lot lighter right now. Narciso Rodriguez's Musc Noir Rose, while a gorgeous classic scent, is not your typical fragrance for the TikTok crowd. Musk and rose tend to be seen as more old-fashioned and can be polarizing — they're not as universally appealing as fruity florals and sweet gourmands. And yet, this sophisticated and sensual perfume was everywhere you scrolled and near impossible to find, selling out at retailer after retailer thanks to viral videos of chic French women on #PerfumeTok claiming it's all they wear. After finally snagging a bottle and getting a whiff of its tuberose, musk, patchouli, bergamot, and vanilla blend for ourselves, it's easy to see why — it's sensual without being cloying, enigmatic but approachable. "I'm not a floral scent person, so when I saw rose in the name I was a little nervous, but after spraying it the first time I knew this scent was right up my alley," says BDG staffer Alexis Morillo. "It has notes of floral, but is much more unisex and musky, reminiscent of the ever-popular Le Labo Rose 31. I've gotten compliments when I do wear it — even hours after I've applied it."
Best Gourmand Fragrance
What elevates a sweet gourmand from just another dessert-inspired perfume to an addictive aroma you want to bathe in is a precise blend of sophisticated notes with those delicious accords. Ellis Brooklyn's Vanilla Milk masters that delicate balance and takes vanilla to dizzying new heights in this incredibly popular perfume, which combines two types of vanilla with crunchy cocoa shell, a hint of florals, sandalwood, musk, and a creamy milk accord. BDG staffer Kandice Chavous called it a smell that was "soft and perfect for every day," while Danielle Alfredo says it "feels like a more modern version of my grandmother's vanilla musk in the best way."
Best Floral Fragrance
While the deserts of West Texas might not be your first thought when you think of lush floral fragrances, clearly you are not familiar with the creative brains behind D.S. & Durga. Perfumer and co-founder David Moltz has a knack for finding inspiration in the most unexpected places and creating one-of-a-kind scents that evoke very specific feelings and destinations. This scent invites the wearer to slow down and tune in — inspired by the legendary nomadic Bohemian hotel in west Marfa, Texas — with notes of orange blossom, flowering cacti, Texas cedars, fig, and creosote. "This is one of those scents you spritz in the morning and can't stop but sniff yourself because it smells THAT good," says BDG's Executive Beauty Director Faith Xue. "A light, airy scent with an edge — intoxicating, like burrowing your face in a fresh bouquet."
Best Fruity Fragrance
If you haven't stepped foot in a Bath & Body Works in a few years, you might be surprised to learn that the mall mainstay has upped its fragrance game. While you can still find Cucumber Melon body sprays and hand sanitizers in every fragrance and color of the rainbow, the retailer has been working with top perfumers to develop more sophisticated perfumes for a more scent-savvy clientele. The result is gems like this floral fruity winner that would be just as home at the department store counter as it would next to a candle cornucopia. With sapphire berries, night-blooming orchid, and crystallized vanilla, it's a juicy crowd-pleaser that you'll find yourself reaching for again and again. "I usually don't like fruity fragrances, but this one has some warm undertones that makes the fruitiness have less of a bite," says BDG staffer Amy Eakin. "My husband really likes it too!"
Best Candle
When we say our testers were bewitched by this Vyrao candle, we mean it quite literally. The brand infuses energetic healing into all of its perfumes by way of a "Quantum Energist." The Ember Candle, for instance, has a woody, smoky aroma that "eliminates negative energy and emanates positive energy." Whether or not you believe in energy amplification, there's no denying this is one very sexy candle. "This is hands-down one of the most intoxicating candles I've ever had the pleasure of burning," says Xue. " The packaging already sets it apart — it's sleek, yet unique in its shape and design — but it's the scent that really makes it special. It's woodsy, earthy, warm, and witchy in the best way."
Best Hand Wash
We did not have "Courteney Cox launches our new favorite home-care line" on our 2022 bingo cards, but it is by far one of our favorite things to happen last year. The collection of gorgeously scented candles, dish soaps, and surface cleaners has changed the way we clean and scent our spaces. But, it's the Neroli Leaf Hand Wash that earned top accolades from our testers, thanks to its conditioning formula and can't-stop-sniffing-it scent. "This hand wash wins for fragrance, hands down," says Xue. "The neroli scent is intoxicating and makes me literally look forward to washing my hands."
Best Diffuser
For many of us, our homes have become spaces that we spend a lot more time in these days, so it's only natural to want to make them more inviting with pleasing aromas and attractive objects. A good reed diffuser can check both those boxes by scenting your home with a beautiful fragrance that lingers throughout without overpowering, while being housed in a sophisticated vessel that won't clash with your unique decor. Archipelago's elegant glass Neroli Reed Diffuser checks all those boxes with its bright, floral blend of neroli, jasmine, and bergamot that is bold and fresh without being overpowering. "This is my go-to diffuser / scent in my apartment at the moment," says BDG staffer Kimberly Perry. "I've received a lot of compliments on it from guests!"
Photographs by Di-Chen Chen
Prop Stylist: Ada Victoria Ochoa Arce
Executive Beauty Director: Faith Xue
Photo Director: Alex Pollack
SVP Creative: Karen Hibbert