The Best Products For Damaged Bleached Hair
Everything you need to restore your hair's vibrancy and health.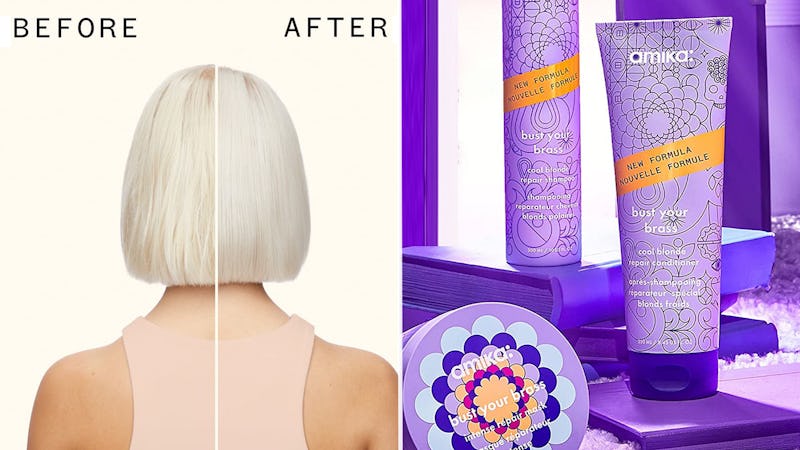 We may receive a portion of sales if you purchase a product through a link in this article.
Noticing more breakage or knots in your platinum blonde or highlighted hair? Your coloring sessions could be to blame. "If your hair looks dull and frizzy, gets tangled and knotted easily, and there seems to be more hair in your brush than usual, it is likely that your hair is damaged," colorist Parvin Klein tells Bustle. While speaking with your colorist should always be your first course of action, the right products can also help restore your hair to a healthier state. According to Klein, the best products for damaged bleached hair are shampoos, leave-in conditioners, masks, and styling products that contain moisturizing, plant-derived oils and butters (like coconut oil, argan oil, rice oil, shea butter, mango butter, and murumuru butter, for example). "Try incorporating a bond-strengthening treatment twice a month," adds Klein. "These contain amino acids that aid the restoration of protein in hair strands. Once your hair bonds are intact, it is much more capable of retaining moisture," she explains before adding one piece of cautionary advice. "Using a bond-strengthening treatment too often can be too much for the hair, so be patient."
The Expert
Parvin Klein is the color director of Bergdorf Goodman's Salon YOSHIKO in New York City. She has more than 35 years of experience with celebrity clients including Martha Stewart and Kathy Hilton. Klein is the master colorist behind the term 'Bergdorf Blonde.'
Ingredients To Avoid
"Always stay away from shampoos — and any products — that contain sodium lauryl sulfate, sodium laureth sulfate, and sodium chloride," advises Klein. These are all sulfates, which not only pose the risk of fading your expensive color, but can also dry your hair out, explains Klein. "Avoid products containing alcohol as it can dry out the hair and cause frizziness, and stay away from parabens," Klein adds.
Other Ways To Improve Damaged Hair
Of course, bleaching your hair isn't the only thing that can contribute to damage, and it's entirely possible that it's just one piece of the puzzle when it comes to your hair's health. "Excessive heat from any tool can seriously damage hair," shares Klein. "Save the iron or blow-dryer for special occasions, and make sure you're always using a heat protectant." Klein also stresses that when you are using a hot styling tool like a curling wand or flat iron, you need to be paying attention to the temperature setting you use. "Never set the tool to the hottest temperature," she says, adding that you should avoid going past 350 degrees Fahrenheit.
Washing your hair too often can also contribute to straw-like hair, as Klein explains that it can strip your hair of its natural oils. How frequently you wash your hair will depend on your hair type, as well as factors like how often you're working up a sweat, but Klein says to aim to wash bleached hair twice a week. Post-wash, Klein says you can avoid unnecessary breakage by detangling your hair from the ends first, and working your way up as you brush. And lastly, Klein adds that "The main cause of breakage is damaged hair that needs to be trimmed, so getting trims regularly is what I suggest to all my clients."
Shop The Best Products For Damaged Bleached Hair
In a hurry? Here are the best products for damaged bleached hair:
1. Best Moisturizing Shampoo For Damaged Bleached Hair
"When shopping for new shampoo and conditioner, look for options that are nourishing and healing," recommends Klein, who uses YOSHIKO's Signature Balanced Cleansing Shampoo & Conditioner in the salon. When in doubt, your colorist can always help you find the best shampoo for your hair type, or you can opt for a hydrating formula like Briogeo's Super Moisture Shampoo (and Super Moisture Conditioner), which is sulfate-free, suitable for all hair types, and safe for color-treated, keratin-treated, and chemically treated hair. To nourish your hair as it cleanses away buildup, oil, and dirt, the shampoo uses a blend of plant-derived ingredients like shea butter, coconut oil, and panthenol.
Key Ingredients: Shea Butter, Coconut Oil, Panthenol, Glycerin, Soybean Oil, Hydrolyzed Vegetable Protein Size: 16 oz. Cruelty-Free: Yes
Relevant Review: "These are the best products I have tried in such a long time. I had healthy hair, up until I bleached it about 3 times, almost back-to-back, and it was burnt, lifeless, frizzy, and I essentially lost almost all of my curls. After on blessed treatment, my hair is curly, healthy-looking, soft, and not frizzy. It even gave me my volume back.
2. Best Purple Shampoo For Damaged Bleached Hair
"When washing, use a purple shampoo and conditioner once a week to keep platinum hair looking its best," advises Klein. If you're following Klein's twice-a-week wash rule, that means you'll want to alternate a pigmented shampoo like Oribe's Bright Blonde Shampoo (and ancillary Bright Blonde Conditioner) with your usual, non-pigmented shampoo and conditioner. The sulfate-free formula contains violet pigments to neutralize yellow, brassy tones in blonde and silver hair, as well as pearlized pigments, lemon fruit extract, ginger root extract, and chamomile flower extract to leave your hair brighter and full of shine. You'll get a bit of moisture thanks to ingredients like sunflower seed oil, rice oil, and hydrolyzed vegetable protein, plus some added protection from UV rays and pollution courtesy of Oribe's signature complex of watermelon, lychee, and edelweiss flower extracts. Just be careful not to overdo it. "Although it is an important step in maintaining bleached hair at home, do not use more than once per week because it can change the color," Klein cautions.
Key Ingredients: Violet Pigments, Glycerin, Panthenol, Sunflower Seed Oil, Rice Oil, Hydrolyzed Vegetable Protein, Rice Seed Protein, Moringa Seed Extract Size: 8.5 oz. Cruelty-Free: Yes
Relevant Review: "So my hair has gone through so much damage from bleaching and have used expensive products to maintain the color and the damage that's been done due to bleaching. I've used this shampoo and conditioner combined one time and the difference is night and day!!! My hair has never been this soft since bleaching and I'm absolutely amazed. Will buy this amazing product as long as I'm a blonde."
3. Best Deep Conditioning Mask For Damaged Bleached Hair
According to Klein, anyone with bleached hair should aim to do a deep conditioning treatment once each week. You can technically do this by leaving your usual conditioner in your hair for a few extra minutes before rinsing it out, or you can try a more heavy-duty mask like Moroccanoil's Intense Hydrating Mask. It has more than 8,000 five-star ratings from Amazon users, and requires just five to seven minutes to work its magic. The brand's signature argan oil is the mask's hero ingredient, which is naturally rich in vitamin E and essential fatty acids that work to restore moisture to dried-out, damaged hair.
Key Ingredients: Glycerin, Argan Oil, Panthenol Size: 8.5 oz. Cruelty-Free: Yes
Relevant Review: "This is a wonderful product for any hair type! My hair was over processed and breaking from being bleached and it brought it back to life! My roommate also uses this product for her unbleached hair and she loves it as well."
4. Best Bond-Building Treatment For Damaged Bleached Hair
For a monthly bond-strengthening treatment, this K18 Leave-In Molecular Repair Hair Mask gets Klein's recommendation for its ability to work inside the hair shaft. The brand's patented technology focuses on reconnecting keratin chains and disulfide bonds that are often broken during the bleaching process or with the overuse of hot styling tools. Unlike most other hair masks, this leave-in treatment was designed to be used after shampooing and towel-drying your hair (no conditioner necessary). You'll just need one pump of the concentrated product, and after letting it sit for four minutes, you can go about your usual styling routine. K18 recommends using this every four to six washes when you first start using the treatment, then cutting back to once or twice a month.
Key Ingredients: K18 Peptide, Hydrolyzed Wheat Protein, Hydrolyzed Wheat Starch Size: 1.7 oz. Cruelty-Free: Yes
Relevant Review: "Okay, this stuff is so expensive I almost didn't want it to work. I'm a long-time Olaplex user so I thought, 'how much better could it be?' The answer is, much better. I have bleached hair that's a bit overprocessed on the ends, or should I say, was a bit overprocessed on the ends. K18 reversed the damage within a few uses."
5. Best Leave-In Treatment For Damaged Bleached Hair Under $30
This leave-in treatment won't help with bond building, but it will help bleached and highlighted hair look immediately smoother while improving your hair's overall health with continued use. Redken's Extreme Bleach Recovery Cica Cream Leave-In Treatment uses the brand's gentle conditioning complex to reduce the appearance of split ends and strengthen hair that's been damaged from coloring services. To help restore moisture to dry hair, you'll also find coconut oil and centella asiatica extract in the formula.
Key Ingredients: Coconut Oil, Centella Asiatica Extract Size: 5.1 oz. Cruelty-Free: No
Relevant Review: "My hair was fried after bleaching. I used this and noticed a difference within 2 uses! My hair feels so healthy and smooth and it also helps with frizziness. I use afterwards every time I wash. Been using for several weeks and my hair is so healthy."
6. Best Hair Oil For Damaged Bleached Hair
To make sure that your hair is moisturized between washes, Klein recommends applying an oil to the ends of your hair daily. Virtue Labs Healing Oil is her personal pick, which is color-safe and suitable for all hair types. The multi-tasking oil not only helps with moisturizing, but also leaves hair shinier, softer, and protected from environmental damage. To deliver all of those benefits, the brand combined its Alpha Keratin 60ku technology with ingredients like coconut oil, Tahitian gardenia flower extract, and watermelon seed oil, which get mixed together when you give the bottle a good shake.
Key Ingredients: Coconut Oil, Watermelon Seed Oil, Marula Oil, Vitamin E, Tahitian Gardenia Flower Extract Size: 1.7 oz. Cruelty-Free: Yes
Relevant Review: "No oily residue. I'm on my 4th bottle. It is liquid gold for my hair. I have highlighted, waist-length hair and can put it on my hair 3 or 4 times a day and never oily or heavy. My hair is in the best condition it's ever been in thanks to Virtue healing oil."
7. Best Budget-Friendly Hair Oil For Damaged Hair
If you're not looking to spend big bucks on a hair oil, don't worry: a pure, plant-derived oil — like this USDA-certified organic argan oil from ACURE — is an equally beneficial option (and, it has the added benefit of being suitable for use on your skin, too). Argan oil is rich in all sorts of vitamins and fatty acids, so in the long term, it will help restore your hair to a healthier, less damaged state. But in the short term, it'll immediately make your hair smoother, softer, and shinier. It is quite concentrated, being a pure oil, so stick to using this on your mid-lengths to ends only. Or, use it as a deep-conditioning treatment by applying it generously all over your hair, popping on a shower cap, and sleeping with it in overnight.
Also, keep in mind that most pure botanical oils are beneficial for damaged hair, so if you prefer, you can also try coconut oil, marula oil, or jojoba oil instead.
Key Ingredients: Organic Argan Oil Size: 1 oz. Cruelty-Free: Yes
8. Editor's Pick: Best Heat Protectant Spray
"I've been bleaching and highlighting my hair for as long as I can remember, so I'm pretty much always dealing with some form of damage," says Bustle beauty editor Adeline Duff. "I'm also guilty of straightening my hair way too often — so I always make sure to apply a generous amount of Pureology's Strength Cure Miracle Filler before going in with my hot tools. I started using this months ago, and since then, I've seen a significant difference in the health of my hair. It also makes my wavy hair dry a lot less frizzy, and like all Pureology products, it helps extend the life of your color thanks to the brand's signature AntiFade complex. Every few days, I spray a ton of this onto my hair while it's still damp, and I still haven't made a dent in the bottle."
Key Ingredients: Chamomile, Coriander Oil, Xylose, Coconut Oil Size: 5.1 oz. Cruelty-Free: Yes
9. Editor's Pick: Best Purple Hair Mask
"This is far and away the best toning treatment I've tried (including those twice the price)," says Bustle editor (and former BDG beauty writer) Caroline Goldstein. "It works like magic to lift yellowness and dullness, restoring my shade to that icy baby blonde I'm always going for. The deep conditioner aspect works equally well as the toner — it melts through knots and leaves my hair feeling so soft, and looking super shiny, right up until my next hair wash. As a bonus, the deep violet pigments don't stain my hands or shower, even though they're so potent."
Linked above is the 3.3-ounce bottle, if you want to test the treatment out before committing — or want to have a convenient option to travel with — but it also comes in a larger 8-ounce tub.
Editor's note: You can find more of the best purple hair masks here.
Key Ingredients: Mango Butter, Borage Oil, Sea Buckthorn Oil, Shea Butter, Vegan Proteins Size: 3.3 oz. Cruelty-Free: Yes
Relevant Review: "As for the dark blonde color, it interestingly blends perfect with my darker strawberry blonde hair in between color. A little goes a long way. I've tried them all, this is my favorite OTC brand. It doesn't flake, run, or cause film build up."
10. You May Also Like: This Root Touch-Up Spray
"Sometimes it's good to give your hair a break from coloring, which I know is no easy feat when the [roots] start to arrive," says Klein, who notes that your hair will never have a chance to heal properly if you're over-bleaching it. When you're trying to cut back on in-salon coloring, Klein recommends using a temporary root cover-up spray like Rita Hazan's Root Concealer Touch Up Spray to help blend in any re-growth (until you shampoo it out). Designed specifically to cover unwanted roots, this spray from celebrity colorist Rita Hazan is a waterproof and transfer-proof formula that comes in both blonde and dark blonde colors.
Available Shades: 5 Size: 2 oz. Cruelty-Free: Yes
Relevant Review: "I have been using this product for about a year. Love the root coverage. Saves me from doing my hair as frequently. Stays put until you wash it out. Excellent product!"
Expert:
Parvin Klein, color director of Bergdorf Goodman's Salon YOSHIKO in New York City.