Blake Lively's Red Carpet Style Is A Masterclass In Wearing Color
Apparently head-to-toe rainbows can look chic.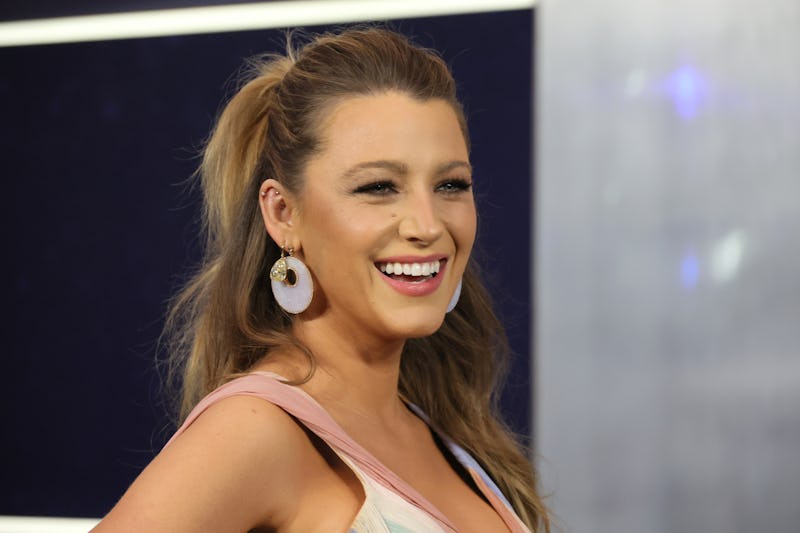 Dia Dipasupil/FilmMagic/Getty Images
While some celebs stick to a more neutral color palette (read: beige queen Kim Kardashian), Blake Lively embraces color almost every time she steps foot on the red carpet.
The actress attended the New York premiere of "The Adam Project" wearing a flowing, silk gown that featured swirling layers of pastel. The rainbow stripes criss-crossed at her waist, bringing together a deep V-neckline. And did I mention the up-to-there thigh slit? That, my friends, is how you do color.
Though not quite vintage, Lively got the look from pre-pandemic collections, pulling the gown straight from the runway of Versace's Spring 2019 Couture show.
It seems fitting that the gown was designed more than three years ago, as it brings an optimism that we haven't seen in the fashion world since face masks became the norm. That said, many of the latest Fashion Month collections have embraced this sentiment, infusing the technicolor aesthetic into their current designs. The result is more rainbow dresses and bright-colored minis than we've seen since January 2020.
As we enter the spring season, Lively's colorful look is one that you should consider adding to your own wardrobe. Shop the below dresses to liven up your closet (heh).