The 10 Best Sandals For Flat Feet, According To A Podiatrist
We only recommend products we love and that we think you will, too. We may receive a portion of sales from products purchased from this article, which was written by our Commerce team.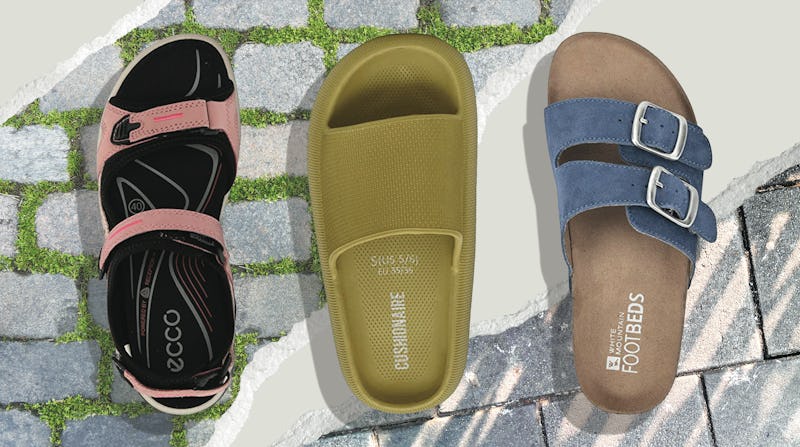 Bustle/Amazon
Everyone needs at least one pair of comfortable, supportive sandals in their wardrobe, but if you have flat feet, finding a go-to pair isn't so easy. To understand what those with flat feet should look for when shopping for sandals, I spoke to Dr. Jacqueline Sutera, DPM, a board-certified podiatrist and Vionic Innovation Lab Member. According to Dr. Sutera, the best sandals for flat feet have added structure and support, such as a deep heel cup, arch support, a durable outer sole, and ergonomic cushioning.
Overpronation, or flat feet, refers to "the absence of a curve in the arch of the foot, especially when standing," says Dr. Sutera. This condition causes excess strain on the midfoot, which can in turn lead to joint pain and discomfort while walking or standing for long periods of time. This makes it extra important that the shoes you wear, including sandals, have adequate support.
According to Dr. Sutera, "the more open the sandal, the less support there will be, especially in the arch, where flat-footed people tend to need it the most." That said, there are open-style sandals that can be suitable for flat feet (even flip flops are fair game), so long as they have the supportive features Dr. Sutera recommends: "a deep seated heel cup, arch support, a sturdy outer sole, and a cushioned insole." Additionally, Dr. Sutera suggests looking for sandals with "strappier and more structured styles," as they offer more support and stability. Strappy styles also give you the option to adjust the sandal for a better, more secure fit. To make your search even easier, know that all the sandals on this list were chosen for meeting these foot-friendly specs.
And while these are a few of the key features to look out for when buying sandals (or any shoe for flat feet, for that matter), there are also some you should avoid. According to Dr. Sutera, you'll want to keep away from shoes with thin, flat insoles; closed-toe sandals that are narrow or pointy at the front; and those that overexpose the mid-section of your feet. The lack of support offered by these styles can lead to unwanted sprains and strains and can worsen the condition.
The good news? There are plenty of sandals on Amazon that tick off all those boxes — and they're surprisingly stylish. Keep reading to find 10 of the best sandals for flat feet.