The 8 Best Shoes For Walking On Concrete, According To A Podiatrist
Comfort and shock absorption with each step.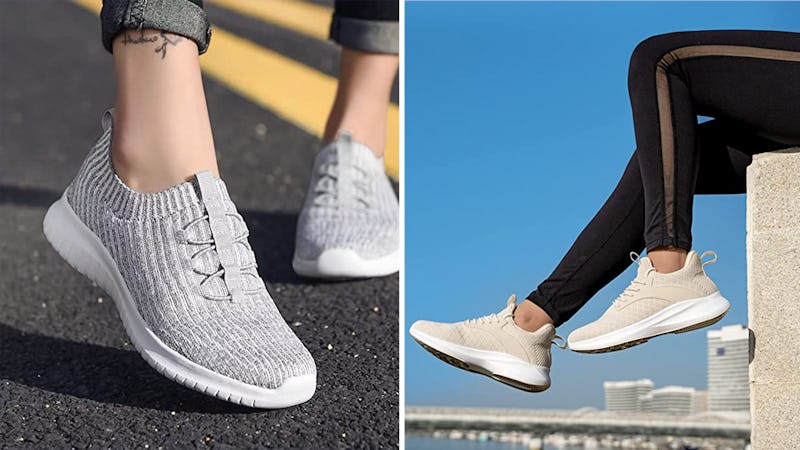 Amazon
We may receive a portion of sales if you purchase a product through a link in this article.
Whether for work or leisure, if you spend long hours walking on hard surfaces, you know it takes a good pair of shoes to keep your feet comfy. And, the best shoes for walking on concrete "combine arch support and shock absorption for maximum comfort," according to Dr. Timothy Oldani, DPM, a podiatrist at Missouri Foot and Ankle. From athletic shoes to casual picks and even sandals, these shoes come in a variety of designs and colors to suit your style.
The Expert
Dr. Timothy Oldani received his doctorate in podiatric medicine from Des Moines University and completed his postgraduate residency training at Forest Park Hospital in St. Louis. He became an associate in the American College of Foot and Ankle Surgeons in 2007 and went on to join Missouri Foot and Ankle in 2011. Dr. Oldani also serves as the podiatrist on staff at the Mercy Wound Care and Hyperbaric Clinic.
What To Look For In A Pair Of Shoes For Walking On Concrete
"Concrete is particularly hard and unyielding compared to other surfaces," Oldani explains, so it's especially important to choose a pair of shoes with cushioning and support for your feet. When shopping, look for shoes with cushioned insoles and shock-absorbing midsoles to help reduce the impact of each step. Oldani notes that having ample arch support is one of the most important features in an insole, and some even have plush memory foam for extra comfort.
Additionally, Oldani suggests looking for outsoles made of "tougher materials that can withstand the abrasive nature of concrete" and provide enough traction. Most shoes on this list have outsoles made of durable rubber, but you can also opt for lightweight MD (a mix of EVA and rubber or other materials) which can help evenly distribute body weight but may be less durable.
Beyond that, consider what kind of activities you'll be wearing your shoes for. There are a variety of athletic and casual styles to choose from and even a pair of sandals on the list for warm-weather strolling. Most of them feature breathable upper materials to help keep your feet cool and dry, and you can choose between lace-up and lace-free designs for a quick and easy on and off.
So when you're ready to hit the sidewalks in comfort, scroll on for the best shoes for walking on concrete available on Amazon.
1. This Popular Shoe That's Designed For Shock Absorption
With an overall 4.7-star rating and a spot as some of the best-selling running shoes on Amazon, the Brooks Ghost 14 sneakers are a great pick if you plan on hitting the pavement. The brand's nitrogen-infused cushioning provides softness and support, while a wide rubber outsole and a segmented crash pad offer traction and shock absorption from hard concrete. The shoes also boast a quick-drying and comfortable mesh upper material and a seal of acceptance from the American Podiatric Medical Association (APMA). Many reviewers agree that these shoes offer ample arch support, with one fan writing, "I have very high arches and need extra support when running. These are fabulous and very comfortable on my feet." These shoes come in both wide and narrow sizes, and men's sizes are also available.
One reviewer wrote: "Best shoes ever! I'm on my feet 8-10 hours a day on concrete. [...] Tried these and will never wear anything else to work in. Didn't need to break in. From the first day they were perfect!"
Sizes: 5 — 13, including wide and narrow sizes | Colors: 36
2. A Pair Of Sock-Like Slip-Ons For Under $40
If you like the ease and comfort of a slip-on shoe, consider this pair of sneakers that boast a stretchy knit fabric and a lace-free design. The breathable, sock-like material flexes to the shape of your foot for a comfortable and rub-free fit, while a memory foam insole with arch support helps cushion each step. The lightweight midsole and MD outsole provide flexibility and traction, and there are 22 colors to choose from.
One reviewer wrote: "I LOVE these shoes. I bought a pair last year with the idea of wearing them to run errands etc…. Well I not only where them for that but also for walking. They are honestly the most comfortable shoes I have ever worn. I love these shoes so much that I just ordered two more pair in different colors. The shoes are pretty stylish too and are holding up quite well for as often as I wear them."
Sizes: 5 — 13, including wide sizes | Colors: 22
3. This Expert-Approved Sandal For Walking On Concrete
If you're looking for a pair of open-toe shoes for walking on concrete, Dr. Oldani recommends these NAOT sandals with cork footbeds as they "provide additional buoyancy and are ergonomically designed to meet your feet's supportive needs." They also boast a seal of approval from APMA and have a suede-covered cork footbed with arch support that gently molds to the shape of your foot. Real leather straps with a hook and loop closure at the instep create a customizable fit, and the EVA and rubber outsole is flexible, lightweight, and provides a little height (0.5 inches, to be exact). Choose from more than 40 colors.
One reviewer wrote: "I just returned from 6 weeks in Europe - and these sandals were fantastic. [...] Other shoes and sandals I had were sliding on cobblestones or the foot bed wasn't thick enough, so I could feel them through the bottom of my feet. Honestly, I walked more than 300 hundred miles in these sandals (and a pair of skechers) and had not a hint of the plantar fasciitis that has plagued me before."
Sizes: 3 — 13.5, including narrow and wide sizes | Colors: 48
4. A Stylish Sneaker With A Supportive Heel
Known for its comfort and durability, these New Balance shoes are great for both running and walking on concrete. They incorporate the brand's popular Fresh Foam cushioning in the midsole to soften each step and feature a rubber outsole that's designed for extra durability. The specially designed heel gently hugs the back of your foot for more support, and there are a variety of styles, including some cool two-toned designs. Reviewers enjoy the mid-level arch support in these shoes but note that they may run a tad small, so ordering a half-size up might be beneficial.
One reviewer wrote: "I work 12hr hospital shifts and these shoes are the best. They're lightweight and so comfortable. I have almost every color, I'm obsessed. They're also very reasonably priced!"
Sizes: 5 — 12, including wide sizes | Colors: 49
5. A Pair Of Shoes With Gel Cushioning
Many shoppers love these ASICS for their shock-absorbing features and comfortable fit, with one fan writing, "I have been wearing asics for almost 20 years and I haven't found a better running sneaker." They feature the brand's FLYTEFOAM Propel midsole material which adds cushioning and a responsive rebound to each step, as well as gel technology cushioning in the heel and forefoot for improved shock absorption. Most reviewers note that the arch support is great, and one user wrote, "I have high arches and bony heels and this shoe provides extra support for long days on my feet." A knit upper keeps things breathable and comfy, and the reflective details are an added bonus for walking in the dark. Plus, they have a durable rubber sole and come in wide and narrow sizes, and men's sizing is also available.
One reviewer wrote: "I bought a pair of these and wore them out of the box on vacation to Boston and they were great. Comfortable, light and able to keep me going. Loved them so much had to get another color."
Sizes: 5 — 13, including narrow and wide sizes | Colors: 19
6. This Highly Rated Loafer-Style Walking Shoe
These cute walking shoes may have a more casual look, but they certainly don't skimp when it comes to the cushioning or advanced features that'll make walking on concrete a breeze. They've earned a spot as one of the best-selling walking shoes on Amazon, in part, because of their super comfortable design that one fan writes is "like walking on a cloud." They feature responsive cushioning, a shock-absorbing insole, and a thick rubber outsole with plenty of grip. The upper is made of soft mesh material for breathability and flexible comfort, and they're machine washable for easy cleaning, according to the brand website. However, some reviewers found the arch support to be lacking — but shoppers also report it's easy to replace the insoles with your own orthotics if needed.
One reviewer wrote: "I purchased these shoes for a trip to Disney World. They were perfect for slipping off at the airport to go through security, and easy to slip back on. I wore these everyday at Disney on that asphalt/concrete the paths are made of. One day I did 16,500 steps and my feet never hurt. These are the best shoes for walking, walking on concrete, and going through security. They are also cute and look good with different outfits. I am so glad I purchased these shoes!"
Sizes: 5 — 13, including narrow and wide sizes | Colors and designs: 32
7. A Pair Of Supportive Walking Shoes With Classic Style
These classic kicks boast a slight high-top design, plush padded collars, and a thick yet flexible MD sole for ample support from heel to ankle. The upper material is made of soft knit fabric, and mesh panels on the top of each foot add extra breathability. Inside the shoe, you'll find cushiony, moisture-wicking memory foam insoles. And if you'd like to add your own orthotics or extra arch support, reviewers confirm there's room to do so, with one fan writing, "I walk around all day at work full-time and need insoles and a lift for my shoes because of my scoliosis. These are so comfortable and have space for all of my inserts!" Choose from 36 colors, including gray, red, and some cute patterned options.
One reviewer wrote: "I purchased these shoes right before a trip to Europe because mine were starting to wear thin at the toe. [...] They held up to a LOT of walking. 10 days, we walked every day, and my feet loved me every time I was wearing these shoes. I also have a German Shepherd and since returning have been walking her frequently; the shoes are still in great shape. They clean pretty easily, and I like how stylish they are."
Sizes: 5.5 — 11 | Colors: 38
8. These Shoes That Are Made For Long-Distance Walks In 70+ Colors
Designed specifically for walking, these Ryka sneakers are great for hitting the pavement. They feature the brand's RE-ZORB cushioning for enhanced impact protection and have an anatomically designed insole with arch and heel support. The inside of the shoe is built with a roomier toe box to reduce rubbing, and the collars have built-in cushioning for extra comfort. To top it off, the mesh uppers help your feet stay cool while you walk and the rubber outsole provides grip with each step.
One reviewer wrote: "I just bought my third pair of these shoes! I have a pair for work, one for exercise and a pair for around the house. They are so comfortable and are the best sneakers I have ever worn. I have struggled for decades trying to find sneakers for my arch feet. I'm on concrete floors most of the day and I have had zero aches and pains. Ryka is an excellent brand. Great quality for the best price and are stylish too."
Sizes: 5 — 12, including wide sizes | Colors: 75
Expert:
Dr. Timothy Oldani, podiatrist at Missouri Foot and Ankle