The 12 Best Silk Hair Ties For Hair-Friendly Styles
We only recommend products we love and that we think you will, too. We may receive a portion of sales from products purchased from this article, which was written by our Commerce team.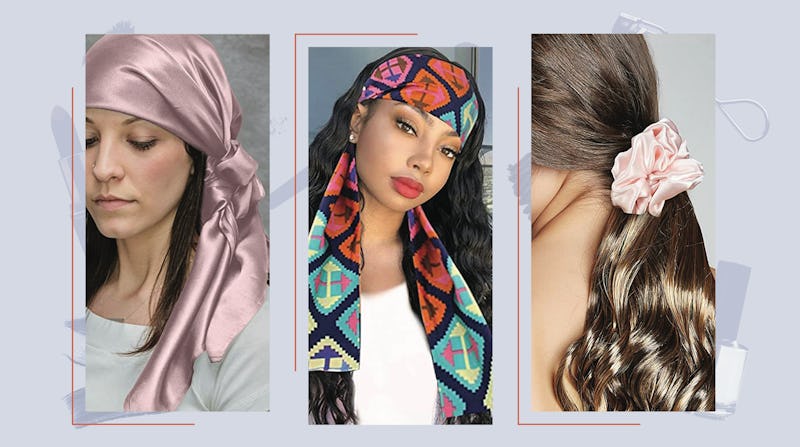 Bustle/Amazon
Between deep conditioning treatments, hair masks, and frequent trims, there's a lot we can do to keep our hair healthy. But there's one small detail you may be overlooking in your daily hair-care routine — using elastic hair accessories, which can pull at your hair, create dents, and cause breakage. Instead, give one of the best silk hair ties a try. Made of either 100% silk or silk-like satin, these scrunchies, scarves, headbands, and bonnets can help prevent breakage and stave off unwanted frizz, and they won't dent fine or fragile hair.
The Benefits Of Using Silk Hair Ties
Silk can benefit your hair in a few ways. The smooth surface minimizes friction, which in turn can prevent unwanted frizz and split ends; and the fabric won't absorb the natural oils your hair needs to stay nourished and hydrated. Plus, silk hair ties are typically free of metal pieces that can snag loose ends, and they'll smooth over the hair rather than pull it to prevent breakage.
How To Shop For The Best Silk Hair Ties
To identify the best silk, you'll want to look out for the term mulberry (the highest-quality silk comes from silkworms that feed on mulberry trees). You'll also come across the term momme, which refers to the density of the silk. Momme weight typically ranges between 19 and 25; and the higher the momme count, the better the quality. A lower momme count may be slightly less durable, but it's also more affordable.
While silk is most desirable, it can be pricey; however, satin can offer similar benefits without the hefty price tag. Satin isn't a fabric — instead, it's a combination of textiles (think polyester and other manmade fabrics) that are woven to create a lustrous and elastic product. And while it may not seem as luxe as silk, good satin can look and feel very similar to silk, and can offer your hair the same kind of protection as silk.
There are tons of silk (and satin) hair accessories to choose from, whether it's a scrunchie, a headscarf, or a bonnet. Whatever style you're after, the 12 best silk hair ties are gentle on even the most fragile hair, and add a hint of luxury to your daily routine.