The 10 Best Walking Shoes For Bunions, According To A Podiatrist
No more painful pinching.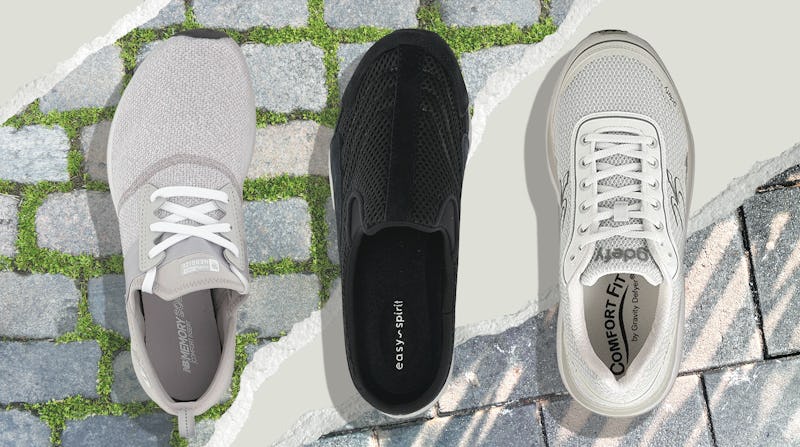 Bustle / Amazon
We may receive a portion of sales if you purchase a product through a link in this article.
Apart from being uncomfortable, shoes that constrict bunions can result in painful inflammation, irritation, impingement, and even chronic arthritis. So if you have bunions and you spend a lot of time on your feet, a proper pair of walking shoes are a must in order to keep pain and discomfort at bay. According to Dr. Timothy Curran, D.P.M., a podiatrist at Tufts Medical Center who spoke with Bustle for this article, the best walking shoes for bunions have a roomy toe box, stretchy uppers, and lots of support.
The Expert
Dr. Timothy Curran, D.P.M. earned his medical degree at Dr. William M. Scholl College of Podiatric Medicine and has been practicing podiatry for over 20 years. He serves as the Program Director of the Podiatry Program at Tufts Medical Center, and also serves as the primary podiatrist for two professional sports teams.
What To Look For In The Best Walking Shoes For Bunions
According to Dr. Curran, these are the top four features to focus on when shopping for walking shoes that won't disturb your bunions:
Roomy Toe Box: Dr. Curran says, "shoes that [...] have a roomy toe box are generally more comfortable to wear," and "should be long enough and wide enough to accommodate the bunion deformity." Though all of the shoes on this list are designed with wide toe boxes, some also come in wide and sometimes even extra-wide widths, which ensures that even the most severe bunions have plenty of wiggle room.
Stretchy Uppers: Dr. Curran says it's best to choose shoes with stretchy uppers, like those made from mesh or knit materials, because they "provide more relief than shoes that have a lot of stitching [or that are made from] a harder leather material." Overall, he says the less restrictive, the better.
Low Heel: Dr. Curran also advises avoiding heel heights over 1.5 inches tall, since higher heels can place "up to 90% more pressure on the ball of the foot and the bunion."
Adequate Support: From contoured footbeds and arch support to deep heel cups and cushioned insoles, Dr. Curran says that shoes with supportive features like these can "provide some relief" from bunion pain. The American Podiatric Medical Association (APMA) also recommends that people with bunions opt for orthotic inserts. Luckily, some of the options on this list come with removable inserts for those seeking even more support.
A note on style: Since sneakers with laces offer the most support and stability, they're the obvious choice for long or rigorous walks. However, there are other styles, like slip-ons or sandals, that are great for more leisurely walks or casual wear, and that still hit all of Dr. Curran's top criteria. A few shoes on this list come backed by the APMA Seal of Acceptance, too.
Keep reading for 10 of the best walking shoes for bunions.