If You Have Bunions, These Shoes Offer Total Comfort — & They're Fashionable, Too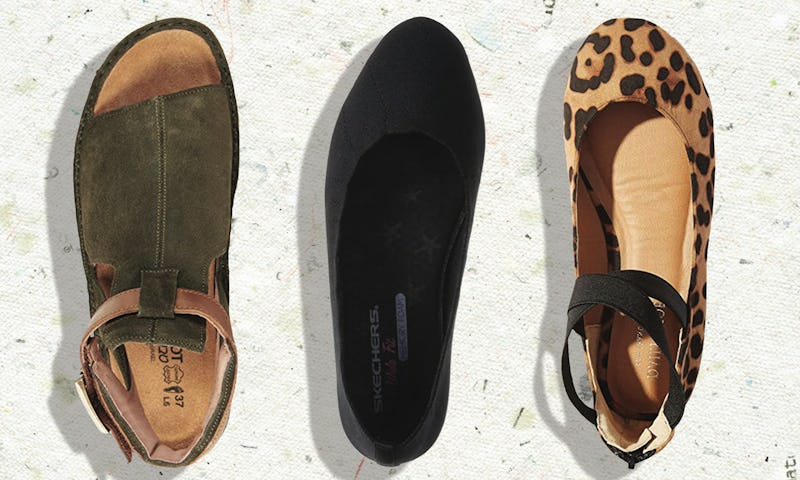 Bustle
When you have painful issues with your feet, finding decent footwear can be difficult — so it goes without saying that finding fashionable shoes for bunion sufferers is even harder. To make the process a little bit easier, Bustle reached out to podiatrists for sage advice on what to look for when shopping for comfortable yet stylist options. In short, the best shoes for people with bunions should be wide set, low to the ground, and made with soft, flexible material.
Bunions happen when your big toe shifts out of place, facing inward and creating an enlarged joint. Therefore, it's important to find a pair of comfortable shoes that won't aggravate the protruding bones.
Dr. Neyla Lobkova, a New York-based podiatrist who founded Step Up Footcare, tells Bustle that "shoes that have a wide toe box" are essential because they "accommodate the widening of the forefoot associated with a bunion and prevent pressure on the bunion which causes pain." She also recommends that those with bunions avoid "all heels over 3 inches high."
Dr. Bruce Pinker, a New York-based podiatrist with Progressive Foot Care, stresses the importance of wide toe boxes, telling Bustle that "narrow toed or pointy toed footwear will exacerbate the bunion."
Aside from shoe width and height, finding shoes comprised with flexible fabric also adds a layer of comfort. With those things in mind, scroll on for shoes that help make walking around with a prominent toe joint more comfortable but still stylish.
We only recommend products we love and that we think you will, too. We may receive a portion of sales from products purchased from this article, which was written by our Commerce team.