The 6 Best Walking Shoes For High Arches
A podiatrist and hundreds of shoppers weigh in.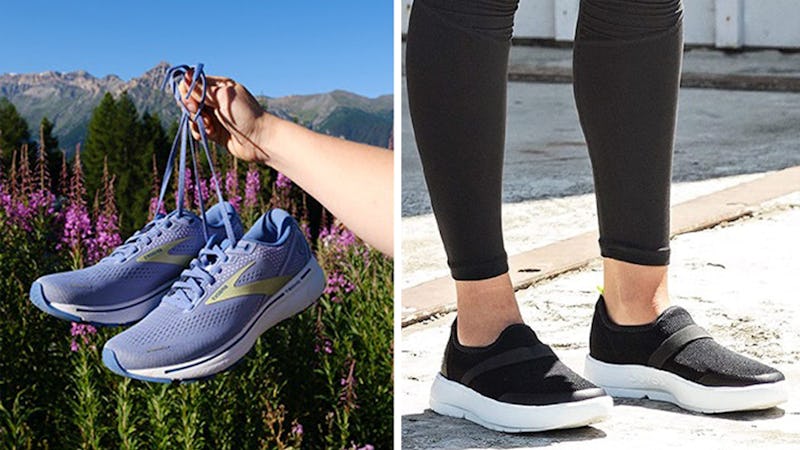 We may receive a portion of sales if you purchase a product through a link in this article.
A great pair of walking shoes is a rarity for anyone — but if you have high arches, it can be particularly difficult since you need to balance support with cushioning. According to a podiatrist, the best walking shoes for high arches will have contoured support, cushioned soles, and plenty of room.
The Expert
Daniel Pledger, DPM, is a podiatrist and the founder of ePodiatrists with 15 years of experience in the field.
Why Do People With High Arches Need Specific Shoes?
According to Dr. Pledger, "People with high arches have a foot structure that places extra pressure on the heel and ball of the foot," which can cause "pain, discomfort, and even injury while walking." It can also lead to larger foot issues down the line, like "plantar fasciitis, metatarsalgia, and shin splints." Fortunately, the best walking shoes can alleviate much of the discomfort and minimize the risk of future injury.
What To Look For In The Best Shoes For High Arches
"Individuals with high arches should look for shoes that provide adequate arch support," Dr. Pledger wrote, meaning a "contoured shape that conforms to the natural shape of the foot." In addition to arch support, shoppers should also look for a cushioned sole, which "can help absorb shock and reduce stress on the ball of the foot." Finally, "Shoes with a wider toe box can also provide added comfort by allowing for more space for the toes to move freely," Dr. Pledger wrote.
Just keep in mind that those with ongoing foot issues should also "engage in exercises that can strengthen the muscles in the feet and ankles" and "consult with a podiatrist if you experience persistent pain or discomfort in the feet, as this could be a sign of a more serious underlying condition," according to Dr. Pledger
Shop The Best High-Arch Shoes For Walking
In a hurry? Here are the top picks for walking shoes for high arches.
1. The Expert's Pick For High Arches
Dr. Pledger's recommendation for those with high arches is the Brooks Ghost running shoe. While he specifically named the predecessor (the 13), the updated Brooks Ghost 14 Neutral Running shoe is well-stocked and still has all of the expert's recommended features. "Although it is marketed as a running shoe, it can also be used for walking," Dr. Pledger wrote. "It has a contoured insole that provides good arch support, and the sole is well-cushioned, which can help absorb shock while walking. The shoe also has a spacious toe box that can accommodate various foot shapes comfortably."
One reviewer wrote: "Have had a pair of Ghost 13 for a while and they fit me better than any other athletic shoes. If you have high arches and want a wide toe box, these are for you. With the Ghost 14 on sale to make room for the new version, I bought 2 pairs! Don't even have to break them in."
Color options: 35 | Available sizes: 5 — 13 (with wide and narrow options)
2. The Runner-Up
The Skechers Arch Fit sneakers have a podiatrist-approved, removable insole system that was developed using more than 120,000 foot scans. The result? Amazing support, even according to reviewers with especially high arches. This pair also offers a mesh-knit upper with cooling ventilation, a cushioned midsole, and plenty of traction on the bottom to keep you stable on your feet. Finally, ample colors and sizes (including wide options) make them a great fit for most buyers.
One reviewer wrote: "I work on my feet and have been having issues with my feet and knees. I have higharches, and without arch support it really made my feet and knees ache and my knees would swell. I've only had these shoes a few days, and the difference is AMAZING. They fit really well, they're super breathable, very comfy, and the arch support has lessened my foot pain and my knees are not swelling as much."
Color options: 23 | Available sizes: 5 — 11 (with wide options)
3. The Best Budget Walking Shoes
For less than $50, these cushioned walking sneakers are a budget-friendly option with plenty of great features. While they're not a podiatrist-developed option, they still come with removable arch-support insoles, which absorb shock, boost comfort, and provide structure for higher arches. Other noteworthy features include air-cushioned heels, non-slip EVA soles, and lightweight knitted uppers in tons of color options, all for significantly less than competing pairs.
One reviewer wrote: "I was not expecting this to be such a great shoe. I always need to add cushion inserts in all my shoes (even name brand) because there is not enough arch support. That was not the case with this pair. I have high arches, plantar fasciitis, and work as a massage therapist. These shoes are light, comfortable, breathable, and offer the best arch support."
Color options: 30 | Available sizes: 5.5 — 11
4. The Best Fashion Sneakers For High Arches
Vionic is known for its podiatrist-developed styles, and reviewers have taken notice of the high, structured arches in their shoes. For that reason, these Vionic Magnolia Shawna high-tops are a great option that's comfortable and stylish. The high, bootie-like ankles feature leather uppers. While the deep heel cups, EVA bottoms, forefoot cushioning, and ultimate arch midsoles make them reliable, comfortable walking shoes for those with high arches, as well.
One reviewer wrote: "I have high arches, short toes and wide feet. [...] but I lived in these for 10 days- airport travel, walking all day, in the rain and on the beach."
Color options: 6 | Available sizes: 5 — 12 (with wide options)
5. The Best Slip-On Sneakers
For those who prioritize getting out of the door without hassle, these OOFOS slip-on sneakers are easy to hop into and supportive. Even though they have a stretchy, mesh upper that hugs your foot without the need for laces, they're still extremely supportive for high arches. The patented footbed aims to reduce ankle strain, and the shoes have earned the American Podiatric Medical Association Seal of Acceptance.
One reviewer wrote: "Calling all RNs: these are the most comfortable shoe/sneakers I've ever worn for a 12 hour shift. If you have a high arch, you will love these. If you are exhausted and don't feel like tying shoes in the morning, these slip on. I highly recommend!"
Color options: 5 | Available sizes: 5 — 12
6. The Best Stylish Walking Sandals
Vionic's podiatrist-developed pairs aren't limited to sneakers; this brand puts their high, orthotic arches in every single pair, including open-toed shoes. For that reason, these Vionic Rest Amber sandals are a favorite among those who need a stylish shoe that stays comfortable for hours. In addition to their structured arches, they also have deep heel cups and ample cushioning — and since each strap (including the secure backstrap) is fully adjustable, you can find the best fit for your feet.
One reviewer wrote: "I couldn't be happier to find a sandal for every day where while I deal with extreme high arch issues and plantar fasciitis. This sander will go with all pants and shorts because it's leather with a cork look. I seem to be able to walk in these for a few hours around the house doing a ton of things and I can't say that for most of my shoes because I have such a high arch."
Color options: 8 | Available sizes: 5 — 12 (with wide options)
Expert:
Daniel Pledger, DPM, podiatrist and the founder of ePodiatrists.