The Activists Dropping Merch To Help Save Chinatown
From Made in Chinatown To Pearl River Mart.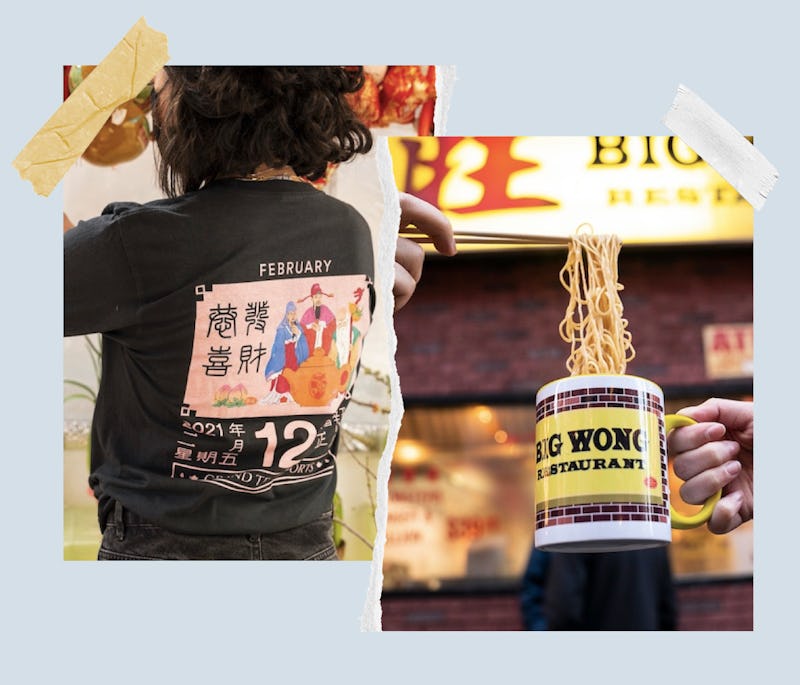 Made in Chinatown
When news of a novel coronavirus began to make its way across the Pacific Ocean in January 2020, Jennifer Tam saw firsthand the devastating effects anti-Asian rhetoric had on New York City's Chinatown — the place she's called home for the past 10 years. "We saw foot traffic go down even before COVID officially hit New York," says Tam, a 31-year-old who moved to the lower Manhattan neighborhood from Texas to connect with her heritage. "The people we used to see every day, the businesses we frequented — we just have that unspoken language of care for each other — and we could see how much xenophobia and racism impacted them, and we felt like we had to do something."
So last March, she and her friend Vic Lee launched Welcome to Chinatown, a grassroots initiative to support Chinatown businesses, in response to coronavirus-fueled racism against the AAPI community. It's one of several ongoing efforts to support Chinatowns in large cities across the country.
Lee and Tam's original idea was to create a gift card platform for loyal patrons to continue to support struggling restaurants during lockdown, but due to language barriers and a lack of digital capabilities, they quickly pivoted to ordering food in bulk and donating it to essential workers. As word spread, they began to field questions from supporters about the status of their favorite Chinatown restaurants, which led to the launch of their merch line: Made in Chinatown, a tongue-in-cheek, subversive nod to the stereotype that "Made in China" products are perceived to be cheap.
"There were so many restaurants and shops that people had an emotional attachment to but were stuck at home and couldn't physically support, so we thought, 'What if we created merchandise to connect people to the brands that they loved?'" Tam says. "We really look at Chinatown goods as products that are of high quality, and that was the inspiration behind the merchandise collection. We have Asian American creatives donate their time and skills, and for them, it's an exercise of creative empowerment. There's this desire to make sure Chinatown continues to thrive, because without it we lose that bridge and that connection to our identity."
Merch drops, which highlight familiar brand logos cleverly designed with creative graphics, happen quarterly, and all profits directly benefit the businesses. So far, the pair has worked with 15 Chinatown establishments, including Big Wong, Jing Fong, and Wing on Wo & Co.
To date, Tam says they've raised $1 million through their fundraising efforts and merchandise line, with orders coming from virtually every state. Her favorite part: telling the businesses how popular their merch is. "We just gave our first check to Big Wong, and they looked at the number and were like, 'Is this a mistake?'" she recalls. "It's really heartwarming."
New York's Pearl River Mart, one of the oldest and most historic retailers in the neighborhood, also put forth a Chinatown Collection in part as a response to streetwear brands co-opting Chinatown iconography for profit.
Its release last August, with a few items done in collaboration with Welcome to Chinatown, featured tees, sweatshirts, tote bags, and mugs emblazoned with logos from beloved locales like 88 Lan Zhou, Vanessa's Dumpling House, Hop Kee, and Nom Wah. It was received tremendously well, with support from visible Asian American figures like Awkwafina, Bowen Yang, and Ronny Chieng.
"At a certain point, you do get donation fatigue, so I wanted to create a way that was sustainable, where people felt like they got value for their donation," says Joanne Kwong, 45, who runs the company with her in-laws, the founders of Pearl River Mart. "Peter, the owner of Hop Kee, knows he has a loyal fan base, but he doesn't want to deal with designing, producing, or selling T-shirts. And because we're the one of the few retailers that's also digitally savvy, we can provide that service and bring him a check every month."
Kwong points to Zizmorcore — the fashion phenomenon coined by Stella Bugbee at The Cut, of unironically wearing local souvenir-style garments to display hometown pride — as a reason for its irresistible allure. In a way, it also serves as a form of activist fashion, unapologetically declaring your values and, in doing so, saving an establishment from closing its doors. And any article of clothing inadvertently becomes an extension of who you are and what you want to broadcast to the world, but for Asian Americans, it forges a more profound connection to their shared identity and culture.
There's this desire to make sure Chinatown continues to thrive, because without it, we lose that bridge and that connection to our identity.
Tam offers the Big Wong sweatshirt as an example, which features a handwritten sign of two ginger scallion lobsters for $35 — "It's one of those things that if you know, you know," she says.
"There's a new interest in reclaiming what an Asian American identity is, and that's really coming through artistic forms, which is really exciting," says Daphne Wu, 32, who spearheaded the making of a food-centric zine for Save Our Chinatowns, an initiative that provides COVID relief for Chinatowns in the Bay Area through a creative lens, as part of its Lunar New Year fundraiser campaign earlier this year. It went on to raise $20,000, with all proceeds going to businesses in Oakland's Chinatown.
"We titled it 'Have You Eaten Yet?' which is a common Chinese greeting — the equivalent of 'You good?' — and we sold out in two hours," adds Wu. "People are hungry for creative expression of Asian American identity, and one of our goals is to highlight even more Asian American identity and use that as a way to build community through art."
Building that kind of community is critical as the AAPI population grapples with the wave of anti-Asian racism and its impact on Chinatown. "The great irony about preserving Chinatown is that Chinatown itself was a product of exclusionary and racist laws, but it's allowed the Chinese community to stay together and stay strong," says Wu. "Chinatown serves as both a reminder of how far we've come and a safe haven for the most vulnerable — low-income seniors and recently arrived immigrants — in our community."
Gentrification and the displacement of longtime tenants have long endangered the existence of Chinatown, but what the pandemic — and anti-Asian violence — has done is exacerbate the threats, accelerating the process. The silver lining: It's galvanized Asian American millennials and Gen Z with fierce intensity, the likes of which have never been felt before — and it hasn't gone unnoticed by members of the Chinatown community, including Kwong.
"In pre-pandemic times, the energy from younger Asian Americans was not as intense as it is now, which is great, because they also understand the importance of bringing in the older generation," says Kwong, pointing to an online presence and the maturing of second- and third-generation Asian Americans colliding to create a groundswell of Chinatown-supporting activism. "The older generation would turn to Chinese media, which would create an echo chamber, but the younger generation has been great at getting their voices heard."
The plan now, both for Welcome to Chinatown and Save Our Chinatowns, is to launch more merch for AAPI Heritage Month in May. But in the meantime, in addition to purchasing existing pieces, the best ways to support Chinatowns are to engage with elected leaders in local politics, who have the power to make a difference, and to make donations. Read on for organizations to support in New York, Chicago, and The Bay Area.
We only include products that have been independently selected by Bustle's editorial team. However, we may receive a portion of sales if you purchase a product through a link in this article.
New York-Based Organizations To Support
Apex for Youth: Through mentoring and education programs, this organization supports underserved Asian and immigrant youth from low-income families in New York City.
Asian American Federation: A social services organization with a mission to raise the influence of the pan-Asian American community through research, policy advocacy, and public awareness.
Asian Americans for Equality: A non-profit that advances racial, social, and economic justice for Asian Americans and other systematically disadvantaged communities.
CAAAV: An organization that builds grassroots community power across diverse poor and working class Asian immigrant and refugee communities in New York City.
Dumplings Against Hate: A fundraising effort to provide COVID relief to Chinatown businesses.
Heart of Dinner: A food-delivery service dedicated to combating food insecurity and isolation within NYC's elderly Asian American community.
Send Chinatown Love: An organization that provides relief to small, off-the-grid businesses in Chinatown NYC suffering from COVID-19.
Think!Chinatown: A non-profit aimed to build up Chinatown through civic and neighborhood engagement, storytelling, and the arts.
Welcome to Chinatown: A grassroots initiative to support Chinatown businesses and amplify community voices.
With Warm Welcome: A community organization that aims to amplify Asian American chefs, restaurateurs, and founders.
Womankind: An organization that works with survivors of gender-based violence in Asian communities to find refuge, recovery, and renewal.
W.O.W. Project: A community-based organization that works to sustain ownership over Chinatown's future by growing, protecting, and preserving Chinatown's creative culture through arts, culture, and activism.
Chicago-Based Organizations To Support
Asian Americans Advancing Justice Chicago: A non-profit organization working toward racial equity through collective advocacy and organizing.
Axis Lab: An arts and architecture community organization that engages in arts, educational programming, urban design, and culinary curating to advocate for ethical development for immigrants and refugees.
KAN-WIN: Empowering Women in the Asian American Community: An organization aimed to eradicate gender-based violence, including domestic violence and sexual assault, especially for women and children across Asian American communities.
National Asian Pacific American Women's Forum: A grassroots initiative working to build a movement for social, political, and structural change for Asian American and Pacific Islander women and girls.
Bay Area-Based Organizations To Support
AAPI Women Lead: An organization that aims to end racial and gender violence, and to create more accurate and diverse representation of AAPI self-identified women and girls in the United States.
APIENC: A social justice advocacy non-profit with the mission to build the power and increase the visibility of the LGBTQ+ Asian Pacific Islander community.
API Legal Outreach: A non-profit dedicated to providing culturally competent and linguistically appropriate legal representation, social services, and advocacy for the most marginalized segments of the community, including low-income women, seniors, recent immigrants, and youth.
Asian American Women Artists Association: A non-profit organization that supports and promotes the work of Asian American women artists in the visual, literary, and performing arts.
Bay Rising: The umbrella network of over 30 grassroots organizations in the Bay Area committed to empowering communities of color.
Cameron House: An organization that empowers generations of Chinese American individuals and their families to participate in and contribute positively toward a healthy society.
Chinatown CDC: A community-development organization with the purpose to enhance the quality of life for San Francisco residents, primarily serving those in Chinatown.
Chinese for Affirmative Action: A community-based civil rights organization whose mission is to protect Chinese Americans.
Compassion in Oakland: A community of volunteers who have mobilized to protect Asian elders in the Oakland Chinatown community.
Good Good Eatz: A program that helps pivot ethnic food districts and underrepresented businesses into the 21st century, change business models, and launch social media efforts.
Oakland Chinatown Coalition: A neighborhood-based coalition of service and community organizations for businesses and residents of Chinatown in Oakland.
Save Our Chinatowns: A grassroots initiative passionate about supporting Chinatown communities in the Bay Area through art, conversation, and shared love of food.