How This Fashion Mogul Bounced Back From A Devastating Layoff
Christina Tung on her inspiring and unconventional career path.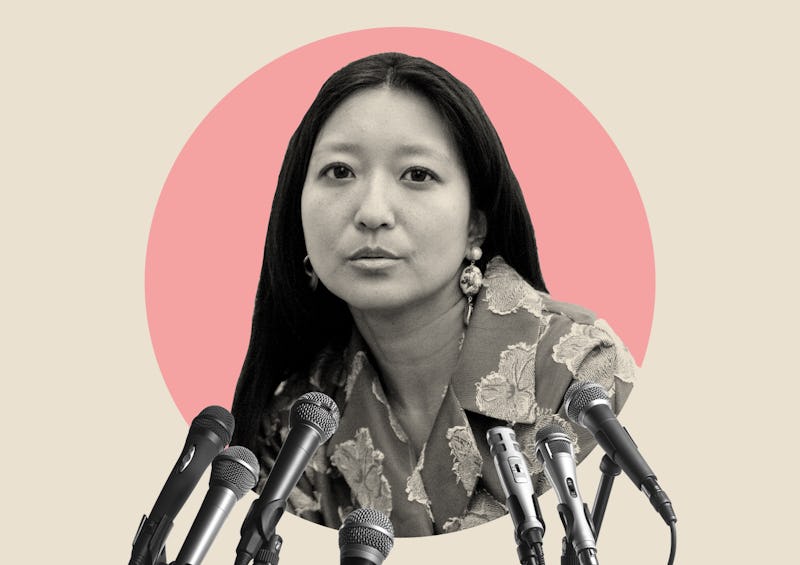 In Bustle's Quick Question, we ask women leaders all about advice — from the best guidance they've ever gotten to what they're still figuring out. Here, fashion PR pro Christina Tung talks about the can-do attitude her mother instilled in her, dealing with corporate "restructuring," and taking a leap of faith.
Christina Tung didn't wallow when she was laid off from her PR job during a company restructure 7 years ago: Instead, she decided to take advantage of her newly-found free time. What followed — a trip to Northern India where she got her yoga teacher certification, taught English to Buddhist monks and Tibetan refugees, and had a brush the Dalai Lama — was what she calls the "most magical time" of her life.
"I took some time off to figure out what I really wanted to do," says the Massachusetts native, 37. "I came back to the States with so many ideas, but ultimately I kept coming back to what I knew best — fashion PR."
That's when House Of, Tung's very own agency, was born, where she represents brands including JW Pei, abacaxi, and Chelsea Paris, among others.
"The name has many different levels of significance," says Tung, who after graduating from Johns Hopkins and feeling "clueless" about her career path decided to go into PR on the suggestion of an aunt. "Of course, the heritage fashion houses are known as House Of so-and-so, so it references a classical naming convention. But as a phrase alone, it's incomplete, inferring that we're empty without our designers."
Below, Tung talks about surviving layoffs, turning passion projects into full-fledged businesses, and knowing when it's time to ask for help.
Can you take us back to a moment in your career where you felt uncertain or fearful?
The day I was let go at my in-house job after eight years. It was only my second job in my life. The PR industry is a revolving door — most people stay in a position a couple years, max. I was scared to get back into the job pool, work with a new team and new designers. My skill set and network became so specific — would I still be relevant? I knew I should have left years ago to gain new experiences and face new challenges. I was so comfortable and complacent, until I wasn't.
How did you work through that?
I allowed myself to take a break and went to Northern India. I was still freelancing to make ends meet and tried to find acceptance of the uncertainty. The synchronicity I felt while in Dharamshala made me trust in myself and in the universe in a way that sounds hokey but felt very real. From there, I envisioned what I wanted my life to look like. I asked myself what I was good at, what I enjoyed, and how I could make a living.
Do you come from a family of entrepreneurs?
My mom is a dentist. She owns three practices and is a very savvy businesswomen. She taught me how to manage money, staff, office space, and clients. But most of all, she instilled in me a can-do attitude.
Was she supportive of you embarking on your journey as a founder?
Growing up, if someone else could achieve something, there was no reason I couldn't do it also — even better. She always has creative solutions for everything. It never mattered if we knew or understood how something worked, whether it was business, sewing, cooking, real estate, investments, or whatever. She gave me the confidence to believe I could always figure it out.
When you reflect on your journey, what surprises you the most?
I just can't believe this is my life sometimes. When I was in kindergarten, I wanted to be a doctor, model, or fashion designer. That was the last time I thought being a designer was even possible. All my career decisions were practical and very much determined by what was needed and what I could offer. One rainy summer weekend, I made some jewelry for myself and my friends. Somehow it became SVNR. It was lightning in a bottle. I don't take it for granted.
What's the most valuable business advice you've ever received?
No one told me this, but I learned it for myself: Bringing on a business partner was entirely a game changer for me — not only in terms of business, but emotionally. As a sole business owner, you bear the weight of the entire business on your shoulders. With the right partner, you can be greater than the sum of your parts.
On the flip side, what's the worst business advice you've ever received?
When I was starting House Of, many people told me the name didn't make sense and I should name it after myself or something people would understand. It was then that I realized, if people didn't get it, they weren't for me — and that's OK.
What does an aspiring entrepreneur need to know to be successful in fashion?
Know yourself. Be yourself — with your decisions, your interactions, your approach, all of it. When you're not sure which way to go, trust yourself. Trust yourself that even if you make a mistake, you'll be able to get yourself out of it. I made decisions based on what felt right, with no agenda, and built a body of experience that was representative of the authentic me, a client roster I believe in, a team I trust, a collection I love.