How Clinique's Bringing Representation To The Metaverse
An exclusive look at the brand's digital push for diversity.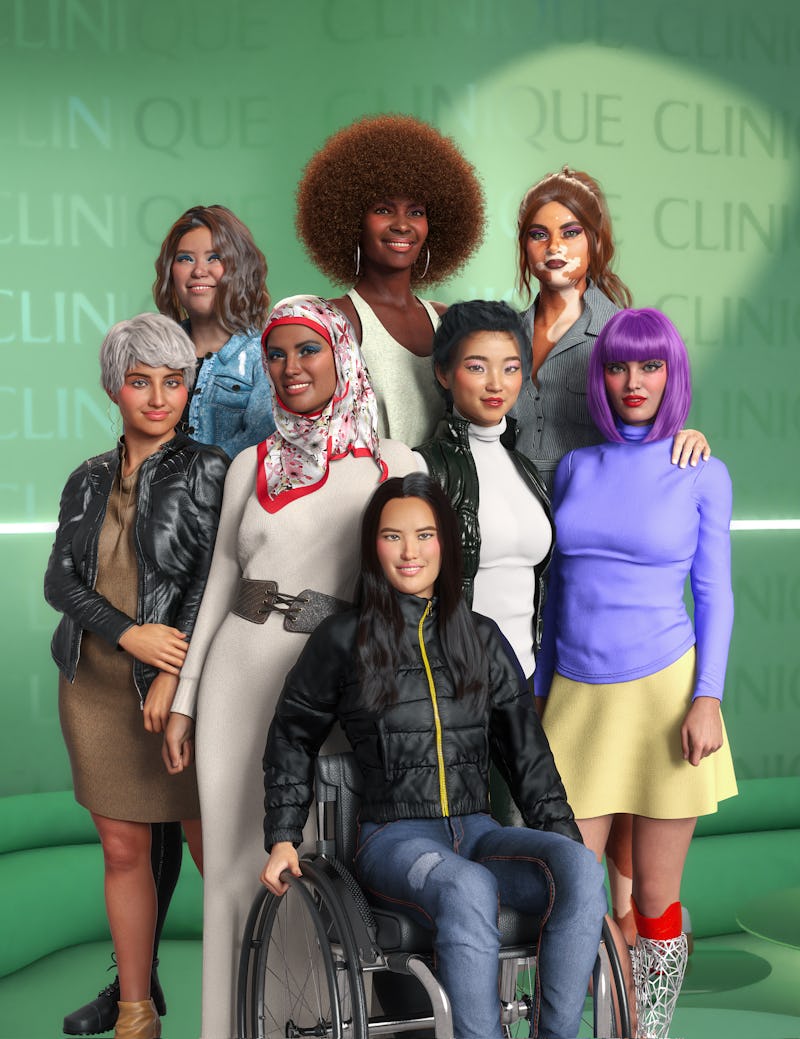 Clinique
There's no shortage of hype around the metaverse and what today's virtual realities will mean for the way people interact with one another. Whether you're excited or a little overwhelmed, it's clear that these digitized worlds are here to stay. But, just like the real world, the metaverse isn't without its issues — from reports of sexual assault and harassment to a serious lack of representation, it's no utopian fantasyland. To address the inequalities on the diversity front and to celebrate beauty in all its forms, Clinique has launched a new beauty NFT campaign called Metaverse Like Us.
With help from software company Daz 3D, Clinique has partnered with three makeup artists and creators — disabled makeup artist and beauty creator Tess Daly, Black celebrity makeup artist Sheika Daley, and transgender beauty content creator Emira D'spain — to develop a non-fungible token (NFT) makeup collection that will launch in the metaverse in July. Each artist will be curating two of their own exclusive looks that work on various non-fungible people (NFPs). The looks will then be rolled out in three drops — in July, August, and September — and each will be offered to 1,968 randomly selected avatars within Daz 3D's super diverse virtual world, which includes avatars of color, avatars with skin conditions like vitiligo, disabled avatars, and others. (The number 1,968 is a nod to the year Clinique was founded, BTW.)
Examples of the avatars that'll be featured in Clinique's 'Metaverse Like Us' NFT beauty campaign.
Clinique's mission? To spotlight communities oft-neglected in the digital space — something that is an ongoing issue in the virtual world. According to Art Basel's 2020 Market Report, only 20% of metaverse users and creators are women, and less than 16% of all NFT artists are female. Aside from that, NFTs with avatars of color and disabilities are typically valued lower than white avatars. As one of the first brands to launch in the metaverse, Clinique's goal is to be "in the service of all skin," says Roxanne Barretto Iyer, vice president of global consumer engagement. "That means that we're dedicated to increasing inclusivity wherever our brand connects with consumers. We want to make sure that we take the space seriously and that we help shape it for current and future generations."
The Metaverse Like Us campaign also features virtual worlds for the eye-catching avatars to hang out in, which Bustle caught a sneak peek of. One is a modernly decorated lounge complete with a wheelchair ramp, another is a streamlined lab with an elevator, and the third is a whimsical seashell-themed pink otherworldly oasis of sorts. Basically, the metaverse is about to become a whole lot cooler. And all of Daz 3D's 8,888 avatars will get access to the worlds that Clinique's team designed. Also notable? If a beauty look in the space catches your eye, you'll be able to visit the Clinique website for a breakdown of the beat and shop the products — a win for both your VR and your IRL selves.