Collina Strada's Designer Thinks Sustainable Fashion Should Be The Law
"There should be laws in place for what you can and cannot produce, period."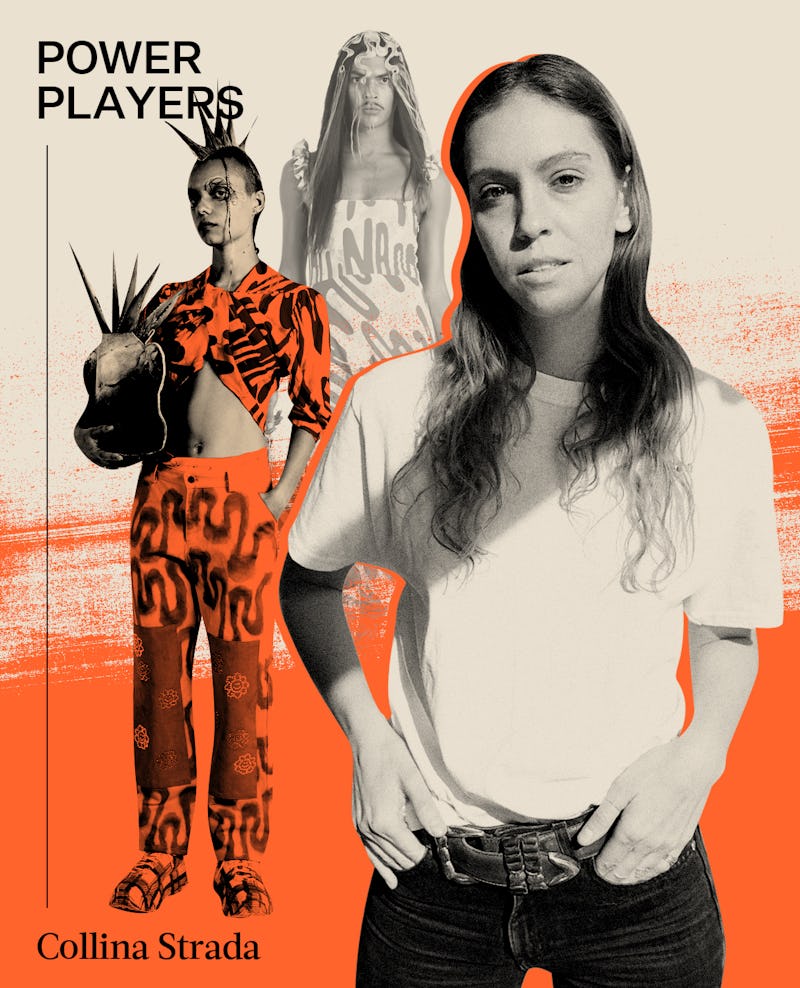 Michael Loccisano/Getty Images
In "Power Players," change makers in the fashion industry tell Bustle how they're pushing boundaries and moving the culture forward, whether they're advocating for sustainability, bringing more inclusivity to the runway, or making strides in technology and innovation. Here, Hillary Taymour discusses the importance of sustainability in fashion.
"Everything is kind of a serious joke with us," says designer Hillary Taymour, explaining her philosophy from her studio in Chinatown, New York. As the founder of Collina Strada, she's been celebrated for quirky collections and, more notably, her role as a sustainable fashion pioneer. "My theory is if you teach someone something in a fun way, they are going to try it. But if you teach them something in a serious way, they are going to ignore it."
Taymour launched Collina Strada in 2009, and more than a decade later, sustainability continues to be the linchpin of her brand. Her Fall 2021 collection, for example, was made from repurposed deadstock from Kantamanto Market in Accra, Ghana: chevron knit maxi dresses, a floral bodysuit, and tie-dyed separates, her calling card.
Taymour's MO is a combination of weird and wonderful — think '60s flower child meets '90s indie rocker — and this exuberant expression also extends to her presentations. Centering on the idea of morphing, Taymour's recent lookbook, a highlight of New York Fashion Week, featured models turning into animals a la Animorphs, the beloved children's science fantasy novels from the '90s.
Beyond the spectacle, however, lies a message of sustainability, a cause Taymour holds dear. Here, she elaborates on her brand's ethos and mission to inspire others.
How would you assess the state of sustainability in fashion?
Critical. The more we say we are not investing in fast fashion, the more Instagram ads we get for $20 dresses. Some smaller businesses, yes, are doing things correctly. But for big businesses that say they're sustainable, it's usually a marketing ploy. Maybe they're making a T-shirt that they say is sustainably made, but are they making all their T-shirts that way? No.
Have things progressed in the last five or maybe 10 years?
People have become smarter. But the fact that people still believe in recycling in New York is very funny to me. Only 5% of trash is getting recycled. Everyone seems fine with the ignorance of it, but no one is doing anything about it.
People look at the fashion industry to help because it's cool and the kids are listening to that type of news more than they would a news anchor on television. But really, we should be looking to lobbyists. They're the ones who can change the rules and regulations in the government.
Who or what has the most power to change people's mindsets?
I think we're influenced by Greta Thunberg and people who are talking about [the environment] in a way that feels very urgent. But a lot of lost souls are trying to figure out what to do from there. They know it's urgent but they don't know the next steps.
I think a year ago, pre-pandemic, there was a focus on what you could do as an individual to help the environment. But during the pandemic, we really lost that. There was no way to bring your reusable cup to your coffee shop.
But wouldn't there be a lot less waste, being that most people were at home?
One hundred percent, yes, but now that we're edging our way back into society, there is a ton more waste. The amount of single-use masks being dumped into the ocean is insane.
What have been some of the most valuable lessons you've learned working in fashion?
I started making handbags in 2009, and we were using vegetable tan leathers with no chrome being used in the leather. Then I woke up one day [in 2011], and said, "I'm vegan and didn't want to do this — this was awful," and stopped using leathers altogether.
We were also using organic canvas and dyed our prints directly — everything was handmade. Things have definitely shifted. Our standards are a lot higher for what is green. Now, you have to use 100% waste for it to be completely green.
How do you deal with negativity and not letting outside distractions interfere with your progress?
It's hard. Say, [a major fashion brand] wants to do a collab, and that's great, but how do we make it sustainable? Partnering with these big corporations and having them do that makes me feel a little bit better. If I can get [a sneaker brand] to make 10,000 sustainable shoes out of the millions they make a year, it's still a step.
What are your other hopes for the future of fashion?
I don't want sustainability to be a word. There should be laws in place for what you can and cannot produce, period. Because fashion is not regulated, laws need to be set in place for how things can be imported, how things can be tracked, how long a garment is traveling before it gets to the end consumer. There need to be guidelines.
Are big brands just hopping on the sustainable bandwagon because it's a trend?
It's more that they have to so as to compete and get Gen Zers to shop. That's the new target demographic. It's not even about jumping on a bandwagon — it's become a necessity.