6 Unforgettable Greta Thunberg Speeches That'll Inspire You To Fight Climate Change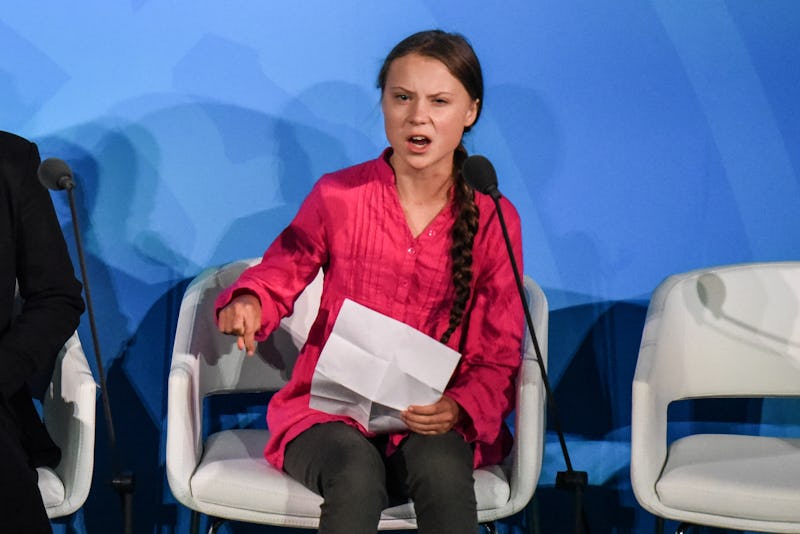 Stephanie Keith/Getty Images News/Getty Images
If you've kept up with recent news surrounding climate solutions, then you know about the 16-year-old Swedish climate activist who's become a household name. She started gaining public attention in August 2018 when she organized school strikes outside of Swedish Parliament, protesting its inaction in response to climate change. Setting the stage for students' recurring Friday for Future protests, she's sparked a worldwide movement that's only continuing to grow. And watching Greta Thunberg's climate change speeches will make you want to join her.
From her first TED Talk in December of 2018 to her latest speech at the United Nations Climate Action Summit in New York, Thunberg has demanded that people in power put the wellbeing of the planet and humanity above economic interests. Most recently at the summit on Monday, she told world leaders,
"You all come to us young people for hope. How dare you? You have stolen my dreams and my childhood with your empty words, and yet I'm one of the lucky ones. People are suffering. People are dying. Entire ecosystems are collapsing."
Whether she's explaining the toll climate change is taking on young people, or calling out leaders for not prioritizing climate change solutions, Thunberg is reminding the world that this issue requires action now, not tomorrow. And if you're wondering what these calls to action look like, here are six of Thunberg's speeches that'll fire you up.