How To Use Cream Bronzer For A Gorgeous Summer Glow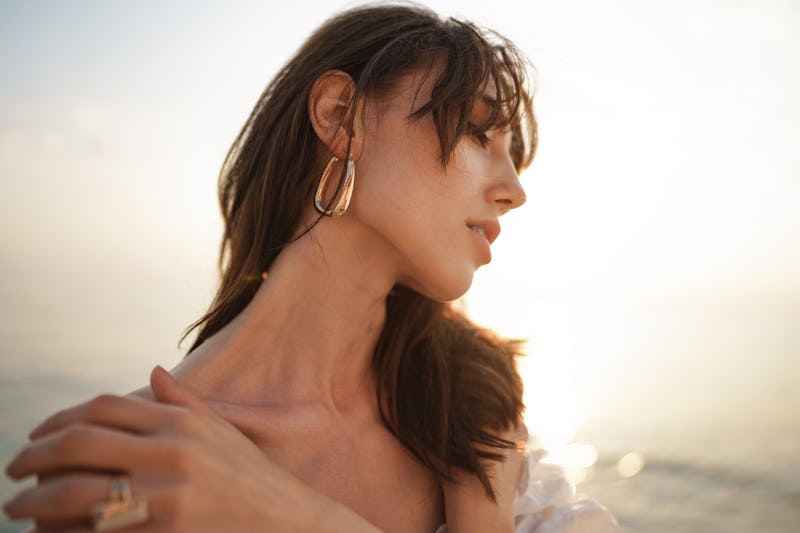 Shutterstock
Cream bronzer makes a great addition to any summer makeup routine. As temperatures start to creep upward and humidity increases, it's not a bad idea to embrace a more melt-proof no-makeup makeup look. Creamy bronzers are perfect for adding a warm, sun-kissed glow that can be sheer, or built up for a more tanned look.
When it comes to choosing between a powder or cream bronzer, the latter is in a classification of its own. The overall goal of both is to add color and dimension to your face, yes, but cream bronzer is normally used less for full-coverage looks and more often for a natural approach. Both are typically applied to the same areas of the face, but there can be some differences when it comes to exactly how you apply.
Read on for some expert tips from Emmy-nominated makeup artist and co-creator of Tower 28's Bronzino Illuminating Cream Bronzer, Jessica Smalls-Langston. Below, the pro dishes on application tips, the best cream bronzers to try, and more.
4 Tips For Using Cream Bronzer
Identify Your Undertones
When selecting your cream bronzer of choice, consider the undertones of your skin in order to pick a shade that will best complement your complexion and bring out your inner glow. "People will tend to go to the color they would want to be, versus the color they are," says Smalls-Langston. "This will lead to the color looking too red or muddy."
Choose The Right Makeup Brush
Select a brush that is ideal for picking up the product but also allows for smooth application. According to Smalls-Langston, a makeup brush with medium firmness is the best for the task. "This will allow the bronzer to be applied exactly where you want and also allow you to blend with it," she tells Bustle.
Apply A Small Amount At A Time
Once you've accumulated a bit of product onto your brush, Smalls-Langston advises that you should "apply to the forehead from temple to temple, apples of the cheeks, and cheekbones." Slowly building up the pigment will ultimately yield better, streak-free results. "When applying cream bronzer, you should apply the product a little at a time, as overloading your brush will deposit too much product making it hard to blend."
Blending Is Key
This is arguably the most crucial step in the application process. "On the forehead, blend the bronzer into the hair line and back down towards your mid-forehead, and blend from the apples of the cheeks outwards towards the cheekbones," says Smalls-Langston. "If more color is desired, apply more using the same steps. If you notice any hard lines, you can use your index finger to blend and diffuse the lines. Applying in this style will give you a sculpted, sun-goddess vibe."
Below, some of Jessica Smalls-Langston's favorite products: