Find Your Signature Scent With Valentino's Newest Fragrance
Floral, fruity and made to turn heads.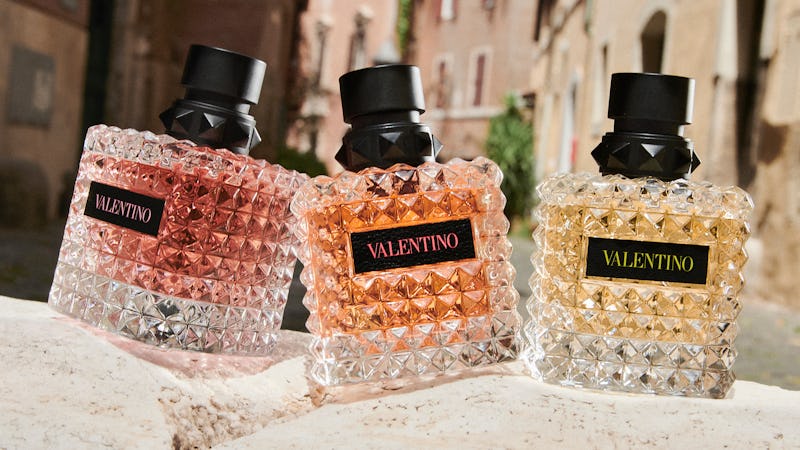 Valentino
How does a perfume become one's signature scent? It's a subject that olfactory pros have forever mused on. Their findings: Fragrance is so much more than an expertly crafted smell. It should evoke a feeling, a lost memory, or perhaps a moment when you felt your most happy and confident. Simply put, a signature scent should feel like home, with just one spritz serving as an invisible portal to your most authentic self.
This is the idea behind Valentino's Born in Roma collection, a dreamy line of citrus-forward fragrances designed to let you be you. As the name suggests, the Italian capital (and Valentino's birthplace) serves as the inspiration behind its essence. A city where ancient architecture, contemporary culture and an undeniable romance collide, Rome has become the adopted home of what the Italian fashion house calls Aristo Punks: a generation of free-thinkers who embrace diversity and total individuality. The unique collection was crafted to let you tap into that same irreverent and unapologetic attitude towards life. Read on to find out which of these highly coveted fragrances has all the makings of your next signature scent.
Valentino Donna Born in Roma Coral Fantasy
The newest addition to the Born in Roma lineup, Coral Fantasy was designed for lovers of extravagance and gets its inspiration from golden hour — aka the pre-twilight scene when the sun casts its glowiest, most Instagram-friendly beams. Mirroring those magic moments is orange essence, a vivid note that becomes even juicier with the addition of a sweet kiwi accord. At its heart, the fragrance takes on the warm, radiant energy of Indian jasmine and rose. An audacious pairing, to be sure, but one worth a second sniff. By the time you encounter its dry down (a perfumery term for the notes that stick around the longest) Coral Fantasy delivers a mellow hit of hearty Texas cedar and musk.
Valentino Donna Born in Roma Yellow Dream
Fresh, clean, and unabashedly simple — it's the breezy description we'd delegate to Yellow Dream upon first mist. The source of this insouciance comes by way of bergamot, a hand-harvested citrus native to the southern seaside region of Calabria. Boosted by zesty notes of Italian lemon, this delicious bitter orange scent is reminiscent of a cloudless afternoon spent sipping spritzes (can't you just picture it?) and was designed with big dreamers in mind. Once the sparkling citrus mellows, Yellow Dream becomes grounded by a fragrant bouquet of rose and peony, then yields to white musk and spicy Madagascar vanilla.
Valentino Donna Born in Roma
You know that feeling of walking through a dew-spotted garden long before the rest of the world is awake? That's Born in Roma Donna. A spicier departure from its olfactory off-shoots, the original takes a more jasmine-heavy approach and speaks directly to all of the unapologetic punk personalities out there. At first, you'll note the bergamot, as tangy and refreshing as ever, before the fragrance gives way to a jasmine accord made from a trio of the intoxicating blooms. It's rich and sexy, a quality that's only heightened by the vanilla bourbon base note that then lingers on the skin.
Whether you're drawn to a heady perfume, or fancy yourself more of the fruity-floral type, the Born in Roma collection of fragrances is a trove of memory-making scents to call your own. Shop the stunning collection now to see for yourself.