Everything You Need To Know About Gucci's Beloved Jackie 1961 Bag
Dakota Johnson starred in the brand's latest campaign.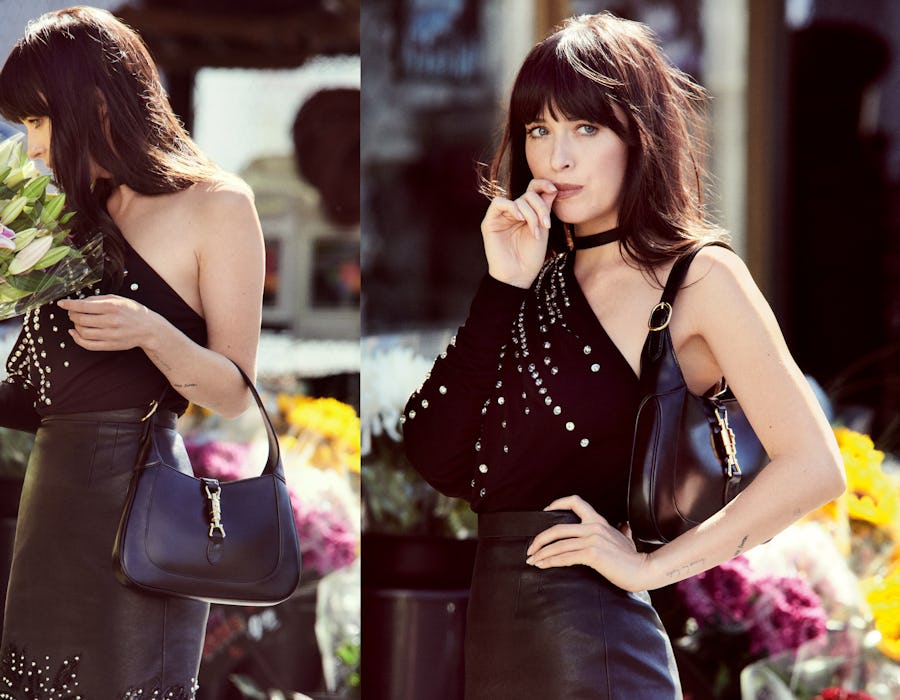 Photographed by Glen Luchford for Gucci
Secure The Bag
We may receive a portion of sales if you purchase a product through a link in this article.
Trends come and go, but few purchases withstand the test of time, quite like Gucci's famous Jackie Bag.
Named for Jackie Onassis Kennedy— who made the bag famous when she was spotted with it constantly throughout the '70s — the sleek, half-moon-shaped handbag had a different name entirely when it first entered the former first lady's closet.
Originally dubbed the G1244 upon its release in 1961, Gucci eventually began referring to it as "the Jackie," as she was photographed with it so often. The chic style was one of her most-loved bags while she was living in Manhattan post-presidency, inevitably, shooting the bag into stardom.
It wouldn't officially become known as the Jackie 1961, however, until 2020 when Alessandro Michele decided to revive the bag. The former creative director reintroduced the classic tote in new sizes (he debuted a mini option), gorgeous colorways, and various materials at Gucci's Men's Fall 2020 show in Milan. Michele also furnished his updated take with a shiny, gold piston lock.
Today, the emblematic bag is experiencing yet another revival. Available in three sizes — including mini, small, and medium — those in the market for a luxury handbag also have a number of materials to consider.
It's currently shoppable in natural grain, patent, and the brand's signature GG Supreme canvas, as well as a plethora of colors, from classic black to pastel pink to electric orange. It also comes with a longer shoulder strap, in leather or chain, that can be removed, depending on how you want to wear it day to day. Pricing for a Jackie 1961 ranges from $2,400 to $31,000.
In January, Gucci released its newest campaign spotlighting fresh iterations of the iconic Jackie. Tapping Dakota Johnson to star in the paparazzi-inspired shoot, snapshots show the actor and Gucci devotee modeling different versions of the it bag throughout Los Angeles (headed to yoga, out for lunch, and on her way to the club).
One scene shows her sporting Gucci gym wear, with a yoga mat tucked under her arm and a water bottle in hand. Johnson's girl-on-the-go look is made complete with a brilliant, cobalt-blue, croc-embossed Jackie bag perched on her hip.
Kennedy reportedly used the saddle bag to shield herself from the paps that hounded her during this period (icon behavior), a story that seems to have influenced the modern campaign.
OK — now that you have all the details, it's time to shop (if you're lucky). Take your pick from the endless variations available on the Gucci website.