10 Holiday Dresses That'll Make You The Belle Of The Ball
With a 2000s-inspired spin.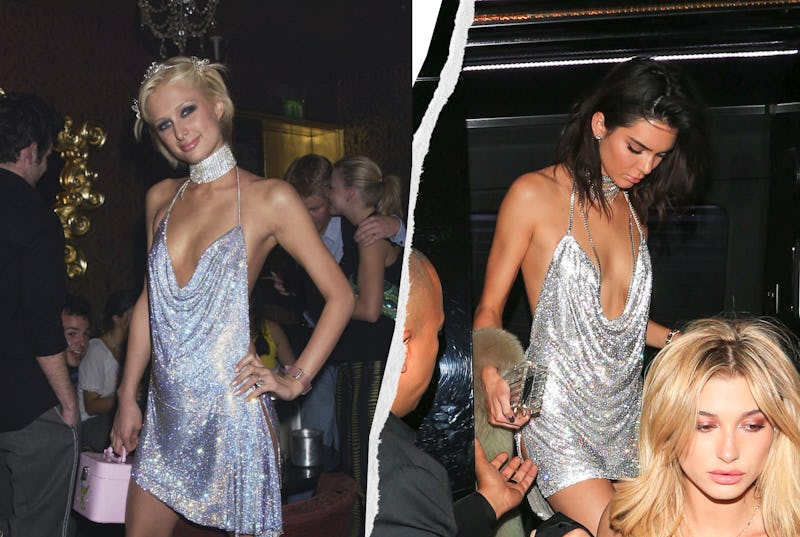 Getty Images
The holiday season is upon us, and that means one thing: parties. Even if the holiday party circuit looks a little different this year, the world is re-emerging safely and ready to rock and roll. The only problem is, what are you going to wear? Holiday dresses are on the docket, to be sure, but 2000s-inspired looks makes them feel more on-trend than ever.
Yes, it's time to turn to the 2000s. Because, let's be honest, that decade was made for parties. Maximalism made a grand return during the early-aughts, with dresses made of luxe velvet, liquid silk, and light-catching sequins alike. Halters showed off some skin, while high-neck turtlenecks appeared flirty and refined all at the same time. Cowl necks reigned supreme, and metallic was the color du jour.
In short, it was a decade that came ready to party. Just ask some of the celebs who were out and about during that era like Paris Hilton. The socialite turned entrepreneur stepped out in 2002 in a silver cowl neck dress that was perfectly on-trend and ultimately timeless; Kendall Jenner famously recreated it for her birthday in 2016. Luckily, there's no shortage of dupes for that signature frock, whether it's the cowl neck, the sequins, the silver color, or all of the above.
Ready to channel a 2000s socialite? Ahead, find 10 party-ready dresses for your entire social calendar this holiday season and beyond.
Bustle Shop is Bustle's shoppable guide to editor-approved buys in fashion, beauty, wellness, and lifestyle. We may receive a portion of sales if you purchase a product through a link in this article.
Bustle Shop brings you the editor-approved buys we can't get enough of and think you'll adore, too. Best of all, you can shop all of the products above directly on this page without visiting multiple retailers. Simply click on an item to learn more, choose your size or favorite color (if applicable), and then hit "add to cart." When you're done, you can click over to your cart in the top right corner of your screen to purchase all your stellar selects at once. How easy is that?
Questions about shipping, returns, or your order in general? Click here for more information.
Explore more of Bustle Shop (and our fashion, beauty, and lifestyle must-haves) here.