You Only Need 2 Tools To Recreate These Cute AF Nail Art Designs
Mismatched nail art, made easy.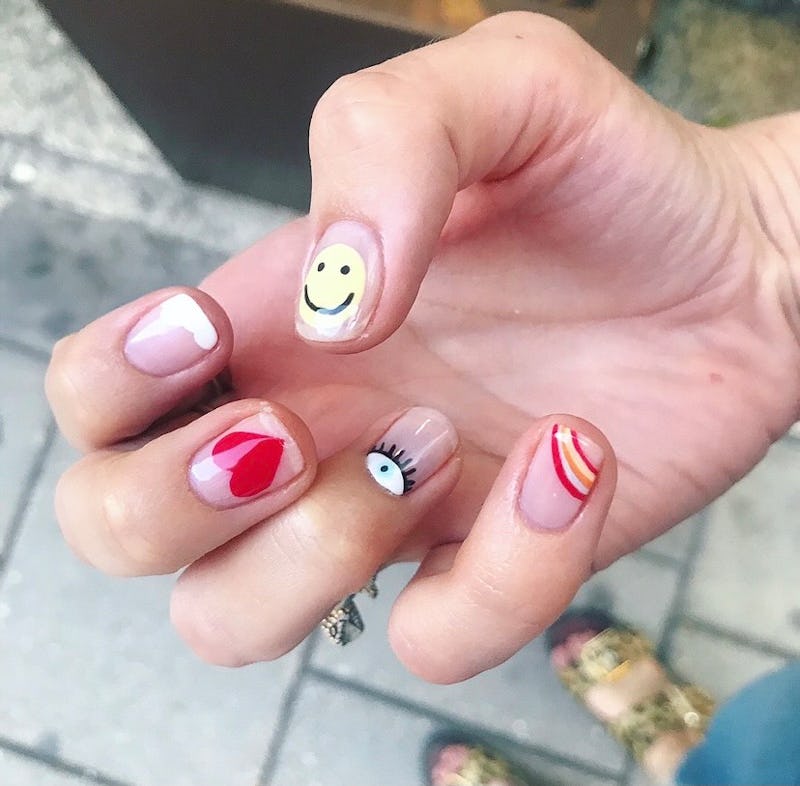 Courtesy of the author
When it comes to nail art, there is a seemingly endless list of trends and looks doing the rounds at any given time. But you may have noticed that mismatched nails have really become a staple over the past couple of years, and they won't be budging anytime soon, according to celebrity nail artist Imarni. In fact, different designs on each nail (be that nail art or just different block colours), are the way to go for summer 2021, she tells me. Luckily, you can easily do this yourself; here's how to create easy shapes for mismatched at-home nail art.
"It is such a fun, wearable design with fun colours," says Imarni of mismatched nails. Whether they're being done with little clouds, smiley faces or rainbows, there's no chance you've missed these on your Instagram feed. In fact, they're more popular than ever, and have become highly requested at top nail salons. You may look at this trend and think it's impossible to do from home by an amateur, but in fact, it's so incredibly simple if you just master the individual shapes.
For this look, you will definitely need two things ahead of time: dotting tools and a selection of super fine nail art brushes. Both can be found online for under £10, making this a much cheaper option than forking out £50+ in a nail salon.
Interested in giving it a try? Here's how to create each easy shape to get that awesome mismatched look.