The Oscars Red Carpet Is Coming & Here's How To Stream It
It will be a live, in-person event.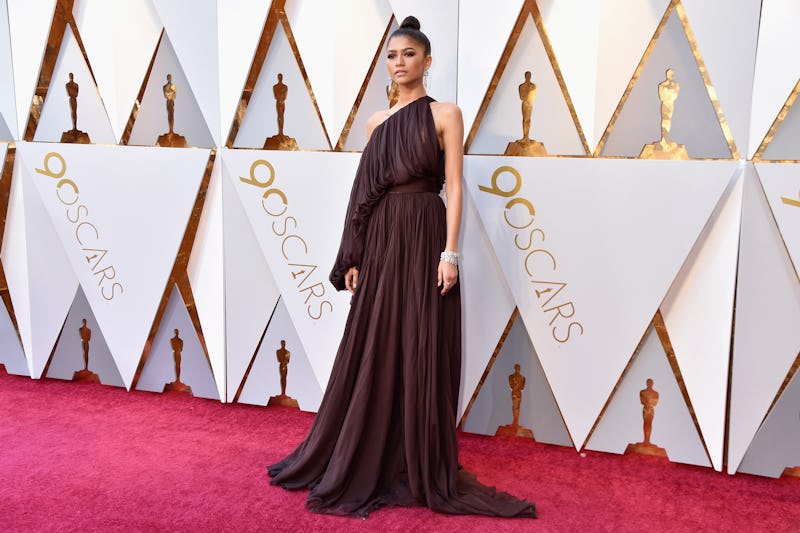 Jeff Kravitz/FilmMagic, Inc/Getty Images
The 2021 awards season was different than ever before, all due to the coronavirus pandemic. Ceremonies that used to be in-person were held virtually, and red carpets were digital or non-existent. But with vaccines rolling out and stay-at-home orders lifting across the nation, things are slowly starting to change. As such, the 2021 Oscars will be the first largely in-person event of awards season, and that means the red carpet will be operating close to normal as well. If you're curious about how to stream the 2021 Oscars red carpet, read on for more info.
The Academy Awards producers encouraged their guest list of nominees and industry veterans to bring their best gown or tuxedo and hit the red carpet just as they would any other year. What's more, in a letter sent on March 18, producers Steven Soderbergh, Stacey Sher, and Jesse Collins further emphasized that zoom would not be an option. "For those of you unable to attend because of scheduling or continued uneasiness about traveling," it read, "we want you to know there will not be an option to Zoom in for the show."
The red carpet is on, and so is all of the glitz and glamour it brings. What can you expect? Some of the best fashion of the year, as celebrities often bring their sartorial A-game for the Academy Awards. Think Halle Berry's famed Elie Saab gown, Gwyneth Paltrow's pink Ralph Lauren dress, and Lupita Nyong'o's dreamy Prada confection: iconic looks that could only happen on the Oscars red carpet. Read on for everything you need to know about watching the live fashion event on Sunday.
When Are The 2021 Oscars?
The 2021 Oscars — and the red carpet that proceeds the main event — will take place on Sunday, April 25. It was pushed back from February 28, so that they could include early 2021 productions that were released late because of the pandemic.
How To Stream The Oscars Red Carpet 2021?
If you really love the fashion at the Oscars, you can actually start watching E!'s coverage on Saturday, April 24 at 10am ET/PT. They will have the inside scoop on nominees, predictions, anticipated fashion, and more. Sunday will continue with Live From E!: Brunch at the Oscars at 3pm ET/12pm PT.
The real meat and potatoes of this weekend's fashion, though, will start later with Live From E!: Oscars 2021, which will provide the live red carpet coverage that you know you love so much.
What Time Is The Oscars Red Carpet 2021?
Tune into Live From E!: Oscars 2021, on Sunday, April 25 starting at 5pm ET/2pm PT for the official red carpet coverage. For earlier peeks at what your favorite celebrities are wearing, follow their social media accounts as they share their process getting ready for the big night.
Will The Oscars Red Carpet 2021 Be Virtual?
No, the 2021 Oscars is the first major awards show since the Covid-19 pandemic hit that will offer no virtual option for attendees. As such, the guest list will likely be smaller than in years past but the red carpet will still be as exciting as ever.