Hunter Schafer On The Perfume (& Eye Look) That Makes Her Feel Powerful
The new face of Mugler's Angel Elixir fragrance chats all things beauty.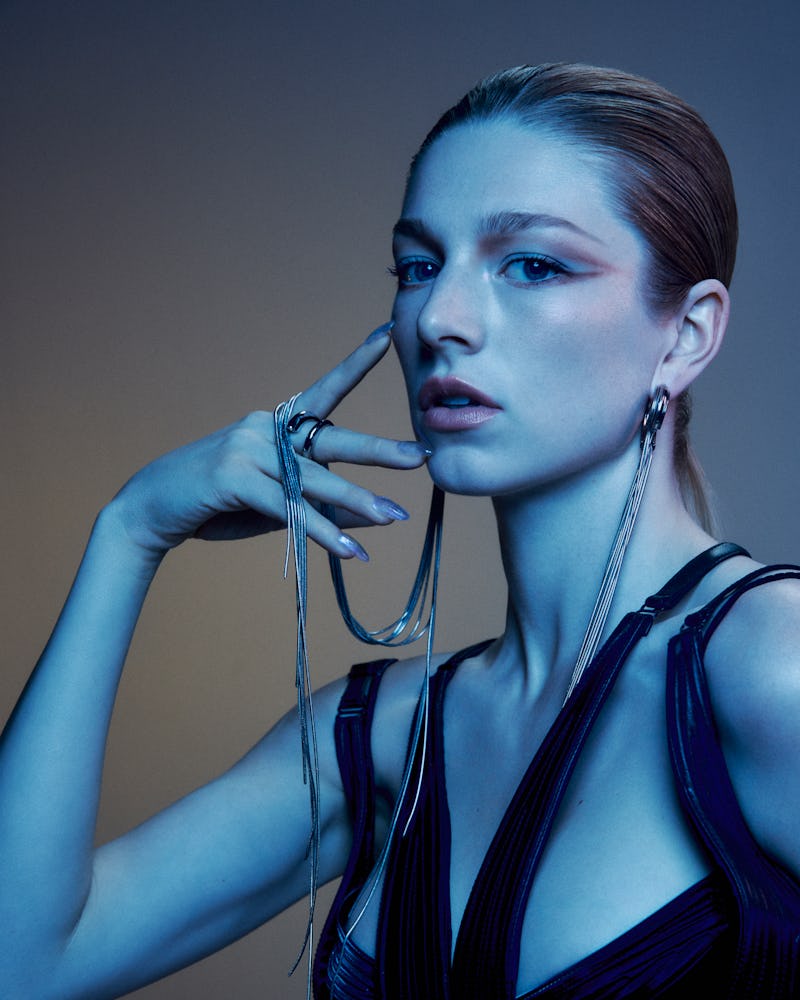 Harley Weir for Mugler
We may receive a portion of sales if you purchase a product through a link in this article.
If you heard Hunter Schafer talk about beauty, you might think she sounds a lot like Jules Vaugn, the character she plays on Euphoria. When I sit down with the 24-year-old actor to pick her brain about the subject, she gushes about eyeliner and creative expression through makeup with the joyful wonder of someone who clearly has an artistic side. (As a matter of fact, Schafer's former dream job was to be a comic book illustrator.)
She's equally passionate about using clothes and fragrance to bring "whatever feeling [she's] carrying inside that day outwards" — which is why her new role as the face of Mugler's Angel Elixir fragrance seems like kismet. "I grew up watching Mugler runway shows on YouTube because of their fashion history, and I've been a fan of Casey's work since he started," says Schafer. "To do this with them is just really, really magical." And the perfume itself — with notes of woods, florals, and gourmand vanilla — feels like a perfect match for Schafer's affinity for complex scents. "It feels really in line with Mugler's idea of their women and also my ideal woman that I try to be, as far as its combination of strength and power with softer tones," she tells Bustle.
Here, Schafer chats about fragrance, the skin care tip she picked up on the Euphoria set, and how she applies her illustration skills to her makeup routine.
Can you talk about what draws you towards the Mugler Angel Elixir Eau de Parfum?
It has this woody base that's slightly masculine, then vanilla notes that take it to a slightly more sweet and feminine area. There are also these metallic spices that come in, but that's countered by the bright, white floral notes. It's this huge culmination of hard and soft, strong and light [notes], and that's how I like to approach the person that I try to put out into the world.
What's the first perfume or scent that had an impact on you?
I remember my mom getting ready for work or for church, and she'd come out of her bathroom all dressed up with her makeup done, and her scent would come out with her. That was part of what she did to assemble herself, to bring herself out into the world, and that's one of my first associations with it.
What does happiness smell like to you?
The outdoors or the ocean. I love the smell of the ocean, and I'm always really happy when I'm there with the sea salt in the air.
Are you the kind of person who switches their fragrance depending on your mood, or do you have a go-to?
I keep it pretty similar to how I operate with beauty and skin care and fashion; I have a silhouette that I like to maintain, and if I am to wear makeup, I have one go-to look. I think the same goes for fragrance as well.
What's your approach to beauty?
I like to keep it more on the natural side on most occasions — just like an elevated version of myself. That's what I always want to be striving for. I'm not trying to make myself look like a different person or anything, but just accentuating what I do have.
What was your favorite of Jules' makeup looks?
I really love what we did in Season 1 when she was more overstated with a lot of her looks and they were slightly more graphic. There was one where she goes to the club and has this bright orange eyeliner on that catches the blue lights — I think that one was my favorite.
What's the best beauty tip that you picked up on the set of Euphoria?
I'd never used hot towels before to remove makeup — that's something they did for me every day after the day's work. You just wet a towel, put it in the microwave, and then use it to clean your face. You feel like a new person after that and it's something I've been doing ever since.
I love that. I know you've worn countless eyeliner looks, but what has been your favorite creation outside of your time on the show?
When I'm really trying to have fun with it, I really just love taking a fine-tip eyeliner and doing little illustrations by my eyes — like a little symbol depending on the occasion or what the theme of the night is.
That's so cool — what was the last one you did?
I went to go see one of my favorite musicians, Arca, and I drew the sign she uses — it's the universal trans symbol. It's the combination of both gender signs on top of a little circle, and I drew it right here [points to the sides of her eyes]. I don't really have a technique, but I try to make my lines clean and then I'll clean them up with a Q-tip.
What makes you feel confident?
I think adorning myself in whatever feels representative of what I want to bring out into the world. That and wearing heels.
This interview has been edited and condensed for clarity.