I Tried Florence Pugh's See-Through Skirt & Visible Thong Outfit
I don't regret it, but I have a few pointers.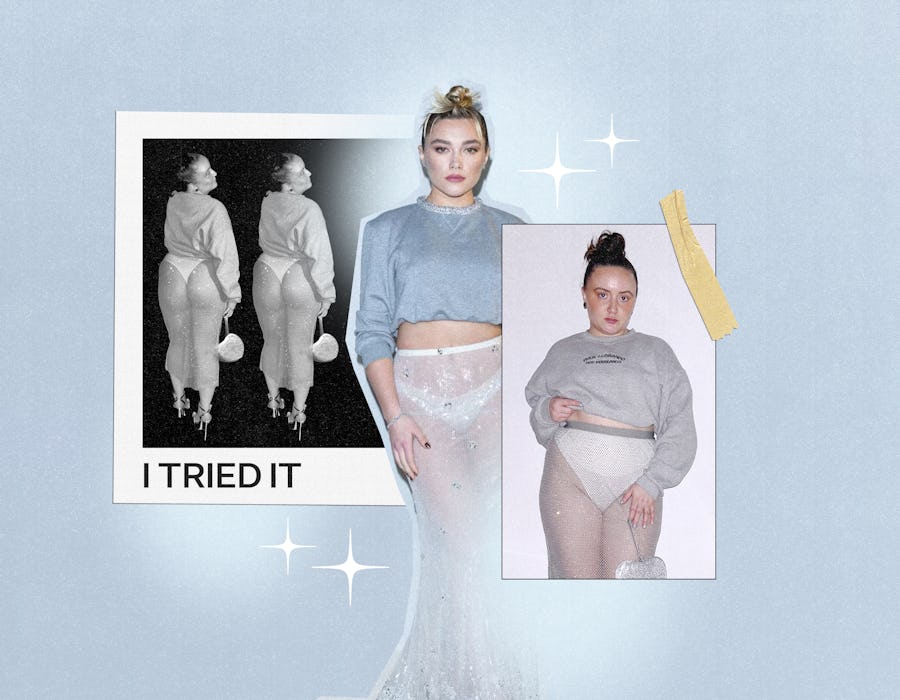 I Tried It
We may receive a portion of sales if you purchase a product through a link in this article.
I've been self-conscious of my lower body since middle school, when boys made covert jokes about my proportions they thought I didn't understand. On several occasions, I was sent to the principal's office for wearing "provocative" shorts, while my thinner friends paraded around freely in near-identical styles.
As a result, exposing my butt and thighs feels way more personal than any other part of my body (I openly bared my nipples at New York Fashion Week last season without batting an eye). So, when Bustle's Senior Fashion Editor asked me to duplicate Florence Pugh's viral sheer skirt and visible thong ensemble, I was hesitant, but intrigued.
After some thought, I decided to accept the challenge. It seemed like an appropriate way to honor younger me, who never would have imagined she'd one day have so much confidence. Weeks of planning and deliberation later, I took the plunge, revealing my undies for a night out with girlfriends at a boujie hotel bar in NYC. These friends, I knew, would hype me up and quell any self-doubt I had.
To recreate Pugh's look, I started with a nearly-identical mesh skirt from Anthopologie. The silvery midi actually comes with built-in briefs for that same, underwear-forward look Pugh so effortlessly rocked.
Upon first try-on, however, I didn't love the undies — so I cut them out and replaced them with Spanx's Cotton Control Thong. My go-to underwear, the cheeky panties are comfy and waist-snatching (Spanx isn't considered the shapewear OG for nothing).
Up top, I chose a graphic gray crewneck from my friends at ShopJZD. Its message ("crying yesterday, twerking today" in Spanish) gave me an extra dose of courage. I accessorized with Larroudé's silver Dolly Sandals and a crystal-encrusted heart-shaped bag. After several Florence Pugh-inspired makeup and hair tutorials, I felt sufficiently committed to the bit.
It was time to mentally prepare to move cheeks-out through the night. Somehow, I felt more insecure about my fully-covered stomach than my whole butt being visible — which probably speaks more to society's collective fixation on women's midsections than it does to my own self-esteem.
Before I left my apartment, I slipped on a satin wrap skirt for my solo commute to the bar. If I were taking the train with my friends, maybe I wouldn't have felt the need — but alone, I wasn't taking any chances. On my way out the door, I was struck by how much scarier this felt than wearing a sheer top. My relatively small breasts could be covered just by crossing my arms. But once I shed my overskirt, the shock factor would be almost impossible to hide.
Once I exited the train, I removed my wrap skirt, but tied my puffer coat around my waist, still several blocks from my destination. I jotted an observation down in my phone as I walked: "This was scary to do alone." Crossing Soho's cobblestone streets by myself, my coat still around my hips, no one seemed to notice my outfit but me. It was Saint Patrick's Day, though, so alcohol may have played a part.
Ten minutes later, I entered the hotel lobby below the bar. As my friends piled in, I carefully removed the jacket from my waist to a barrage of compliments. Their immediate support energized me, and it kept me from paying attention to the stares we got during our pre-drinks photoshoot (the results of which you see here).
Courtesy of Tess Garcia
Courtesy of Tess Garcia
When I headed back to the subway around 11:30 pm, my security skirt went back on top. I spent the train ride scrolling through the photos my friends took of me, and I was surprised to find I loved my outfit more with every passing minute. By the time I got home, I felt so at-home in my body that I did another self-timer photoshoot, which lasted a solid 45 minutes.
Writing this days after my outing, I'd caution that the visible thong trend is not for the risk-averse. That may seem obvious, but there's more to consider than feeling confident in your appearance — especially, if you're going out alone.
If I ever have daughters, I hope I get to raise them in a world where I don't have to worry about the safety of their clothing choices. Unfortunately, that's not my reality. But for all the fear this trend dredged up, putting my curves on display meant everything to 14-year-old me. Today, that's more than enough.