I Tried The Ice Water Facial & My Skin Has Never Looked Better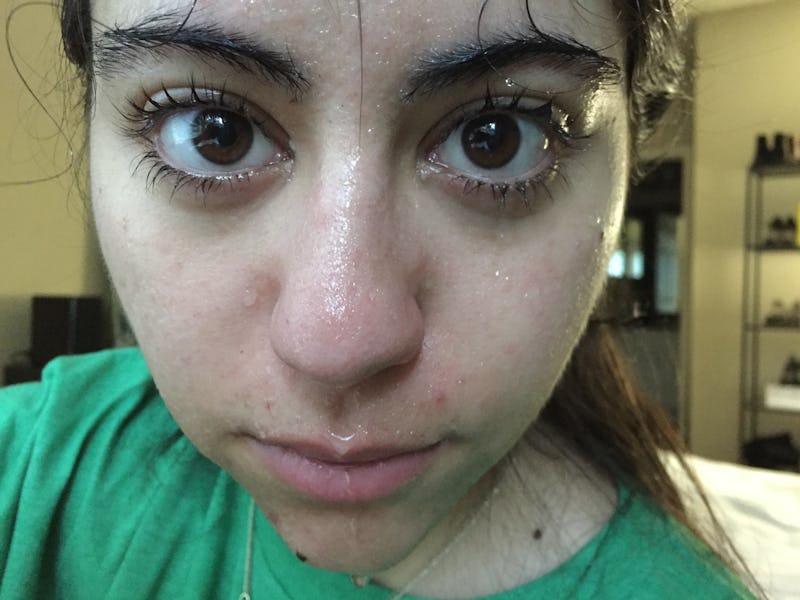 Dunking your face in ice-cold water first thing in the morning seems like an overall bad idea. But that's exactly what the ice water facial entails, promising to de-puff eyes, refresh skin, and make you look instantly awake. With that in mind, I tried the ice water facial to see if the polar plunge is actually worth it. Because this odd method certainly promises a lot for something that is essentially bobbing for ice cubes all in the name of beauty.
And I've done pretty much everything for beauty, from DIYing makeup to washing my hair with Fanta. So you can imagine my fascination when I came across an interview with Gabrielle Union on Byrdie Beauty where she said, "Sometimes, if I'm really dead to the world, I'll submerge my face in ice water," explaining that it wakes you up, tightens your pores, and makes your skin feel smooth. With a quick search, I also found out that top supermodel Kate Moss does the same ice water facial as a way to de-puff her skin.
As someone with quite a puffy morning face, and the willingness to try anything once, I went for it. So, does the ice water facial actually work? I dunked my face in freezing cold water first thing in the morning to find out.
My Skin
As you can see from the photo above that I snapped one random morning, I have quite a puffy face. From my big eyes, to my chubby cheeks, to even my lips, I'm basically a puffy-faced monster when I first wake up. I figured that would make me a pretty good candidate for trying out the ice water facial based on what both Union and Moss were saying.
Massaging ice onto the skin cools the face (obviously), which causes blood to rush to just beneath the skin's surface. It also constricts your blood vessels, and that results in a more even complexion that appears tighter and not as bloated.
On an average day, it takes a couple of hours for my face to de-puff. But with all those ice water praises, my hypothesis was that a cold splash of water could de-puff my face in no time, while also making my pores look smaller, give me a natural glow, and tighten my skin. Oh, and wake me up. But let's be real, that one's a little obvious.
The Process
With all that said, I was prepared, and quite a bit impatient, to try out the ice water facial. I was actually excited to try it out, and I set it up so I could really gauge the results. I chose to do it on a Friday, after a particularly long and stressful work week combined with my horrible sleeping habits. I woke up at 7:15 a.m. and snapped the photo above.
Then, while still half asleep, I made my way to my kitchen and dumped all the ice I had in my freezer into a large bowl and poured in some water. I also chopped up and peeled some cucumbers and threw them in there since I had some and they're extra hydrating and soothing to the skin.
Once I set myself up at my vanity with the bowl in front of me, my excitement faded. Was I really about to stick my whole face into this frigid bowl of water and cucumbers? Yes. Yes I was.
The first dunk is the deepest. I was immediately woken up by the water, to say the least.
I was dreading going back in again.
But I did it anyways.
After 20 minutes of dunking my face in the water for about 15 seconds at a time, with a couple of minutes in between dunks (can you blame me for needing some time to recuperate between dunks?), I snapped the pic above. I dried my face with a towel, and went about my day as usual after that.
The Results
Immediately after doing the ice water facial, my skin felt really nice. It was smooth, it felt tight, and I did actually feel and look more awake than I usually do with my typical morning routine of a quick cleanse with warm water. My pores looked relatively small, and the oil from my face that I usually wake up with was completely gone. But, I could still see quite a bit of puffiness around my eyes. By the time I applied my makeup about 40 minutes later, though, they had drastically de-puffed and looked quite normal.
By lunchtime, there was really no puffiness in my face at all. My skin was particularly glowy, even though I skipped my usual highlight routine that morning. Because I have oily skin, it was no surprise that my pores started showing a few hours after the facial, but I did notice less oil production than usual.
Not much changed by evening. The oil was still building on my skin, which made me anxious to get home and wash off my makeup. But I couldn't point out any other negative characteristics about my skin besides the normal oil. I still felt like I was glowing, and my skin still felt smooth. There was no puffiness, even though it's usually about this time of the day that I get tired. All in all, though, I can confidently say it was a good skin day.
Was It Worth It?
My experiment taught me that all that hype about the ice water facial was certainly not for nothing. Even though I initially doubted its ability, I can confidently say that the frigid polar plunge constricted my pores, de-puffed my face, and gave me glowing skin — just as all those celebs and rumors had promised. And there's also no doubt it woke me up (that's for sure!). But considering it requires uncomfortably dunking your whole face into a bowl of freezing cold water, I wouldn't recommend it for every day.
Perhaps it can be an occasional treat on a special day, preparation for a big event, or even a last resort when your skin is feeling extra dull and tired. Even though I loved the way my skin glowed and felt all day long, I can't imagine making the ice water facial part of my daily routine.
Ultimately though, to answer the question yes, I personally believe the ice water facial is worth it. Ice water clearly has some sort of magical power that makes skin look beyond beautiful, glowing, and flawless. And if all I have to do is dunk my face in ice-cold water first thing in the morning for the skin I'm aiming for, then so be it!
Images: Melodi Erdogan