Jill Biden's Latest Dress Has The Most Inspiring Hidden Message
She wore another custom design by Gabriela Hearst.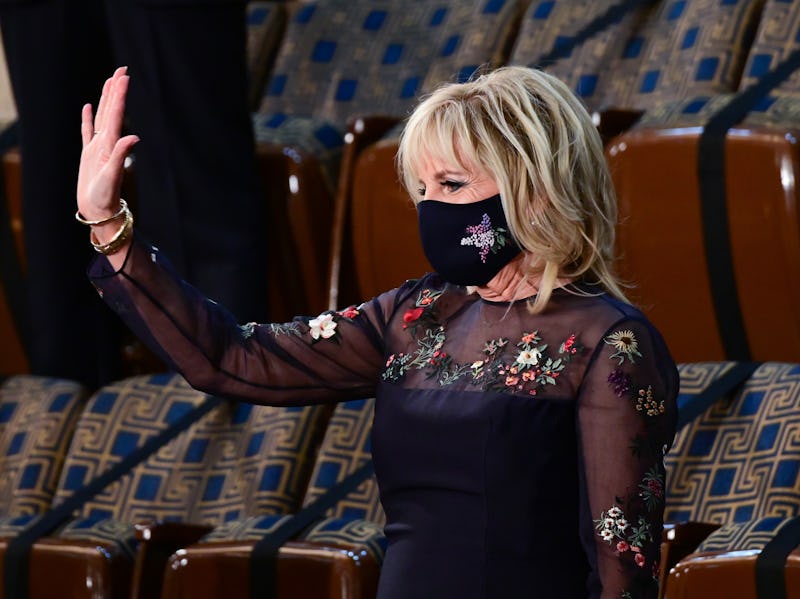 Pool/Getty Images News/Getty Images
First Lady Jill Biden attended a speech at the US Capitol delivered by her husband, President Joe Biden, on Wednesday, April 28. For the event, she chose a dress that had been designed for her by immigrant designer, Uruguayan-born Gabriela Hearst, an apt choice considering the nature of the speech. What's more, Hearst hand-embroidered the flowers of all 50 states, Washington D.C., and every U.S. territory. Read on for the hidden meanings behind Jill Biden's Presidential Address Gabriela Hearst dress.
The state flowers featured on Jill Biden's ensemble were a nod toward inclusion and unity as they represented each of the United States and its territories. On her website, Gabriela Hearst explained the symbolism, saying "The message of Unity is the main inspiration for the creation of the Ensemble. Unity makes strength and it is needed for the road ahead." As a nod to Biden's state of residence, "the Delaware flower is positioned at the heart level of The First Lady, from there, all the other flowers branch out," Hearst said. Though not exactly the same, the dress was a variation on the outfit Gabriela Hearst designed for Jill Biden's Inauguration appearance back in January.
Biden's dress conveyed another message of inclusion. The designer, Gabriela Hearst, is Uruguayan-born and recently became a U.S. citizen. By supporting Hearst and her work, Biden is making the statement that immigrants are a welcome and essential part of what makes America special. Biden was not alone in her choice to wear an immigrant designer, as Vice President Kamala Harris chose a look by Prabal Gurung, a proud immigrant from Nepal who was born in Singapore.
In that way, Biden and Harris' outfits — and the sartorial messages behind them — dovetailed nicely with President Biden's speech, where he made an appeal for a shift in immigration policy in the United States. Vice President Kamala Harris and House Speaker Nancy Pelosi sat behind the President for the duration, while the First Lady was seated in the balcony overlooking the House of Representatives Chamber.