John Legend's Loved01 Skin Care Line Is All About Accessibility
The Grammy Award-winning singer chats about his just-launched beauty brand.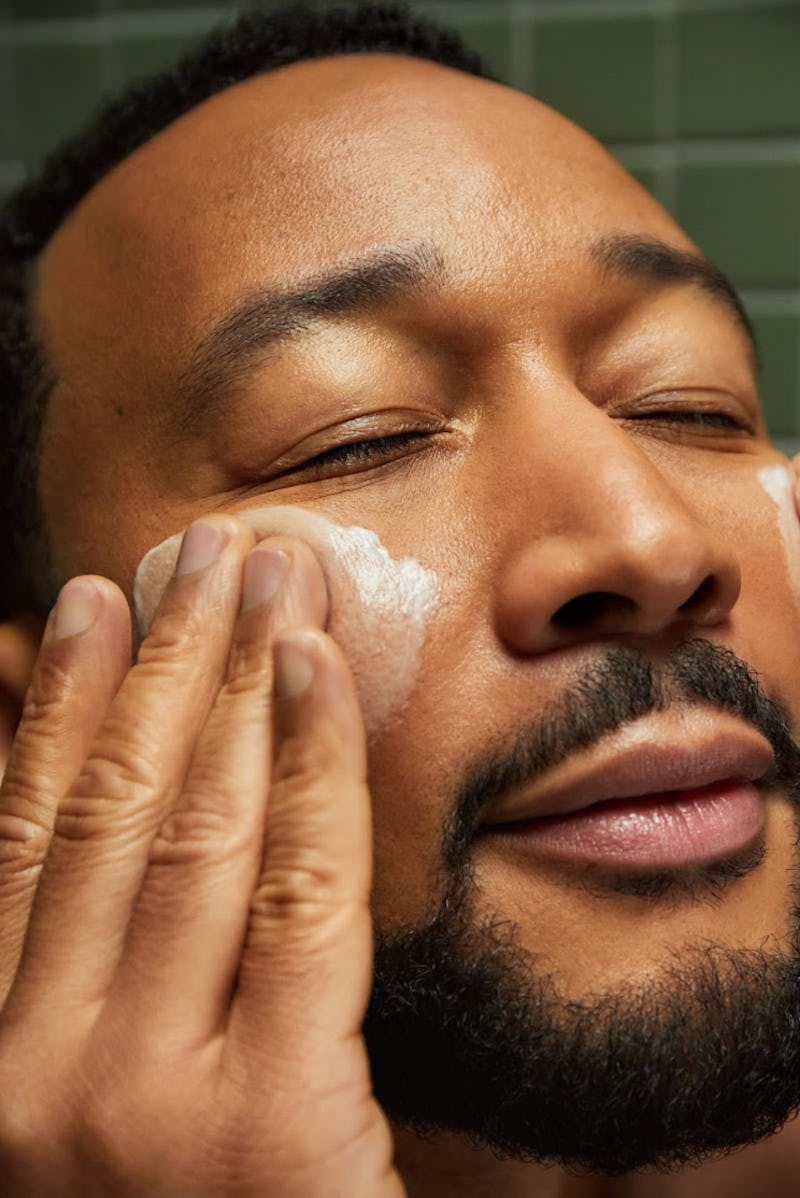 John Legend/Loved01
We may receive a portion of sales if you purchase a product through a link in this article.
I never paid attention to John Legend's skin until I took a Zoom call with him. We were chatting about his new skin care line, Loved01, when I realized that the Grammy Award-winning singer has a rather stunning glow. At that very moment, I knew I would slather on any beauty product he created.
Dozens if not hundreds of celebs and influencers have launched beauty products over the years, but Legend's Loved01 — pronounced Loved One — stands out. The brand's mission? To fill a hole in the market by providing unisex skin and body care products for melanin-rich skin, as well as any other skin type that needs more moisture, at a low price point. "We wanted to create something special [...] and embrace the richness of our culture and our heritage," the 44-year-old tells Bustle over Zoom. "And we wanted to do that not only in a way that's effective and really works for our customer, but is also available and affordable."
It's why the collection of six products — an exfoliating cleanser, shave cream, face and body wash, toning mist, face and body moisturizer, and a face and body oil — all fall between $10 and $15. Legend points out that melanin-rich skin loses moisture particularly quickly, which is why Loved01 formulas are infused with hydrating ingredients like rosehip and sea buckthorn oil. "I love that combination of goals and intentions, but also accessibility and affordability," Legend says. On top of that, the products are now available in nationwide stores like CVS and coming to Walmart in March 2023.
While he learned a lot while working with the Loved01 team, Legend says his other skin care knowledge comes from his wife Chrissy Teigen. "I learned a lot of little tips from sharing skin care rituals with my wife," he says. "She's really good at doing extractions at home for me — getting my blackheads out and all that stuff. I didn't even think about blackheads when I was younger and before I started dating Chrissy." (#CoupleGoals.)
Really, the name Loved01 was inspired by family. "We felt like not only is it about an expression of love for yourself, to care for yourself, but for so many families and couples, skin care rituals are part of how they share time together and love for each other," Legend explains. Hydration is a key part of his self-care routine, too. "If I'm well-rested and I'm drinking a lot of water, my skin's going to reflect it, my voice is going to reflect it, and I can show up better for everybody in my life."