Designer Olivia Anthony: "Black Culture Is Not A Trend"
The Liv Streetwear team talks celebrating Blackness through art.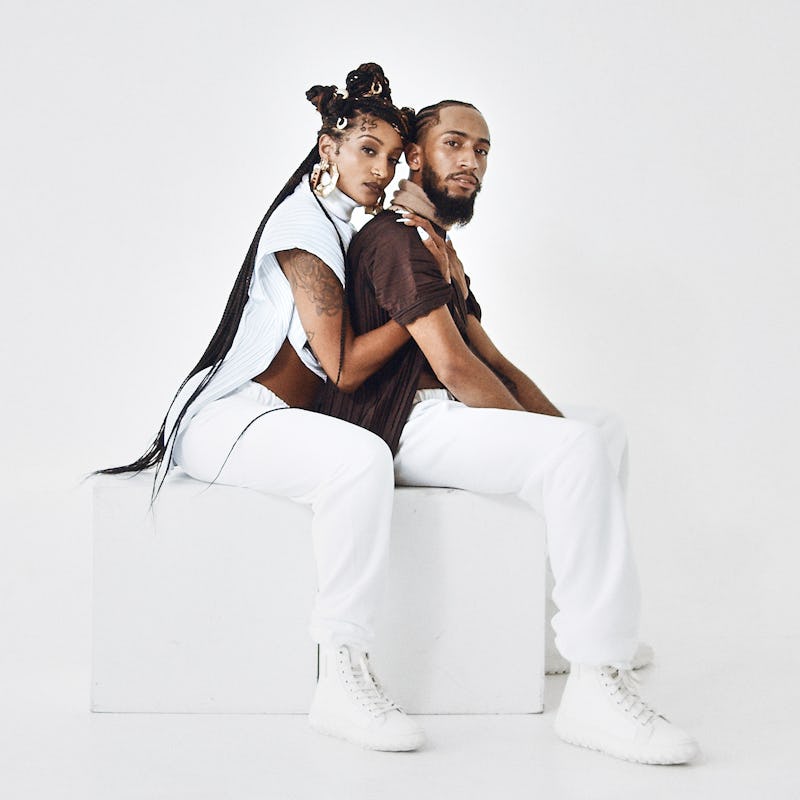 Pasha Alekseev
Eight years ago, Olivia Anthony started off selling her pieces in a college parking lot. "I [was] selling T-shirts out of the trunk of my car during undergrad at Alabama State University," the designer tells Bustle. "And the rest was history."
That trunk operation has morphed into a full-blown fashion brand known as Liv Streetwear, which officially launched in 2012. Today, Anthony's eponymous line is a favorite among the celebrity set — SZA and Kehlani are fans — and it's getting noticed within the larger fashion industry.
Anthony, 30, who is part of Bethann Hardison's Designers Hub Grant in partnership with the CFDA. The initiative was established in spring 2018 to help Black designers and Black-owned fashion businesses by providing them with guidance and opportunities to grow through mentorship.
"They have taught me so much on how to run a brand, from marketing wholesale to so much more," Anthony says. "You also receive mentorship from the best in the game like Lisa Metcalfe and Tracy Reese just to name a few. They drop gems that you can't get from anywhere else."
Liv Streetwear capsule collection, "Destined 2 Liv," debuted Monday, Nov. 16, on CFDA's Runway360 platform. Anthony worked with a team of creatives on a music video to coincide with the launch, a project that celebrates the Black community through the lens of '90s-inspired fashion.
The video, directed by Alexander McMichael, opens with Anthony reminiscing about mall shopping and photo booth shoots in the '90s. The poses that follow are a nostalgic tribute to those famous mall photos, in which shoppers would squat or stand with their hands on their hips while displaying their latest fashion buys. The models also perform a high-energy dance routine choreographed by Ashanti Ledon, who was inspired by "movement from childhood."
Produced by industry veteran Ricky Davii, the video was praised for its sense of optimism and authenticity. From the spirited movement to the iconic Bantu knot and cornrow hairstyles, Davii says every detail was just "another moment to realize our culture is unmatched."
Basking in the success of the video launch and the promise of her ongoing CFDA partnership, Anthony spoke with Bustle about her career, her creative process, and her long-term vision for the brand.
Which factors do you take into consideration when you're bringing a design to life?
I get inspired by anything — songs, movies, TV shows, colors. Then, the daydreaming begins. I create a story or world. I let the world help with the designing of the garments. I usually get lost in it.
What's been your biggest hurdle as a Black woman designer-entrepreneur?
My journey is like any other struggling artist trying to make it. My biggest challenge is being patient, trusting in my time, and taking everything as a lesson and not as a loss. How much time do we have? Every day I have to remind myself that. Each day we are met with some type of challenge or even scrolling on Instagram, you may see something and ask yourself, "When will it be my time?" But it's all about using your faith in the process. The rewarding part is I am a Black woman, so when I do reach my goals, I'm showing every little Black girl that it's possible — even the little girl who lives in me as well.
Many industries, including fashion, were getting behind Black-owned businesses over the summer in the midst of the protests for racial justice. Six months later, do you feel the support has lasted?
It's definitely still here. Only time will tell if it will sustain. But I pray it is here to stay. We have a very long way to go, especially concerning giving credit where credit is due. It's important that we learn as an industry to spotlight pioneers who have been behind the work — not just among Black businesses, but Black artists working for some of the top brands we love today. For example, Walkerwear by April Walker, she's a living legend. Everyone should know her name!
There are Black designers getting ripped off by culture vultures and not getting the spotlight they deserve. We are not a trend. Our culture is not a trend. It's up to us to make sure we keep making noise when things are not right.
What's it like seeing celebrities like SZA and Kehlani wearing your designs?
It's reassuring that God is doing his thing. For instance, being part of Beyoncé's list of Black designers this summer was such a blessing. I was super excited and I was surrounded by friends. It was definitely a moment for the books!
Which designs are among your favorites right now?
At the moment, the cozy sweatsuit because it's getting cold and it's the perfect time to wear them. They're easy to dress up. You can wear them with heels, just the crew neck with boots, or the pants with a sexy top. [There are] ways to play with those items. My favorite item of all time is the overalls. They will always be a classic.
What have been the most valuable lessons you've learned in launching your own brand?
Always trust God fully during the process. Time after time, you may need something to meet a goal. But you can't see how it will happen. Or it doesn't look like it will happen. You have to trust that all the tools you need are either right in front of you, or God will always provide.
Where would you like to be a year from now? Five years from now?
I've always seen my brand [going] worldwide — everyone rocking or knowing about Liv Streetwear. A year from now: more collaborations with amazing brands, bringing back HOUSE OF OA. Five years from now: taking over another house like Chanel or Miu Miu. Seeing people like Jeremy Scott and Virgil Abloh design for other houses really opened my eyes to that idea. It's a big goal of mine.
This interview has been edited and condensed.
Credits:
Creative Director/Designer: Olivia Anthony
Producer: Ricky Davii
Director/Editor: Alexander McMichael
Director of Photography: Pasha Alekseev
Cinematography: Andy Lincoln
Choreographer/Model: Ashanti LeDon
Model: Deijah Robinson
Hair: Seto McCoy
Hair Assistant: Kristen Anderson
Makeup: Karol Rodriguez
Stylist: Alexandra Berrocal
Manicurist: Aja Daniels
Production Assistant: Christina Davila
Music: Ismael Orteez
Footwear: Camper Lab