Lori Harvey On Her Favorite '00s Loungewear Trends
Plus, all the details on her new loungewear collection.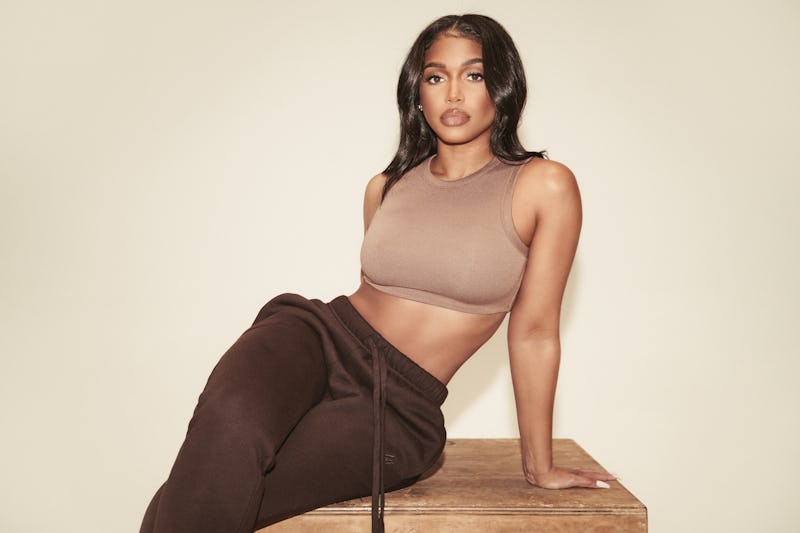 Comfort was the biggest fashion trend of 2020 and it's not going anywhere anytime soon. But it might be time to switch up your loungewear game and invest in new styles. Enter model Lori Harvey and her latest collection of versatile crop tops and sweatpants with Naked Wardrobe, which just dropped online and is available in select Nordstrom stores nationwide.
"My everyday uniform since the pandemic has been sweats and a crop top, and that was a big inspiration for the collection," Harvey tells Bustle.
Sisters Shideh, Shida, and Shirin Kaviani founded Naked Wardrobe in 2012 and it's garnered a steady following ever since. Celebrity fans include Jennifer Lopez, Arianna Grande, Selena Gomez, Lady Gaga, and Hailey Bieber.
"I am friends with Shideh [and] because of that, the collaboration came naturally," says Harvey. "Having the opportunity to create something timeless with people who you have already established a great friendship with is a dope experience."
The line is rendered in a neutral color palette featuring styles in black, white, mocha, chocolate brown, and heather grey. Sizes range from XXS to 3X and prices range from $38 to $56.
"I love the ribbed tops because that was a special fabric that we took extra time to make sure it was comfy and soft," Harvey says. "I just want to wear it every day."
Since this collection was her first major fashion project, it was important for the 24-year-old to create pieces that she knew others would love because she actually loves and wears them, too.
"I took everything into consideration," Harvey says. "I was involved in the design process for every little detail — from how long the drawstring was on the sweats to making sure the elastic on the crop tops hugged the body just right."
Since she's quite the fashionista, Harvey walked Bustle through some trends she's loving — and not loving — for 2021.