At 28, Beyoncé's Makeup Artist Mally Roncal Developed Her Signature Style
"If my agent said, 'You're going to go do this celebrity's makeup on a ship in the middle of Africa,' I'd say, 'Sure, I'll do it.'"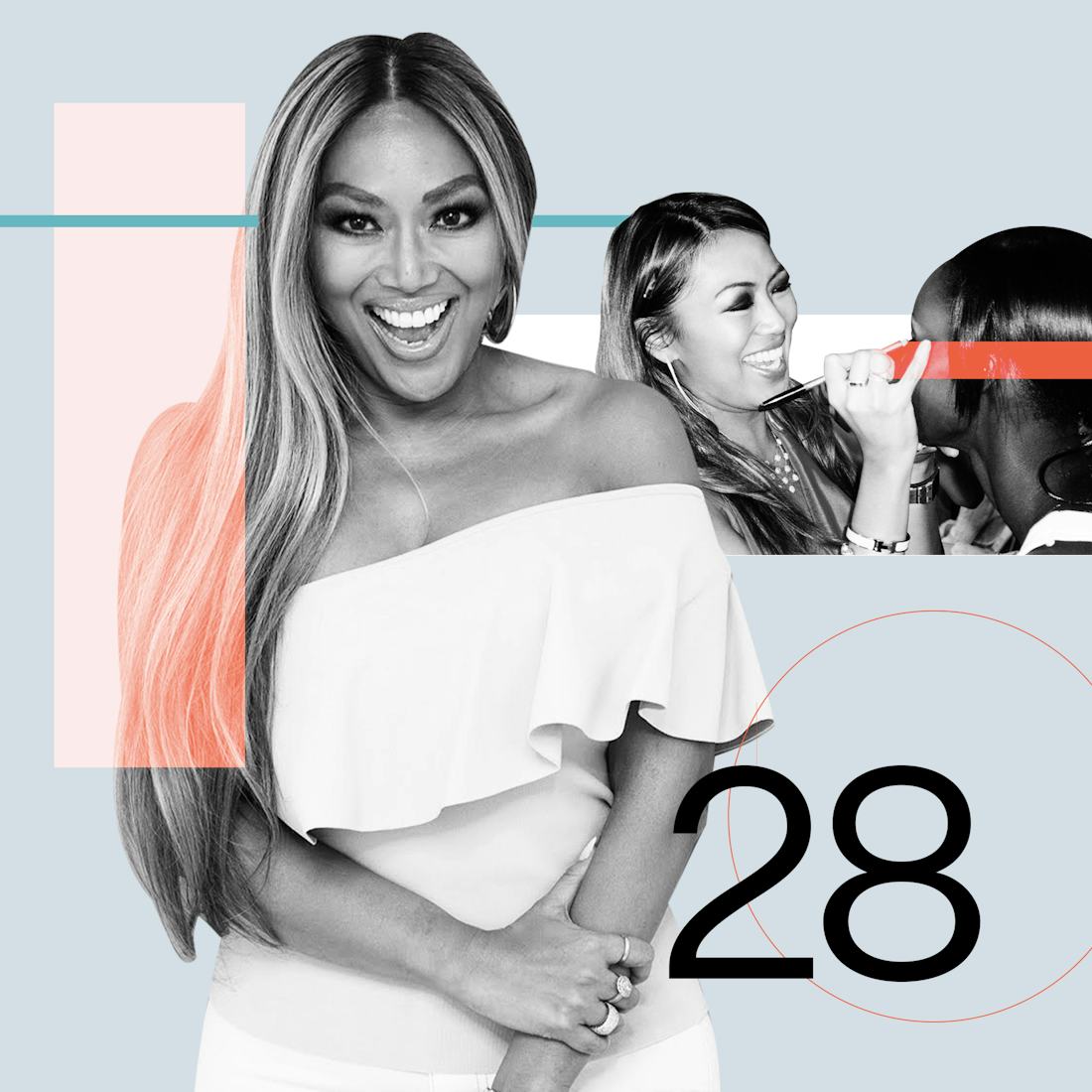 Courtesy of Roncal/Caroline Wurtzel
In Bustle's Q&A series 28, successful women describe exactly what their lives looked like when they were 28 — what they wore, where they worked, what stressed them out most, and what, if anything, they would do differently.
Celebrity makeup artist Mally Roncal recently had a Harry Potter marathon with her husband and three daughters. After sitting through all eight movies, her butt was still numb days later. But don't let that fool you — Roncal is having a highly productive quarantine. She's been cooking classic Filipino dishes on Instagram and caring for two dogs, two bunnies, two fish, and three guinea pigs. Oh, and she's filming TV shows.
Roncal regularly appears on QVC via Skype, where she represents her Mally Beauty line. She also self-films episodes of Mally Makes It Better, a show on QVC's YouTube, where she shares makeup tutorials and answers questions from her fans, the "Mallynistas."
While Roncal is now working remotely, it's a stark contrast from her time doing makeup for famous clients, including Beyoncé, Jennifer Lopez, and Taylor Swift — and her exhilarating life before Mally Beauty.
Five years before founding her company in 2005, Roncal was a 28-year-old newlywed makeup artist who traveled as a spokesperson for beauty brands. "With reckless abandon, I said yes to everything," Roncal tells Bustle. "If my agent said, 'You're going to go do this celebrity's makeup on a ship in the middle of Africa,' I'd say, 'Sure, I'll do it.' I was pretty much pedal to the metal."
Below, Roncal, now 48, shares how she created her signature look, memories of working with Beyoncé before her solo album debut, and what she learned about handling rejection with confidence.
How were you feeling about your life and career when you were 28?
MR: I felt hopeful, I felt excited. I don't know if I felt successful yet. In retrospect, you ought to feel successful every day, but at 28, I was a real firecracker. I was focused and I wasn't going to let anybody stop me on my journey.
I never set out to become a celebrity makeup artist. I was doing lots of magazine editorials at the time, but my then-agent said, "I'm going to start pairing you with more celebrities, because you're like a cup of coffee in the morning. If there's anybody someone needs to see at 4:30 a.m. before doing The Today Show, it's you." I didn't care whose makeup I was doing, I just wanted to do makeup.
What was your biggest source of anxiety at the time?
MR: As a freelance makeup artist, I would always hear, "This celebrity might want you to do their makeup." Waiting and wondering if I was going to make the cut stressed me out. That process taught me so much about having confidence regardless if people accept you.
What was the biggest thing you splurged on when you were 28?
MR: An aqua blue Fendi bag. I wore it until it fell apart. I was like, "I'm wearing this, and you're going to know, dammit, how much I paid for it because I work so hard." I was raised by a Filipino woman who loved to shop, so it was very much like, if you work hard and achieve your goals, then enjoy yourself.
Describe your favorite beauty look from when you were 28.
MR: In the '90s, I had platinum blonde hair and I wore aqua blue eyeshadow. I was really tan and wore pink frosted lipstick. After my 28th birthday, I was trying to create a new, more subtle look for myself. I was doing a bronzy glow, lots of lashes, and a glossy nude lip, which became the signature look for my famous clients.
You have to decide your own "I made it" moments, especially in a world that sometimes makes you feel not as accomplished as you deserve to feel.
What were your goals at 28? And how have they changed since then?
MR: I had the dream of starting Mally Beauty, but I knew I still had work to do and a career to build. I will always be a makeup girl, but I also love the idea of creating a space where my husband Phil and I can teach people the art of positive energy. Phil always says that makeup has just been the vehicle to share love and joy. I get so many questions asking about my positivity. There's a technique to it, so I would love to teach that to whoever wants to learn.
Was there ever a moment for you when you felt like you made it?
MR: When I did the makeup for Beyoncé's Dangerously In Love album cover, I remember thinking, "I'm part of something very special right now." The day that I launched Mally Beauty on QVC, we had an hour-long show for my debut, and we sold out in 36 minutes. That was an accomplishment I had dreamed of.
At 28, it's hard to appreciate the great things you're accomplishing, but you have to for your own pride, for your own heart. You have to decide your own "I made it" moments, especially in a world that sometimes makes you feel not as accomplished as you deserve to feel.
What would your 28-year-old self think about what you're doing right now?
MR: She'd be proud to know that Phil and I have three daughters, and that we teach them to love people unconditionally, and that we allow them to be who they are regardless of what society says. She'd be excited to know that our family attends every single RuPaul's DragCon. She'd be happy to know that I'm still with the man that I was madly in love with then and that we still have a loving, emotional, sexual, exciting relationship, much to the chagrin of our daughters, who are always like, "Ew! Why?" She might be shocked to see me cooking and being more domestic, but she knows I'm still a drag queen at heart, so it's OK.
This interview has been edited and condensed.