Makeup By Mario's New Collection Is All About Easy Contouring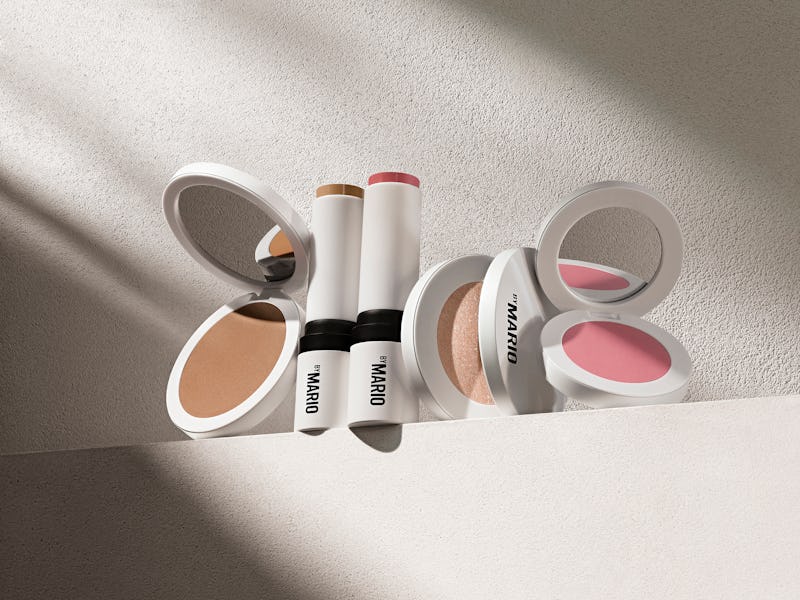 Makeup by Mario
You may recognize Mario Dedivanovic — aka Makeup by Mario — from his *stunning* beauty looks on stars like Kim Kardashian West and Salma Hayek. Or perhaps you're familiar with his first, eponymous makeup collection, which launched last October and includes a whopping 21 products, from gunmetal eyeshadow palettes to dewy highlighter balms and everything in between. Regardless, his name is about to enter your radar again with the launch of his latest collection: Soft Sculpt.
Like the name suggests, the industry pro (who's famous for his Insta-worthy contouring and highlighting techniques) is releasing products made to suit everyday life. Why? "There's this idea in the beauty industry — especially in the last several years — that makeup is supposed to be so fun," he tells Bustle over Zoom. "And, yes, of course it is, but makeup can also be a nuisance and a pain in the ass. Sometimes, you just want to get it done because you have to. I want to be realistic about that. Everything in the collection had to work for real life — so natural daylight, Zooms, the office. Wherever you're going, it has to be tailored to that and not YouTube, Instagram, and TikTok."
The tightly edited lineup features just five products — the Soft Sculpt Shaping Stick (for subtle contouring), the Soft Sculpt Bronzer, the Soft Pop Blush Stick (a cream blush), the Soft Pop Powder Blush, and the Soft Glow Highlighter — plus three double-sided brushes. Everything clocks in under $30 and comes in a handful of shades.
The beauty world at large seems to be shifting into more natural territory (Huda Kattan's recent drop is just one example), but Dedivanovic makes it clear he doesn't think contouring is going anywhere — it's just evolving. "[Millennials] know how to contour because they learned several years ago," he says. "I think we're just doing it differently now, and the TikTok generation has a big effect [on that]. They're doing it differently than how it was done five or six years ago. There's a more uninhibited approach. It's not so perfect and structured with the [ring] light in front of them. They're more free — and they own it." He adds that a goal in creating Soft Sculpt was to help millennials "evolve into the next chapter" and achieve that more raw look.
While more pared back in terms of quantity and color, the Soft Sculpt range still takes the professional-level techniques he's is known for and simplifies them for the average makeup lover. And, like his other products, these are multipurpose: The blush and shaping sticks, for instance, include removable brushes (easier to wash them that way, he says) and the formulas can easily be applied to the eyes, lips, and cheeks.
Considering Dedivanovic got his start more than two decades ago as a greeter and fragrance consultant at Sephora, it's fitting that he headed there for inspiration. "I would go into the stores and ask the Sephora beauty advisors what category [customers] are wanting, and a recurring answer was 'complexion.'" Apparently, customers also craved ease: "I like double-ended products with the main goal of helping the consumer be quicker and smarter in makeup application," he explains. "To help cut their time down and create a product thats easy to use." As you ease into life post-pandemic, what more could you ask for?
The Makeup by Mario Soft Sculpt Collection is available now at Sephora and on makeupbymario.com.