What To Expect Before Your First Medical Pedicure Appointment
It's not as scary as it sounds.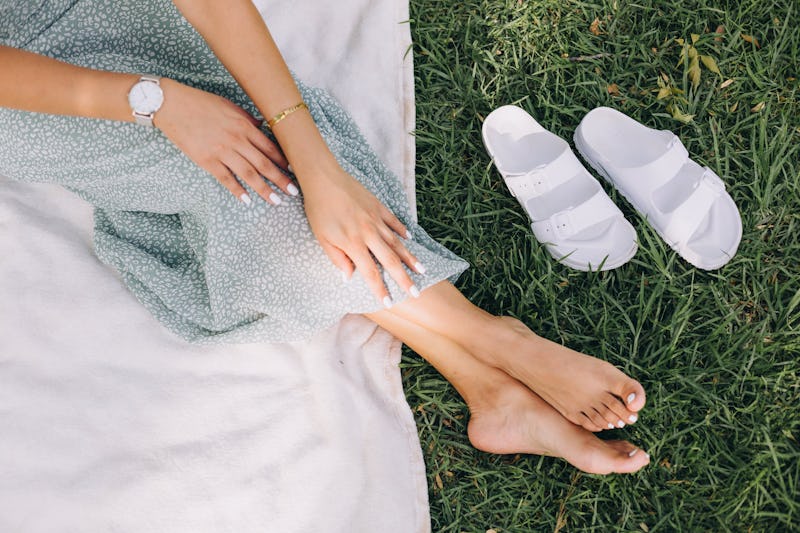 Carolin Voelker/Moment/Getty Images
You're probably familiar with the traditional pedicures offered at most nail salons, but a medical pedicure is a service that is a bit more under-the-radar.
If you haven't already broken out your sandals for the warmer months ahead, you will be soon — and it's a great time to read up on medi pedis, and learn why the procedure can be so beneficial (especially for those who often deal with calluses, ingrown toenails, cracked heels, or other foot-related issues like corns or bunions). "This treatment is ideal for athletes, those with overactive lifestyles, and people that work standing for long periods of time," Marcela Correa, licensed professional medical pedicurist at Medi Pedi NYC, tells Bustle. "This pedicure is also for people that want to maintain the health of their feet and those that don't feel comfortable taking their shoes off in front of others at a regular nail salon."
Because medi pedis are incredibly sterile and waterless, there's little to no chance of getting an infection. "The majority of people who book a medical pedicure with me are scared of getting an infection from the nail salon or who already got one," says Dr. Hillary Brenner, a podiatrist who performs medical pedicures in the tri-state area. "Anyone with a pair of feet can benefit," says Correa.
Want to learn more? Read on to hear more from Brenner and Correa, as they explain everything you'll need to know before your first appointment.
What Is A Medical Pedicure?
Both experts tell Bustle that one of the major differences between medical and regular pedicures is that the former is a one-on-one experience. "The first major difference is that the service is performed by a certified medical nail technician in a super-clean private room," says Correa.
Brenner explains that the service is performed by a podiatrist or an esthetician (who has special training, i.e. shadowing a podiatrist) with instruments that are sterilized up to medical-grade standards. Both podiatrists and estheticians can address ingrown nails, thick calluses, corns, fungal nails, et cetera, but Brenner notes that there's a limit to how assertive estheticians can be.
What To Expect At Your Appointment
Don't expect anything painful, but a medical pedicure is not a treatment that involves a relaxing soak or luxuriously long foot massage. "We eliminate the use of water to avoid cross-contamination. Water can make conditions like nail fungi and Athlete's Foot worse," explains Correa. "At Medi Pedi NYC, we solely focus on the health and wellness of your nails and the soles of your feet. We don't apply nail polish or do foot massages."
Correa continues that the sterile and dry pedicure is customized to each individual. You can expect your pro to remove dead skin with professional equipment, and clip, file, shape, and buff your toenails. She says that any medical ailments such as thick nails, nail discoloration, Athlete's Foot, nail fungus, and more will also be addressed at her office. Correa also educates her clients. "The pedicure includes educating on how to maintain results and treat the ailments they are dealing with."
Brenner informs Bustle that medical pedicures at her office can take from 30 minutes to an hour depending on the condition of the clients' feet. "One thing we don't recommend is cutting the cuticles as the purpose of them is to act as a barrier against infection." For those with severely damaged toenails, she offers a procedure called Keryflex in which an extension is used. "The beauty of Keryflex is that it doesn't damage the nail underneath and it looks just like a real nail," says Brenner. "The nail polish we use is called Dr. Remedy nail polish which is chemical-free, vegan, and gluten-free without toxins."
How Often Should You Get A Medical Pedicure?
Frequent appointment aren't alway necessary. "It depends on whether or not you are treating a non-invasive ailment or preventing one," Correa says. "Clients who get recurring ingrown nails, or those that are treating nail fungus or Athlete's Foot should opt for monthly treatments. If monthly is not possible, at least every six to eight weeks." For anyone with healthy feet who are simply seeking routine maintenance, she recommends scheduling one appointment each season.