The Best Alternatives To Milk's Hydro Grip Primer
5 cheaper alternatives to the cult fave.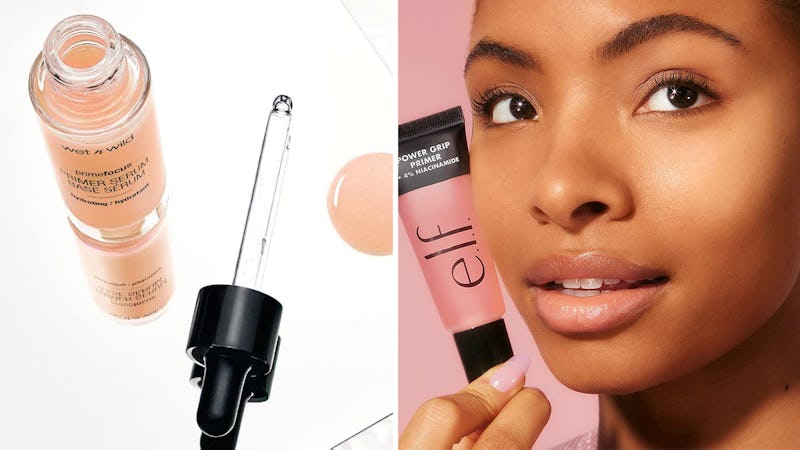 Amazon
We may receive a portion of sales if you purchase a product through a link in this article.
Hailed by countless Sephora reviews, Reddit forums, and beauty awards, Milk Makeup's Hydro Grip Primer is one of the most popular primers on the market. But if you find that it's sold out, not in your budget, or doesn't work for your skin, the best Milk Hydro Grip Primer alternatives perform similarly, except they're a lot cheaper and contain slightly different ingredients.
Milk's Hydro Grip Primer uses skin-loving ingredients like hyaluronic acid to plump up skin and boost hydration, niacinamide for brightening, and aloe water for soothing. But the real standout ingredient is blue agave extract, which gives the product its signature tackiness and 'grip.' The result is a hydrating primer that locks in your makeup look for up to 12 hours. The formula is silicone-free, vegan, fragrance-free, and well-suited for those with dry or sensitive skin, although it's designed to work on anyone. The product goes for $36 for 1.52 ounces.
As always, when choosing a primer, read through the ingredients list to make sure you're not combining a silicone-based primer with a water-based foundation, or vice versa — insoluble primers might cause your foundation to slip off or flake. This pointer and other tips to choose the right primer will help ensure your makeup stays perfect for hours and hours.
Here's a roundup a few of the best affordable primer options on the market that also specialize in hydrating dry skin and providing all-day grip to base makeup. For best results, make sure you pat a thin layer of primer all over the skin, then let it sit for a minute or two before applying foundation. Read on to find out how to get a smooth, hydrated, locked-in look all day long.
Shop The Best Milk Hydro Grip Primer Alternatives
In a hurry? Here are the best alternatives to Milk's Hydro Grip Primer:
1. The Best Grippy Alternative
E.l.f's Power Grip Primer + 4% Niacinamide provides skin with a similar hydrating grip, but for a fraction of the price. It also stars ingredients like hyaluronic acid and niacinamide, and feels a bit sticky like the Milk primer, which helps your makeup grip to your skin. It's regarded on Reddit pages like r/MakeupAddiction as one of the best Hydro Grip alternatives, and while it only comes with less than an ounce of product, for $10, the value can't be beat.
Key Ingredients: Hyaluronic Acid, Niacinamide Size: 0.8 oz. Silicone-Free: Yes
Relevant Review: "There is nothing on the market in comparison to this ... I even wore it side-by-side to compare the Milk Hydro Grip, and this outlasted by several hours. It's just the right amount of tacky/sticky to grip the makeup and keep it in place."
2. The Best Hydrating Alternative
NYX's Bare With Me primer is all about hydration. One Amazon reviewer with combination skin reported that the water-based primer keeps their skin hydrated and simultaneously "kills the shine." The formula contains aloe and cucumber extracts, and goes for $17 for 1.4 ounces, so while it is a bit more expensive than some of the alternatives on this list, it's still a lot cheaper than Milk's primer. Note that some people say its jelly-like texture takes some getting used to.
Key Ingredients: Aloe Leaf Juice, Cucumber Extract Size: 1.4 oz. Silicone-Free: Yes
Relevant Review: "This is my favorite cheapy primer ... It glides super smoothly on your face and leaves your skin slightly tacky allowing your makeup to stick in place. Has a dewy to natural finish."
3. The Best K-Beauty Alternative
The Icy Sherbet Primer from Korean beauty brand Touch in Sol is the more hydrating cousin to their cult-favorite No Pore Blem primer. Suitable for any skin type, the gel formula uses hyaluronic acid and floral extracts for a calming, hydrating primer that acne-prone, dry, and combo skin types all love. And thanks to its cooling effect, it lives up to its "icy sherbet" — one Amazon reviewer called it "wonderfully refreshing," and praised its subtle floral scent as "not your grandma's rose perfume."
Key Ingredients: Hyaluronic Acid, Paeonia Albiflora Flower Extract Size: 1.05 oz. Silicone-Free: Yes
Relevant Review: "After picking up a new primer from a high end brand, I was reminded to pull this primer out of my collection. They perform exactly the same and this one gives a cooling effect. You get more product for less. Highly recommend!"
4. The Best Lightweight Alternative
Another water-based, hydrating primer, Wet n Wild's Primer Serum Hydrate has — you guessed it — a super lightweight, serum-like texture. While it hydrates and improves the longevity of makeup, some reviewers report that it isn't as effective at blurring unevenly textured skin as thicker primers are. But at $7 for 1 ounce, it's the most budget-friendly option on the list while still packing a serious punch — one Amazon reviewer noted needing less foundation than usual after applying the primer serum. Plus, being both a primer and a serum, you're technically getting two products for the price of one.
Key Ingredients: Hyaluronic Acid, Rose Water, Green Tea Extract Size: 1.06 oz. Silicone-Free: Yes
Relevant Review: "I did my makeup with it in preparation for a day out with friends and I did a full face. Not only did my makeup not even budge — but I also went into the hot tub for over an hour and I came out and my makeup looked exactly the same! It's amazing!"
5. The Best Alternative With Silicones
Maybelline's Master Prime comes in five variations, each targeting a different concern. The Hydrate + Smooth primer is formulated specifically for dry skin, delivering up moisturizing benefits with a light, water-based formula for super-smooth makeup application. The no-frills primer clocks in at $8 for 1 ounce, so it's a great value — however, note that it does contain silicones, which many consumers love for their smoothing, blurring effects, but it might not be as compatible with water-based foundations.
Key Ingredients: Glycerin, Methyl Methacrylate Crosspolymer (gives a matte finish) Size: 1 oz. Silicone-Free: No
Relevant Review: "My skin is chronically dry and this primer keeps my skin decently hydrated. It's not cakey and it's actually super lightweight ... this one does not pill off or flake off my skin."