This Skin Care Line Feels Like An Expensive Cashmere Sweater For Your Face
Oak Essentials is quiet luxury in a bottle.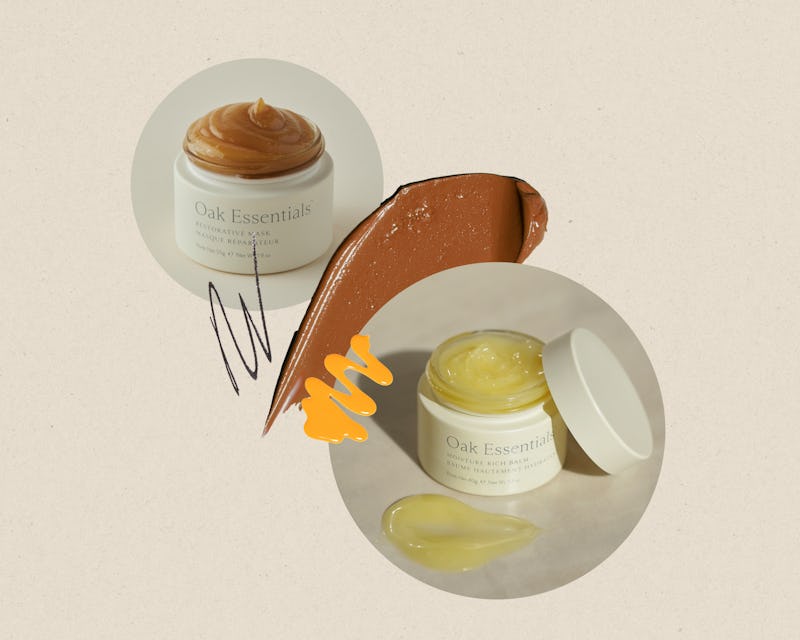 Oak Essentials
You'd be hard-pressed to walk through the palm-tree lined streets of Beverly Hills without spotting someone wearing Jenni Kayne. But first, you'd have to know what to look for. Kayne's pieces feature no visible logos or labels, but rather are centered around her personal aesthetic of effortless California-cool — cozy cashmere sweaters, sleek mules, striped cotton shirts tucked into well-tailored jeans. Launched in 2002 and beloved by the likes of Gwyneth Paltrow, Emma Stone and and Jessica Alba, Kayne's namesake brand was the epitome of quiet luxury before quiet luxury became a trending TikTok hashtag — and her skin care line, Oak Essentials, is no different.
I know what you're thinking — in a sea of soulless celebrity beauty brands and incubators churning out products at the speed of light, does the world really need another vanilla-toned, minimalistic skin care line? The answer is probably not — but do any of us really need anything when it comes to beauty? Personally, I view beauty products as a source of joy — and the ones created with intention, unique formulas, and high-quality ingredients tend to spike the most serotonin in my brain when I use them. Oak Essentials is one of these brands.
Kayne's own philosophy of wellness and a penchant for natural materials is directly reflected in Oak Essentials, which positions itself as "nature inspired" and "nature created." The packaging is a nondescript shade of off-white, but it's what's inside that delights the senses: fragrant, indulgent formulas made with soothing ingredients like honey, jojoba oil, and aloe juice. There's the Cleansing Balm, in a delightfully-whipped texture that melts off makeup with a cocktail of safflower, sesame and avocado seed oils; the Moisture Rich Balm, a buttery-rich formula that cocoons the skin with cocoa seed butter and the scent of lavender, rose and chamomile; and the Restorative Mask, which smells and looks like a honey-filled fever dream that left my skin plump and cherub-bottom soft (I may or may not have not been able to resist a small taste — I'm not proud of this! — and sadly, it doesn't taste as good as it looks, which is okay, because it's a skin care product and not food).
The standout, however, is the new Pure Gel Cleanser — which is hands down one of the best cleansers I've ever tried (and trust me, as someone who treats cleansing as the most important part of my skin care routine, I've tried them all). The clear-gel formula lathers into a satisfying, air-light foam and gets rid of makeup and grime without the need for a double cleanse (my face towel is always clean afterwards, no matter how much makeup I was wearing that day). Apple fruit extract provides the gentlest exfoliation, while aloe juice soothes and glycerin locks in moisture so my skin never feels tight and dry after. But all of these qualities would just make it a good cleanser — what truly makes it truly great is the intoxicating, soul-soothing scent. I can practically feel my cortisol levels drop when I use this cleanser every night. There's something about the soothing, herbaceous scent that acts like a natural Xanax for my mind. It's understated and perfect, like an expensive white t-shirt, and using it has become my favorite part of unwinding after a long, anxiety-ridden day.
The price points for the products are to be expected of a luxury skin care brand founded by Kayne — the cleanser rings in at a casual $48, while the rest of the products range from that price all the way up to $92 for the Nightly Retinol Serum. So, like with any luxury item and depending on your beauty budget, you may have to treat it as an investment piece — something high-quality that you can trust is well-made with thought and care. (Sadly, it will probably not last as long as a designer handbag. But does a handbag smell like a lavender-lined garden? Didn't think so!)
I will warn you that using any product from Oak Essentials will cause a sudden urge to browse beach house listings in the Palisades, swath yourself in a cashmere throw (from Jenni Kayne, of course) and sip on a chamomile tea while gazing wistfully into the distance, which is what I imagine people like Gwyneth do in their free time. Kayne, too — during a trip to the Oak Essentials beach house in Malibu, I met with Kayne's facialist (who is also her psychic), her chef (who specializes in cooking clean, vegan cuisine) and her acupuncturist (who did ear seeding on me to help with my digestion). It was a small taste of a life of quiet luxury and well-minded living, and for a second (or rather, weekend), my hunched shoulders and harried thoughts were able to unfurl, relax and pretend like I was a wealthy coastal grandmother living out her beachside dreams — unbothered, grounded and well-moisturized. Until that's my reality, I'll be using Oak Essentials to transport me to that state of mind. And now, excuse me while I go wash my face.