How To Style The Pillow Trend, According To A Fashion Editor
In my soft life era and my soft accessory era.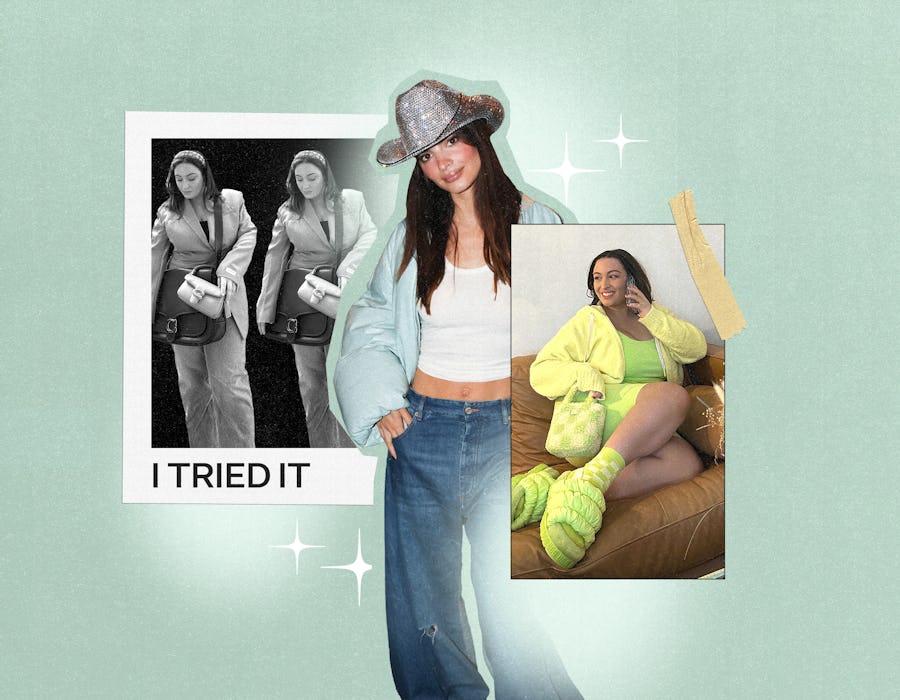 I Tried It
We may receive a portion of sales if you purchase a product through a link in this article.
A few seasons ago, padded fashion was associated only with bulky winter puffer coats. Now, pillowy accessories (jackets included) have a light-as-air feel, perfect for springtime and transitional dressing.
Of course, you can't talk about the puffy trend without crediting the piece that first got folks talking: Coach's Pillow Tabby Shoulder Bag. "The Pillow Tabby was originally designed in response to the times we were living through during the pandemic. It was inspired by a desire for comfort, touch, and affection," said Marilyne Trebus, Coach's SVP General Manager of Lifestyle and Global Merchandising Retail.
Not long after this sweet, squishy bag's debut, it seemed everyone was turning to the soft life, with ultra-soft accessories to match. Both contemporary and fast fashion brands followed Coach's lead, dropping puffed-up pieces left and right. Even designer labels have tried their hand at inflatable fashion — Moschino took the look literally, utilizing life preserver trim for their Spring/Summer 2023 show.
Prada and Loewe have also leaned into pillowy styles — the former dropping an entire range of padded nappa leather bags and shoes, and the latter, a Puffer Bomber Jacket, which was given the Jenner stamp of approval. (Spoiler alert: I tried it and the hype is real.)
Yes, puffy add-ons can be intimidating, but I promise they're not just for the runway. I tried out four looks, each punctuated with a smattering of pillowy staples — from bags to shoes to outerwear. Shop my favorites, ahead.
How To Style A Pillow Bag
Doubling up on bags has been a trend for a minute now, and in addition to allowing for a stylish layering moment, it's also incredibly practical. Why should my bulky laptop prevent me from rocking a teeny Pillow Tabby?
I styled mine with another Coach favorite, the Tabby Messenger 40 — some might call it ludicrously capacious, but I call it incredible. Fully committing to the theme, I added a few more Coach accessories, like a C-print headband and itty-bitty handbag earrings.
My dual bags made quite the statement, so I kept the rest of my look casual, but polished — suitable for anything from a coffee run to a work lunch. A cinched taupe blazer served as the ideal elevated basic, which paired flawlessly with light-wash jeans.
How To Style Pillow Shoes
When thinking about which pillowy pieces to style for this story, JW Pei's Abacus Top Handle Bag was an obvious must. The vegan leather handbag features a rounded silhouette, with puffy rings on the handle (inspired by the rings on an abacus). Given that silver is having a moment, the metallic was a clear choice.
I styled the bag with its complimentary counterpart: the brand's equally-puffy Sara Mules — which, for the record, are some of the most comfortable kitten heels I own. As a play on the Abacus' rings, I stacked up my arm with matching silver bangles. (PSA: Do not sleep on J. Crew's jewelry and accessories. So, so good.)
I kept my actual outfit simple to let my accessories take the spotlight; when in doubt, a trusty black blazer and a coordinating maxi is my go-to combination. This Amazon find boasts the same material as SKIMS' famous Lounge Dress (it even has built-in shapewear).
How To Style A Pillow Jacket
Given that every celebrity under the sun was wearing Loewe's Puffer Bomber this winter, it was one of the pieces I was most eager to style. The women's version is sold out at the moment, but the dreamy Sea-Water Green men's iteration (a favorite of Emily Ratajkowski) did the trick.
I'm no Kendall Jenner, so in place of a fluffy cowboy hat, I toned down the statement jacket with a simple slit-hem maxi skirt and my trusty Good Luck Trainers from Tory Burch.
I kept the Loewe love going with another puffy piece: the new Puffer Goya bag in shiny nappa lambskin. This inflated staple has a gorgeous gold chain strap, but it looks just as stunning carried as a clutch. From there, I threw on white-bright sunglasses with sharp angles to contrast the pillowy goodness. Thus, my Michelin-Man-but-make-it-fashion look was complete.
How To Style Pillow Slides
Even before puffy products had their moment, UGG was making deliciously pillowy slippers to elevate loungewear looks at home. My favorite of their newer iterations has to be the Scrunchita, a playful indoor-outdoor slipper made even better by the not-so-pale "Pale Chartreuse" colorway.
In the name of going all out, I went for a head-to-toe UGG look with a few of their apparel pieces: a bralette and matching bike shorts, plus an ultra-plush hoodie. I finished with some checkerboard Teslin Quarter Socks (no free feet pics), and completed the look with the matching sherpa mini bag.
The full 'fit added some pizazz to a day of work-from-home Zoom calls, and you can bet I'll be wearing those puffy slides out in the wild. They're too good to limit to the indoors.
After giving these four looks a test-drive, I can confidently say the pillow accessory trend is for me. Shop the puffy goodness for yourself —even if you don't have Loewe $$$.