Ralph Lauren's 2021 Olympics Uniforms Are A Nod To Sustainability
The designer released photos of Team USA's closing ceremony looks.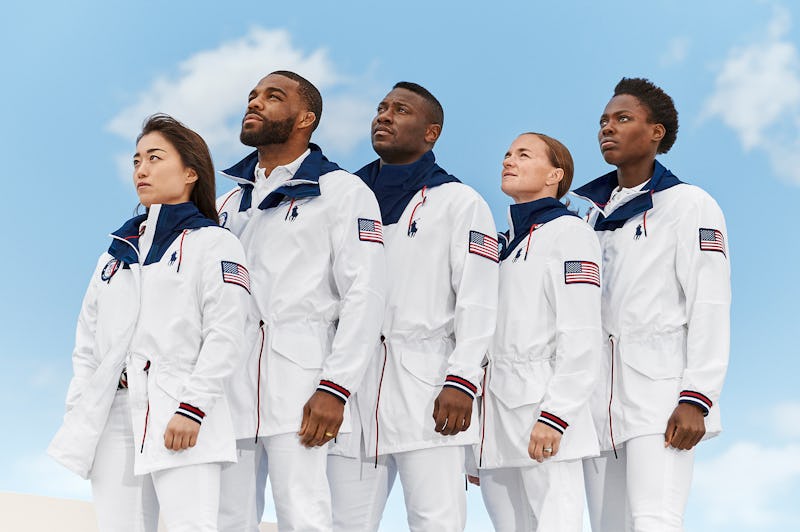 Courtesy of Ralph Lauren
Ralph Lauren has long been the official outfitter of the United States Olympic team, and even though the Games were postponed last year due to the global COVID pandemic, the designer is back to clothe the country for this summer's event. The 2021 Summer Olympics are scheduled to begin in Tokyo in less than 100 days, and while the entire uniform for each team has yet to be revealed, the iconic American design house has just released images of the looks for the closing ceremony parade.
The look consists of white jeans and a white polo shirt with a collar tipped in red and navy. There's a red, white, and blue ribbon belt and each athlete will top it with a white and navy windbreaker. An American flag is displayed on the left arm.
In a statement, the company's chief innovation and brand officer David Lauren explained, "As we come together to celebrate and compete, we must also embrace our responsibility to protect the planet we all call home. As part of this, we are proud to continue to invest in and scale sustainability innovations — dressing our nation's best and brightest athletes in timeless clothing that has been consciously created."
As a nod to sustainability, the look is made of ethically-sourced materials. The polo is crafted from verified United States grown cotton, the back patch of the jeans is a plant-based leather alternative, and the jacket and belt are made from recycled polyester. Additionally, the shoes and face masks will also be made from verified United States grown cotton. Materials were dyed through a process that uses Ecofast Pure technology, which uses less water, chemicals, and energy than traditional methods.
This year's Olympics are slated to take place in Tokyo from July 23 through August 8, and you can tune in to see all of Ralph Lauren's sustainable designs in action. Can't wait until then? Starting now, you can purchase the closing ceremony look for yourself on Ralph Lauren's website.