15 Reformation Alternatives That Deliver All The Style With None Of The Investment
Can't get your hands on that Juliette dress? Try this instead.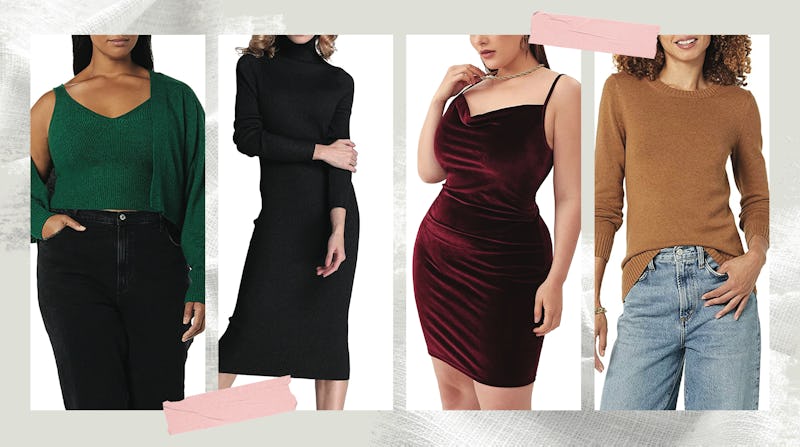 Bustle / Amazon
We may receive a portion of sales if you purchase a product through a link in this article.
Reformation has taken the fashion world by storm with their chic pieces that feel both timeless and trend-setting, but that quality construction comes with a price to match. So if you love the Ref style but are working with a budget, there are lots of stylish alternatives out there. To be clear, the best Reformation alternatives aren't necessarily exact copies. This is about identifying the characteristics you love in your favorite Reformation pieces — whether that's a slinky silhouette or buttery-soft material — and then locating them in less-expensive styles.
What To Consider When Shopping For Reformation Alternatives
First, take a look at the Reformation piece you've been coveting and pinpoint the design detail you feel best defines it. For instance, many of Reformation's best-selling tops tend to feature trendy square or straight necklines, sometimes with off-the-shoulder sleeves, while many of their now-iconic wedding guest dresses feature fitted bodices and dramatic side slits, and come in a curated collection of colors and prints. Below, you'll find some close approximations to those signature design details (though they may lack the playful names Reformation assigns its styles).
The brand also nails the "elevated basics" category, so if you're in the market for wardrobe staples that look and feel more special than usual, they're a great source of inspiration — think clingy sweater dresses, ultra-soft crewneck sweaters with a not-too-tight, not-too-baggy fit, and wear-with-everything Chelsea boots. Luckily, these pieces are just simple enough to find less-expensive alternatives with similar aesthetics. If the Reformation piece you love is made of a material like leather or cashmere that pushes it out of your price range, instead simply choose a piece with a comparable silhouette but in a more budget-friendly fabric, like a wool or cotton blend, faux leather, or a silky polyester. It should be noted, though, that Reformation alternatives usually won't have the brand's focus on sustainability.
Whichever Reformation piece has your heart, there's a chic alternative out there waiting for you. Keep scrolling to discover 15 Reformation alternatives on Amazon, from event-worthy dresses to pitch-perfect tees you'll want to buy in multiples.