Sami Miró Is Bringing Black Representation To Sustainability
How she built a vintage brand on the ethos of authenticity.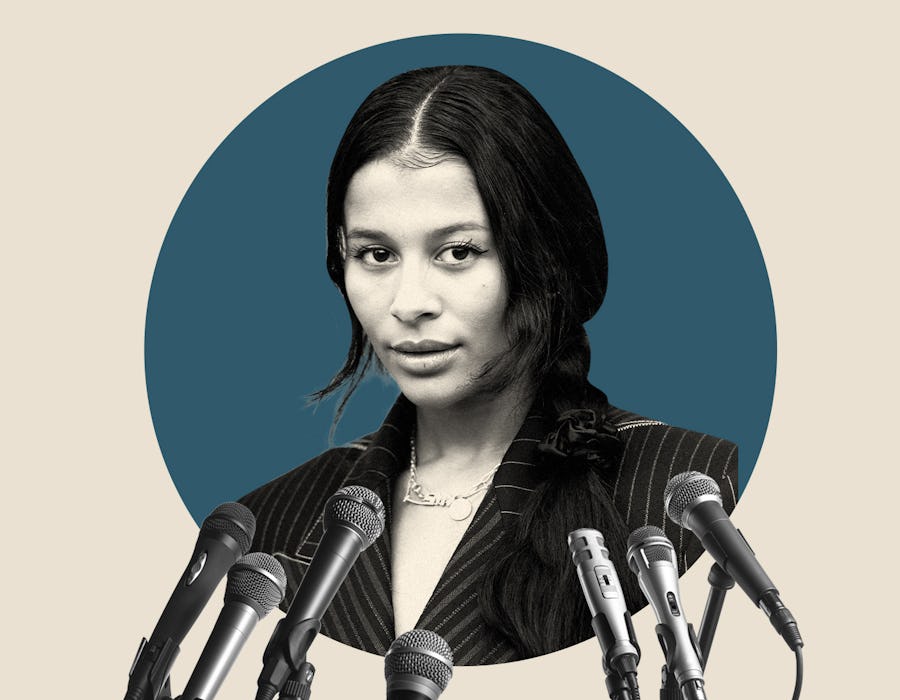 In Bustle's Quick Question, we ask women leaders all about advice. Here, Sami Miró discusses identity, the importance of authenticity, and the journey to founding her namesake brand.
Sami Miró Vintage is first and foremost, proudly Black woman owned. The Los Angeles native knows the importance of representation for Black people in fashion — even more so in the sustainability space — a mission Miró kept close when she first launched her self-titled brand in 2016. Six years later, Sami Miró Vintage has been worn by the likes of Selena Gomez, Rosalía, Olivia Rodrigo, and Kylie Jenner, to name a few.
A style icon in her own right, Miró has been making moves in the fashion world. She has partnered with Shopify, was a VIP at the Louis Vuitton 2023 Cruise Show, and was recently inducted into the Council of Fashion Designers of America. Ahead, Miró chats with Bustle about how she founded SMV and what tips she has for young entrepreneurs.
How do you stay dedicated to sustainability when fast fashion is such a growing industry?
For me it's the only way. I would never sacrifice the sustainable route versus the non-sustainable route. Even if it's much more difficult, much more expensive — because it's the only option that I have. The other option, it doesn't even exist.
What has been the most rewarding part of starting your own business?
For me, it's not about how much money can I make — I'm building something that's bigger than dollar signs. It's making an impact in educating people on the important things that the vast majority of other companies are not focusing on. I love having a team around me that also believes in what we stand for and even though it is the harder route in many ways, it is the necessary route.
Can you tell me about the importance of sourcing and operating locally?
Our entire supply chain is within a 20 mile radius of our office. It's important to me because I believe in giving opportunity to the people who are within my community. For example, in the last two years, we've grown tremendously. My main production sewer is someone who I worked with back in 2017 when I was making two or five units. Now, he has 20 something employees, he has a bigger facility. We go to his facility, we make sure that his new guidelines are also within the same parameters of how we would function as a business, making sure that he's paying his employees a proper amount, that it's above minimum wage.
What struggles have you faced that are unique to being a Black woman business owner?
I'm used to getting the weird looks from a more traditional-looking person in the industry. I'm used to having to prove myself. Fashion, in the grand scheme, is a very old industry without much change overall. In my little world, I'm doing things how I want. In the bigger scheme, Black designers are looked at as lesser than — [like our presence] is just a trend. With Black Lives Matter and everything that has shifted in the last couple of years, people of all industries [are getting] new opportunities.
How did Sami Miro Vintage come to fruition?
I found my confidence as a 15-year-old girl through vintage clothing. The high school that I went to, I was the only person of color. Everyone was wearing very expensive luxury clothing and going along with the trends. So I discovered thrifting and vintage by being driven by the idea of wanting to fit in. I found this purple Lacoste polo from a thrift store that had holes [from] sun damage. [Today] that would be so cool and way more expensive. Back then, it was not. However, mine was the only one in the entire world that looked the way it did. And that is what gave me a boost of confidence for the first time. Then it turned into a curiosity of, what life did this live before me?
I ended up working in tech and on the weekends I would be the coffee runner for a magazine photo shoot just to understand fashion. When I finally realized that I had something creative in me, I quit my corporate job and just explored, but I really didn't know that it would lead into Sami Miró Vintage. When it did, it was an epiphany.
What tips do you have for young designers?
Leading with authenticity, and what you truly believe in, is the number one thing. Figure out what makes you different, what might give you a signature that's recognizable, not just a logo. Be very aware of how you're spending money, because this can be a very, very, very expensive field. Don't ever be afraid to ask for advice from somebody — your friends or somebody you might look up to.
This interview has been edited and condensed for clarity.