Sensory-Friendly Clothing Is The Future Of Fashion
Designers are creating garments with neurodivergent customers in mind.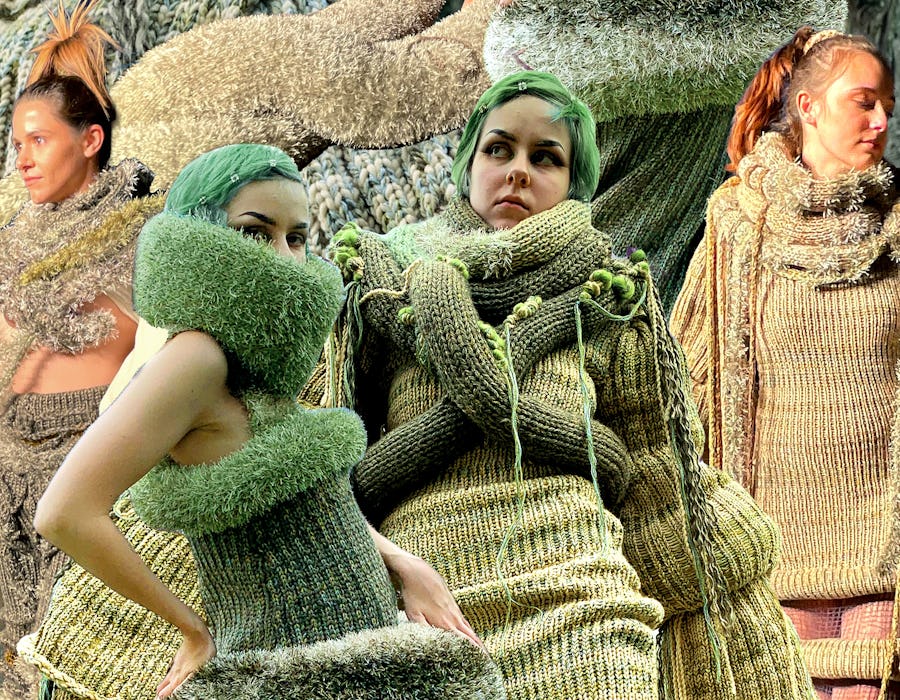 Future Of Fashion
We may receive a portion of sales if you purchase a product through a link in this article.
As a neurodivergent person, I have a hard time regulating my body temperature. Fabrics that retain a lot of heat (even if they're otherwise pleasing to the senses) can make me feel like I'm suffocating. Something as small as feeling too hot and scratchy in my outfit can snowball into full-blown sensory overload. This can be so distracting that it's difficult to focus on everyday tasks, and in severe cases, I've even experienced panic attacks simply because my clothes were overstimulating.
My experience isn't unusual. According to a 2007 study about sensory experiences in autistic people across all ages, "more than 90% of autistic children and adults had sensory responsiveness interfering with their everyday lives." Another 2021 study concluded that for people with sensory processing disorders and autism, fabrics can have a direct impact on individuals' well-being. Different textiles have the potential to provide support, and create a channel to engage in healthy coping strategies, research showed.
While there have been strides in recent years to make garments more functional for bodies of different sizes, shapes, and abilities — such as the adaptive collections released by SKIMS and Aerie — the accessible fashion movement is still in its infancy. And for people with "invisible" disabilities, like sensory processing disorders, autism, and ADHD, traditional clothing can leave a lot to be desired.
"If I'm interacting with [the garment], no one is necessarily looking at me differently for stimming."
Although few adaptive alternatives — think seamless garments, fastenings like Velcro or snap closures that don't require a high level of dexterity, embroidered labels, and breathable or compression fabrics — are available for adults, that's beginning, albeit slowly, to improve. In the last couple of years, Target, Aerie, and JCPenney have all started stocking sensory-safe basics.
Like them, many of the independent designers who are pioneering this space — Fferal and SensorySmart, to name a couple — focus primarily on loungewear, undergarments, basics, and socks, which are crucial items to have on hand. But options are still limited for neurodivergent people who crave fashion-forward, yet calming and comfortable pieces.
Jasmine Schulte, a nonbinary, autistic designer based in Philadelphia, is among the creators pushing the boundaries of what sensory-friendly clothing can look like. They debuted their first collection at New York Fashion Week last fall, showcasing dramatic, sculptural pieces in grassy hues and textures. "I want to create garments that spark joy and comfort and safety, because that's just what I want more of in my life," Schulte tells Bustle.
Courtesy of Abby Lebet
Courtesy of Abby Lebet
Drawing inspiration from moss and mycelium, Schulte's inaugural collection featured zero-waste designs that meld nature with nurture and encourage positive sensory stimulation. Schulte includes elements in their clothing that they (and many other autistic and neurodivergent people like them) find soothing, like the plush touch of eyelash yarns, and compressive sensations that mimic the relieving effect of a weighted blanket. "Being autistic… informs the way I design a little bit differently, because I design through sensory experiences and textiles," they say.
Beyond extravagant runway creations, Schulte's ready-to-wear designs (which range from $75-700 on Depop) are made to feel like a protective layer between the wearer and the outside world, providing an element of safety — "like armor," they say. They also create knit tanks with necklace-like strands of beads attached, "because I know everyone with ADHD is always losing their little fidget toys," Schulte says with a chuckle.
The regulatory support that this kind of clothing can offer is particularly important in high-stress situations. Schulte, for example, wore their own calming creations for their NYFW show. Like many, they lean heavily on sensory-friendly pieces to help them get through otherwise overwhelming circumstances.
For some neurodivergent people, regulatory behaviors like stimming can sometimes draw stares from uninformed passers-by — several studies indicate that non-autistic people often misunderstand these movements. But by incorporating beads into articles of clothing, designers create an outlet for wearers to do this subtly and avoid drawing unwanted attention.
Looking ahead, Schulte hopes to see more widespread adaptation of sensory-safe clothes for the fashion-focused shopper. "If I'm interacting with [the garment]," they say, "no one is necessarily looking at me differently for stimming."
Shop Sensory-Friendly Clothing