10 Cute & Trendy Shorts That Look Like Skirts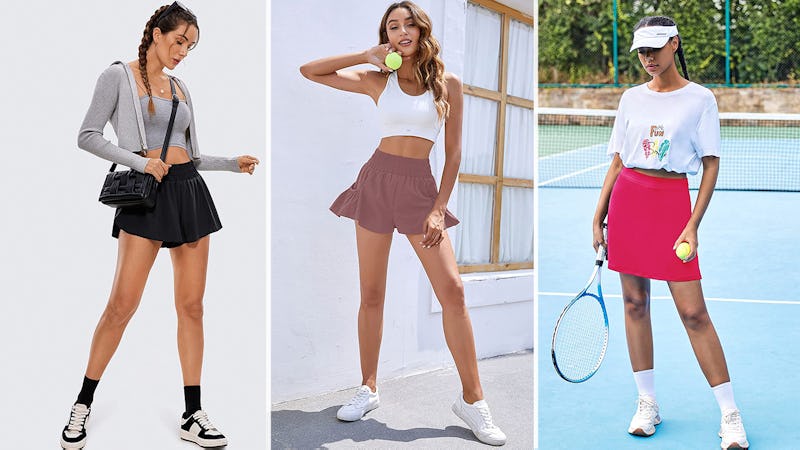 Amazon
We may receive a portion of sales if you purchase a product through a link in this article.
In '90s and '00s, skorts were everything: You could achieve the look of wearing a skirt while having the comfort and security of wearing a pair of shorts. If you've been longing for the ease and functionality of this genius sartorial trick, worry not: Like most Y2K-era trends, shorts that look like skirts have made their way back into the fashion world.
First thing's first: There is, in fact, a difference between "shorts that look like skirts" and "skorts," albeit a small one. Shorts that look like skirts have features like wide, flowy hems, tiers, or ruffles that create the illusion of a skirt. Skorts can either be skirts with built-in shorts, or the "skirt in the front, shorts in the back" design you likely recall from childhood (though the versions below are all grown up). You'll find both styles on this list.
If you're looking for a pair of skirt-inspired shorts to work out in, you'll want one with activewear features, like a tennis skirt with built-in shorts and pockets to stash your phone, or TikTok's trendy butterfly shorts made from sweat-wicking, lightweight materials. For everyday (or night) wear, opt for trouser-inspired pleated shorts with ultra-wide legs that can read skirt-like, or a dressy micro skort with a sultry slit.
Whether you're looking for something to wear on the court or out for a run, or you want an easy-to-style piece for brunch or cocktails, this list has you covered. Keep reading for some cute, trendy shorts that look like skirts.