This Swimming Cap For Afro Hair Has Been Barred From The Olympics
MP Dawn Butler & author Malorie Blackman have spoken out against the decision.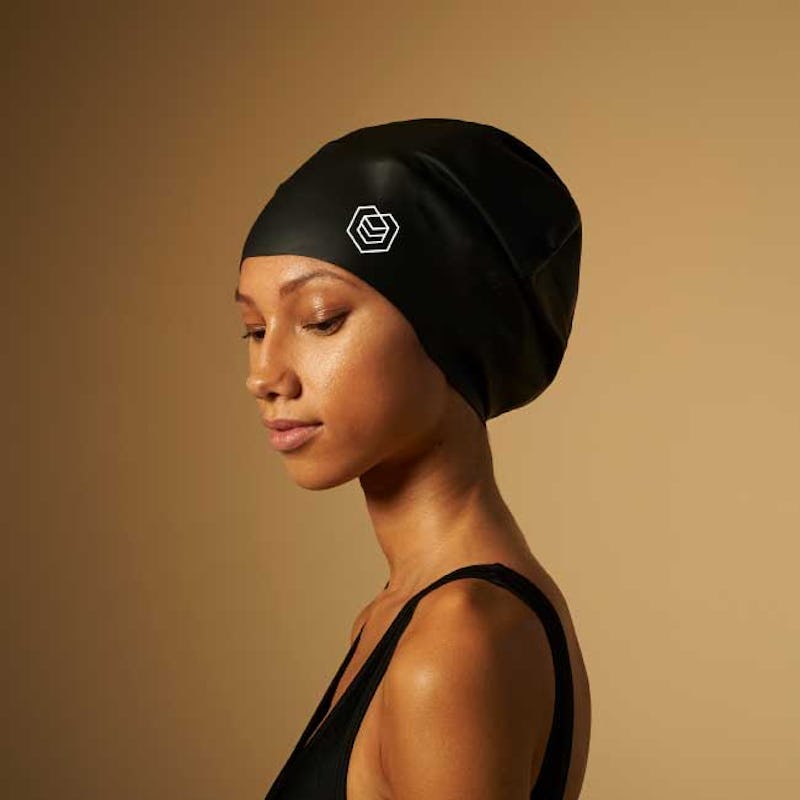 Luke Hutson-Flynn/SOUL CAP
A Black-owned swimming hat brand aimed at creating inclusive caps has been barred from the Olympics this summer. The brand's larger caps, designed to accommodate Afro hair, were denied approval to wear for competition swimming in this year's Olympics by FINA (the federation for international competitions in water sports) as the organisation claims elite athletes "don't require caps of such size."
The swimming caps – created by SOUL CAP – were denied certification to wear for competition swimming by FINA on the grounds that to their "best knowledge, the athletes competing at the International events never used, neither require to use, caps of such size and configuration."
The FINA Committee went on to describe the swimming caps as unsuitable as they don't "follow the natural form of the head."
Toks Ahmed and Michael Chapman founded SOUL CAP – which is dedicated to bringing inclusive swimwear to marginalised communities – in 2017 after seeing a gap in the market when they took up adult swimming lessons for the first time. Since then, the pair have brought the larger caps to thousands of swimmers and partnered with elite athlete Alice Dearing, who is set to make history as the first Black women to represent Great Britain in swimming at the Olympics.
Ahmed and Chapman say they are disappointed in the "failure to acknowledge the diversity of competitive swimmers" by the FINA committee, per the Metro.
"For younger swimmers, feeling included and seeing yourself in a sport at a young age is crucial," Ahmed told the Metro. "'How do we achieve participation and representation in the world of competition swimmers, if the governing body stops suitable swimwear being available to those who are underrepresented?"
"There's only so much grassroots and small brands can do – we need the top to be receptive to positive change," he added.
"We don't see this as a setback, but a chance to open up a dialogue to make a bigger difference in aquatics," the co-founders tweeted.
Elsewhere on Twitter, author Malorie Blackman responded to the news by saying, "Part of the reason I hated swimming as a child/teen was because I couldn't fit all my hair into the 'standard' cap. The cap made me feel like I had my head in a vice and resulted in an inevitable after-swim blinding headache. #representationmatters."
MP Dawn Butler wrote, "This decision has brought back childhood drama. I remember trying really hard to get my hair into a swimming cap when I was younger, it was one of the reasons I didn't like going swimming. There is no way my hair can fit into 'standard' 'normal' cap. Discrimination in plain sight."