The '90s-Inspired Loungewear Line Racking Up The Instagram Likes
Spirit Jersey's new collection is an ode to New York City.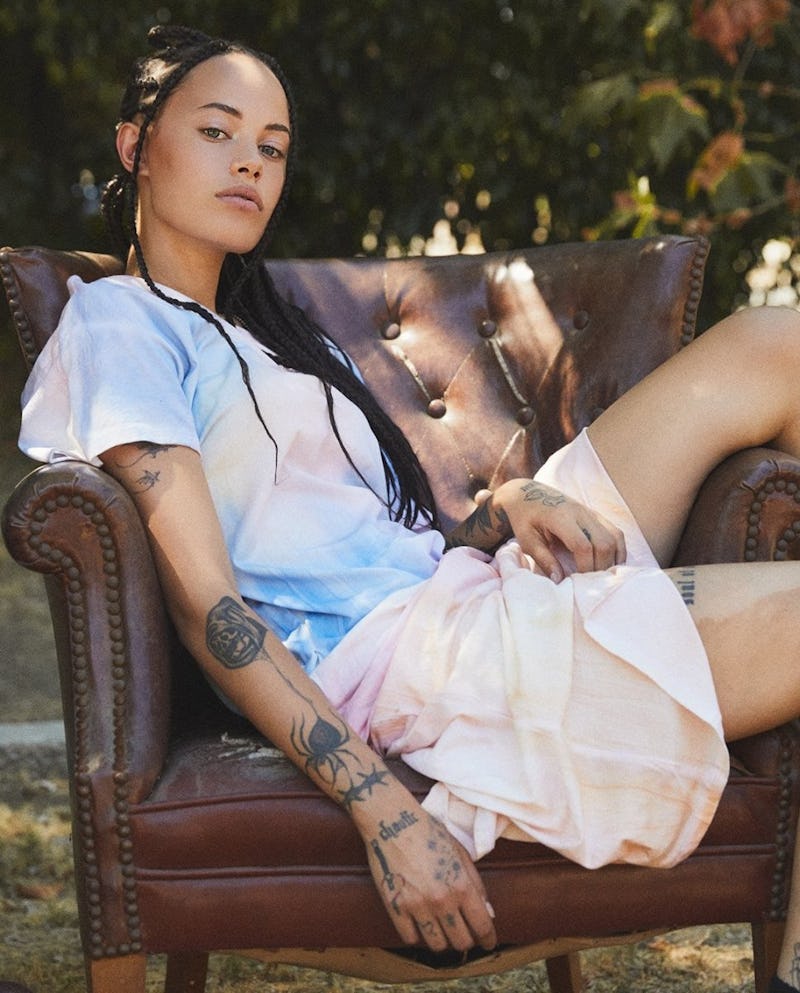 Spirit Jersey
If you've spent the last year in sweatpants, you may be feeling the urge to get more creative with your outfits. One clothing line that's mastered the art of playful loungewear is Spirit Jersey.
The legacy brand has a rich history that spans more than 35 years, and you might even already be familiar with it. It's been a mainstay on college campuses for nearly a decade.
"Spirit really exploded in the early 2010s," says the brand's director of ready-to-wear, Trevor Larson, "when we began developing jerseys for universities and Greek Letter organizations nationwide, cultivating a loyal following among the collegiate community."
Over the years, it's continued to expand on that following through partnerships with the likes of Disney, Warner Bros., and Fanatics, and a celebrity following that includes the Kardashian family.
"Anytime I see one on the street — which is almost daily — I can't help myself but comment, celebrity or not," Larson says. "So if you're out in LA in your jersey, you might get a hello from a well-meaning stranger."
After decades creating special pieces for other companies, the brand decided it was time to build a consumer-facing collection with its own creative vision.
The new Spring 2021 collection is inspired by New York City life and '90s club culture. "It's all about pushing ourselves to match that energy with our art decorations and special fabric treatments," he says.
Both Larson and Spirit Jersey's lead designer, Giselle Gonzalez, spent their early adult life in Manhattan, so they felt a deep connection to the city and wanted to channel their nostalgia for that era.
In the line of crop tops, shorts, and cami dresses, you'll find odes to Showtime at the Apollo, Broadway, tattooed sailors, disco nights, punk history, and rave culture.
We only include products that have been independently selected by Bustle's editorial team. However, we may receive a portion of sales if you purchase a product through a link in this article.
"We thought it would be a great opportunity to highlight all the wonderful history and liveliness that is NYC," Gonzalez says. "I had to do a little homage to Taxi Driver and include subtle references in our Utility Jacket and Taxi Pullover."
While it's hard for her to pick a favorite from the collection, she says a standout piece is the silk slip dress with the airbrush skyline print, paired with the organza jacket to layer on top.
"It's just so airy and pretty," Gonzalez says. "Our artisans did such a great job at executing that technique. Each one is made by hand, which makes each one unique."
Gonzalez saw this collection as an opportunity to introduce new silhouettes that still have the "Spirit Jersey DNA."
"Almost everything has a back yoke and dropped shoulder, like our chunky soft sweater sets, organza jacket, and jumpsuits," she says, adding: "When people wear our clothes, I want everyone to feel confident while still remaining comfortable. And most importantly, have fun with your clothes, and hopefully we bring a little joy to your closet."